Artificial intelligence stocks have been hot… here's a look at some AI stocks to watch in 2019.
Artificial intelligence (AI) is disrupting many industries. For example, we've seen this technology being used for self-driving cars, voice searches (Siri and Alexa), and predicting what products you might look to buy or what TV shows or movies to watch next.
Heck, even computer programmers and financial engineers have tried to use this technology to trade stocks.
You name it, companies are trying to apply artificial intelligence and machine learning to improve on efficiency and speed.
That in mind, companies implementing this technology (AI stocks like NIO and VERI) could be poised for growth in 2019.
Before we look at which artificial intelligence (AI) stocks to watch in 2019, let's get an overview of the industry.
Artificial Intelligence (AI) Industry
The artificial intelligence industry includes companies developing computerized systems to complete tasks that normally require human intelligence. Now, artificial intelligence stocks might apply this technology, as well as machine learning, for robotics, smart machines, and decision making… you name it. Artificial intelligence, machine learning, and big data are applicable to nearly any field.
With the ongoing advances in the technology industry, the AI applications could be endless. That in mind, this could drive artificial intelligence companies' revenues and earnings. In turn, artificial intelligence stocks are on a lot of traders' and investors' radars. Now, let's look at a few artificial intelligence stocks to watch in 2019.
Veritone Inc (VERI)
Veritone Inc is a small-cap stock focused on AI. The company developed the first operating system for AI. Consequently, it's one of the artificial intelligence stocks to watch this year. VERI's aiWARE allows companies to augment human capabilities and automatically perform tedious and repetitive tasks with higher speed and scalability.
Now, the company primarily offers solutions to the media and entertainment industry. Veritone uses its applications and services to help companies unlock hidden revenue and earnings stream. Additionally, VERI helps companies achieve operational efficiencies with daily operations.
However, Veritone is branching out its solutions and looking to help government agencies accelerate the judicial process, investigations, and surveillance. Additionally, VERI is offering AI solutions for the legal and compliance industry – which should unlock insight and analyze potential regulatory risks.
VERI noted some highlights for its performance in 2018:
Expected year-over-year (YoY) growth in AI Solutions and Software revenue to be more than 200%, and over 300% when it includes revenue from its acquisition of Wazee Digital.
Introduced new aiWARE applications – which should continue to drive revenue growth.
It's looking to reduce its adjusted earnings before interest, taxes, depreciation, and amortization (EBITDA) loss significantly in 2019.
Now, when this news hit the wire, I was already long VERI because I noticed this pattern.
Once the positive catalyst was released, and thereafter, I was taking profits – locking in $14K on the VERI trade.
That said, if you want to see how I use this pattern on a consistent basis – access your free training and learn about my three patterns that took me from debt to wealth.
Moving on, there is one car company that's in the self-driving car space – hint: it's not Tesla Inc. (TSLA).
Nio Inc. (NIO)
Traders and investors often dub NIO as the "Tesla of China." As a result, market participants are focused on NIO. Now, NIO is an electric car and technology company. Back in the summer of 2018, NIO started delivering its ES8 electric SUVs equipped with NOMI AI. Consequently, the company is one of the few companies to offer a vehicle with artificial intelligence technology. That in mind, this is another of the artificial intelligence stocks to watch in 2019.
The NOMI AI technology can see the owner arriving in the car. Thereafter, it would set up the seats and steering wheel position to make the driver as comfortable as can be. Moreover, NOMI can do things like take pictures via a mounted camera, and play desired music.
Not only that, some of NIO's cars are equipped with an autonomous driving assistant system.
What's the difference between NIO and TSLA?
Well, TSLA is a large-cap company, and its stock price is well into the hundreds. On the other hand, NIO is a small-cap stock, trading under $10. That in mind, there's growth potential in this company.
Take a look at the daily chart of NIO.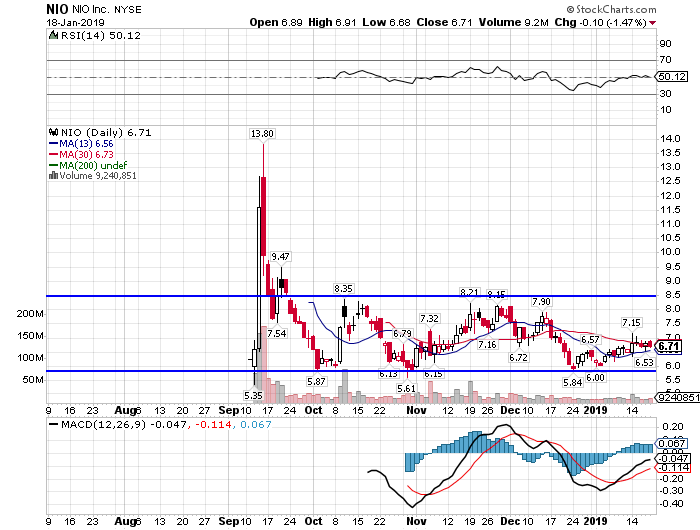 Look at the chart above. NIO has been relatively stable even during the market selloff.
Now, if you want to learn how to trade a sector in which you can profit in any market condition, check out this guide here.
Next, let's look at another AI stock to watch – this company is developing supercomputers to handle AI and machine learning workloads.
Cray Inc. (CRAY)
Cray offers big data analytics and AI solutions to various industries. Now, CRAY has been around for decades, and it's using its experience to offer an analytics suite and platform to help companies leverage AI technology.
CRAY's technology could help with developing chatbots for eCommerce companies, self-driving cars, and facial recognition. Recently, the company noted its expecting 2019 revenues to grow modestly when compared to 2018.
That said, CRAY could exceed expectations with its 2018 catalysts. For example, Vanguard tapped Cray for its supercomputing system to compute real-time analytics for the Vanguard Stargate Imaging security scanning solution. Additionally, Cray partnered with Microsoft and Intel to experience the benefits of its supercomputer. Consequently, this stock could see immense growth potential if large companies start to use its platform.
Take a look at CRAY on the daily chart.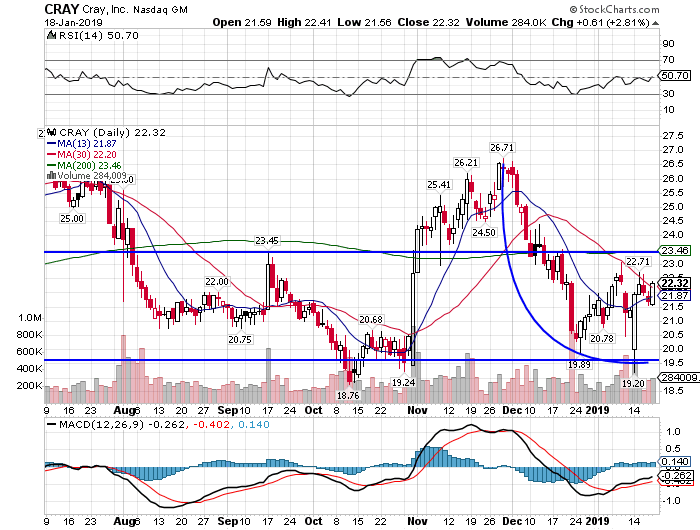 Notice this pattern? Looks pretty similar to one of the stocks I made money in earlier.
Final Thoughts on Artificial Intelligence Stocks to Watch in 2019
Keep in mind, these aren't the only AI stocks out there. For now, these are the AI stocks on my radar. VERI is one of the stocks that I'm keeping an eye on since it's actively traded. Additionally, I have experience trading this name. NIO and CRAY are other AI stocks on my list, but I'm not looking to get in unless I see either one of my patterns. I'll be keeping Millionaire Roadmap (MR) members up to date if I notice any of my patterns in AI stocks.