Today, I've got an interesting story about a group of 6 people and how they "stole" $35M from the moms and pops.
They pulled off a microcap scheme amounting to tens of millions of dollars that was so complex, it was spread across multiple countries… and when you hear about it, it'll grind your gears. 
Not only that, but it'll have you wondering why they didn't just use a simple strategy instead of jeopardizing their freedom.
With this group being half the size of Oceans Twelve— they hit a minimum of 45 microcap companies with their illegal sales of stock. 
Securities investigators in cities around the world are still piecing together the pieces of the puzzle.

The Securities of Exchange Commission is charging 6 men for 2 complaints just in the U.S. alone.
Steve M. Bajic citizen of Canada and Croatia, owns 3 businesses all register in Hong Kong.

Rajesh Taneja Canadian citizen, resident of Vietnam, and owner of Fountain Drive Ltd. registered in Hong Kong.

Kenneth Ciapala citizen of the U.K. and Switzerland, part-owner of Swiss-based company Blacklight SA.

Anthony Killarney U.K. citizen and part-owner of Blacklight SA.

Christopher McKnight Canadian citizen.

Aaron Wise U.S. citizen.
Complaint 1: Bajic and Taneja allegedly helped shareholders dump massive amounts of their microcap stock in a covert operation. The SEC alleges that Ciapala and Killarney assisted by helping coordinate the illegal sale of stocks.
However, it was McKnight and Wise who teamed up to help fraudulently transfer and hide the source of the money that promoted many of these microcap stocks in the first place. That's a big no-no in the markets.
Complaint 2: The SEC alleges in the complaints that Ciapala and Killarney's company Blacklight helped facilitate the sales of millions of unregistered shares of the stock EMS Find Inc.

EMS Finding Inc — a microcap company — was part of a classic pump and dump scheme. Not only that, but the two also played a role in manipulating the stock. 
How The Group of Sleazeballs Raked in $35M In Illicit Gains
These six are prime examples of the scummiest players in the market. The big hint that something was going down was the fact millions of shares of stock were getting gobbled up and then suddenly millions of shares were being dumped.
And these guys did it over and over again.
Everything kicked off August 2012 with the first company, Blake Insomnia Therapeutics.
Blake issued about 10.6M shares of its securities. In a private offering of its securities, Blake sold approximately 1M shares of its 10.6M shares outstanding to 35 investors. 
Then Blake issued the remainder of the shares to 4 of the 6 men for services supposedly rendered. It was during this time that Blacklight SA stepped into play and paid Blake $275,080 for the 9.6M shares.
I don't know about you, but what services could they have provided that would give them 9.6M… then have the company buy them back? 
Of course, they weren't actually helping the company, instead, they were hurting shareholders.
The 35 innocent shareholders who bought Blake back in 2012, actually sold their shares to Blacklight SA. Thereafter, around 9.6M shares were sprinkled into 7 offshore company accounts controlled by the shady foursome or Blacklight.
During this time 2014 Blake issued another 21M shares of its restricted stock to the new CEO of Blake and a company consultant, thereby, increasing the total shares outstanding to 31.6M. This diluted the company, and you could probably guess what happened there.
However, "unknown" to Blake Insomnia Therapeutics collectively they owned a lot more than 5%.
In late 2014, an attorney working for Blake falsely claimed that these 7 offshore companies were affiliates of Blake.
I bet you're wondering when all 6 guys are going to jump in on this action, don't worry… the scandal and scheming was just starting. 
The Scheming Six Went Spent Years Plotting
Over the course of the year, the men slowly began to scoop up a little over a million of Blake shares, both indirectly and directly, using their company bank accounts as personal investment vehicles.
By 2017 all the original 10.6M shares were controlled by the Bajic, Taneja, Ciapala, Killarney, or a company they owned. 
Putting almost 100% of Blake's unrestricted stock in their hands. 
Cue the rest of the 6 ── McKnight and Wise as they look to hop in on the action.
McKnight and Wise began to do some leg work for the 4 to execute their diabolical plan. 
First, the stock needed a little juice so they could sell at a higher price.
McKnight and Wise built layers of distance between the source of the money for the stock promoters and the original 4 men. McKnight fed the Stock Promotion Arranger lie after lie and false name after false name. 
The purpose being that stock promoters typically shout out who is paying them to promote the stock.
The men transferred millions to McKnight so he could pay for the promotions. McKnight then hired Wise to create an online presence for McKnight, so he seemed legit. 
Prior to the promotion around 22,000 shares of Blake's stock traded daily. During the promotional campaign that number increase to over half a million!
While these promoters to spread the good word of Blake stock, the men were putting the dump in pump and dump.
Wise even offered up his own bank account to be a front for McKnight for their illegal activities.
Between January and March 2017, the companies owned between the men began to dump shares, as they raked in $5M
But one can't shell out millions to promote the stock forever…
Soon after the promotional campaign ended the price of the stock declined and the need to prop up the stock arose again for the 6 men. 
At one point in April 2017, they coordinated trades that made up 75% of the market volume for the stock. 
Approximately 7.2M shares were sold, which generated $7.2M from the illicit gains.
The 6 men did this again and again with other stocks, making close to $23M from the sales. Bringing their grand total to over $35M in profits for their pump and dump scheme.
While these men are looking at some well-deserved charges and potentially time behind bars, there is a lesson to be learned here… when you're trading stocks, look for the best plays out there so you don't get caught up in these pump-and-dumps.
There's A Way To Work Around The Wall Street Scum
If you actually look into the scheme, these six spent so much time and probably went through a lot of headaches just to turn a profit. Not only that, but they did it illegally. Instead, they could've used a simple strategy and actually beat the market, legally.
The thing is, the well-informed traders on Wall Street have actually turned to the options market to hide their trades… and a lot of the time, they place massive bets AHEAD of a catalyst event.
Let me show you EXACTLY how they do it.
I spotted an unusual options activity trade in LL. It wasn't as crazy as what these guys were doing… throwing around millions of shares, but it was pretty sizable.
A well-informed trader came in and bought 2,409 calls in LL for 30 cents apiece, and those options had just about 2 weeks until expiration at the time. That means they controlled a whopping 240,900 shares.
It was a clear signal something was up in the stock… and it could potentially release a catalyst.
So what did I do?
I came up with a thesis, and actually followed them into the trade. The thing is, it's not illegal to be on the same side as these players… just as long as you don't know the information ahead of time (which I didn't).
Guess what happened to the stock after…
The company updated its 2019 financial outlook and raised guidance, that was a massive catalyst that caused the stock to ramp higher.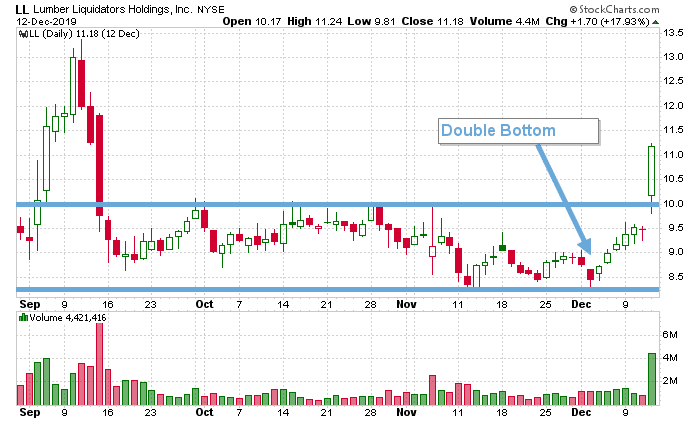 The stock gapped up massively and attracted momentum buyers as it broke above the key resistance level at $10… and those options… well, they were good for about a near-triple digit winner.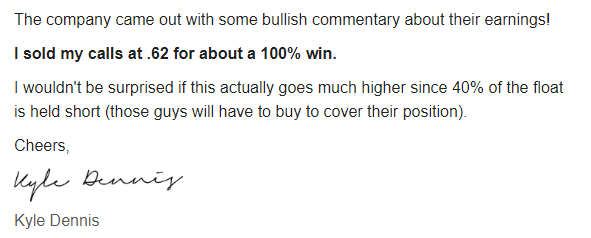 I see plays go off like this ALL the time, and the best part is we can legally and directly profit off the Wall Street scum. The only thing I need to do is spot the trade, come up with a plan… and execute. That's it, no harm, no foul.
Take a little bit of time out of your busy schedule, and see how you can start raking in massive profits in the options market off the backs of the largest options traders on the street.