I'm getting bombarded with questions every day from readers. And while time doesn't allow me to answer everyone individually, I do want to help as many people out as possible. 
That's why I'm going to address a question that seems to consistently pop up in my inbox.
Can I Trade Part-Time and Make an Impact?
The answer— ABSOLUTELY YES. 
How big of a splash, is up to you. 
But first, let me answer how?
I break it down for you below… 
Trade On A Schedule
Let's say you have some free time in your busy schedule… you find some holes where you can actually follow stocks, conduct due diligence, and execute trades. Trading becomes a cinch when you actually know your schedule.
Heck, you don't even need to have a trading platform on your computer… you can do everything on your phone these days. 
So ask yourself:
Do I have a few minutes a day to dedicate to trading?
Can I sneak some trades and check on my positions sparingly on my phone?
Once you answer those questions… it's time to find your edge.
Find Your Edge
Once you determine your trading schedule, the rest becomes a heck of a lot easier… and the next step is to find an edge in the market. Basically, "edge" is your advantage in the markets.
 It could range from technical analysis to fundamental analysis… it's anything that increases your chances of success.
For me and many of my clients, we've found an edge in catalyst events and charts. All we look for is a reason that could move a stock and pair it with a pattern. It's really that simple.
It's what's helped us find success with on a part-time schedule.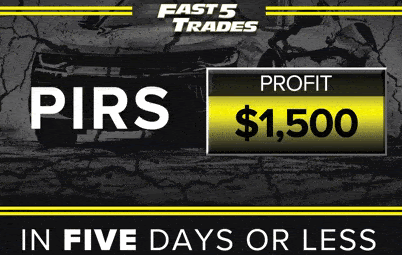 How does it actually work?
Well, I diligently look for my best trade idea every week… and on Mondays, I deliver that to my clients via email. The goal is to be in on Monday and out by Friday. That way, we can actually "schedule" the times we trade.
Since it's just one trade a week, you can actually trade part-time with this strategy — Fast 5 Trades.
Skeptical?
Let me show you how it works.
The "Perfect" Strategy?
Since the inception of Fast 5 Trades, every single one of my ideas have been winners… and I'm 8 for 8, looking to extend the streak to 9 wins in 9 weeks.
Last week, I sent out my trade idea in BlackBerry (BB). I found a catalyst that signaled the stock could catch a pop… and I even provided my clients with a trading plan.
When I was conducting due diligence, I found BB had a positive catalyst with Amazon.com (AMZN), and that could've sent the stock soaring. Not only that, but BlackBerry had a bullish setup, as you can see on the daily chart below.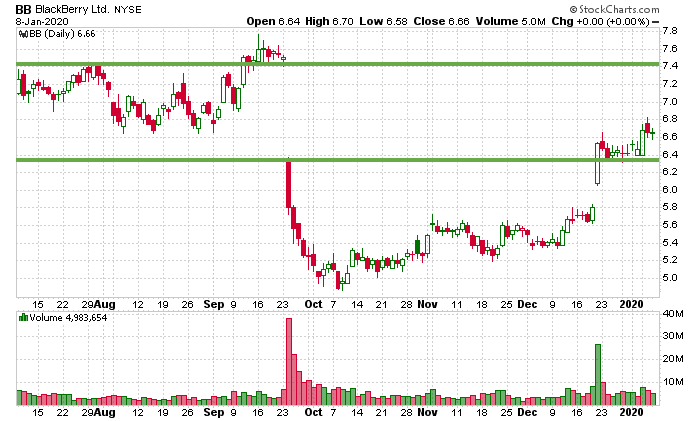 The stock broke above a key resistance level a few weeks ago… and BB was starting to get into the gap. Typically, when we see this type of price action, it's a sign the stock could run higher.
Remember, just because I send my clients a trading plan… it doesn't mean they need to stick to it. In fact, many of my clients got creative with the play. Rather than buying the stock outright, they turned to the options market.
The thing is, I don't leave my clients hanging after I send out my best trade idea. In fact, I break down the trade after, whether it was a winner or loser… because there's always a lesson. 
For example, after the BB trade… I realized I needed to get some clients up to speed about options trading.
Buying Calls 101
The reason I say that buying options is a good way to reduce your exposure is because of the leverage they offer. It costs less money than buying up the actual shares. 
Take a look at BlackBerry (BB), this week's trade idea. 
Shortly after my alert went out on Monday, you could've bought 100 shares at $6.55 each for a total cost of $655.
At Tuesday's high tick of $6.83 per share — right near our profit zone — you could've closed out for a gain of $28 on your 100 shares.
In other words, you risked $655 to make $28.
That's a solid profit, and locking in small, steady winners like this on a regular basis is a great way to grow your account.
But compare this to a call-buying scenario…
Shortly before midday Monday, you could've bought the BB January 10 $6.50 call for $0.20 per contract (entry highlighted in yellow — probably could've gotten in cheaper earlier in the day, but I'm going with the first real significant volume in the contract for the session).
Each contract affords you control of 100 shares, so your total cash outlay to buy one call option is $20.
At the same high tick on Tuesday, you could've sold to close at $0.34 per contract (or even "settled" for $0.30, if you missed the exact peak of the day).
By selling to close for $34, you'd be up $14 on the trade – a

70%

return!
If you could actually dedicate a little bit of time out of your Mondays, and execute the trade… and read the trade breakdowns, you could actually trade on a part-time schedule.
If you missed out on my Fast 5 Trades thus far, it's okay. There's nothing you can do about it now. However, there is some good news for you…
You can prepare yourself for my next Fast 5 Trade and check out the premium members' section, and you'll see all the trade updates, as well as an extensive training library.
Put yourself in a position to win and trade on a part-time schedule with Fast 5 Trades!