I've been on a hot streak with my Fast 5 Trades, and now I don't know what to do about it.
No… it's not the pressure that's bothering me.
Nor is it the strategies that I'm implementing…
I'm getting bombarded with emails from traders asking me what Fast 5 Trades is and why they've just heard about it.
But the number one question I'm getting hammered in emails about— how do I get on a hot streak?
It's simple—Only Put Money Behind Your Best Ideas.
I'm talking about only taking trades that have a proven edge.
You see, when you're highly selective, you minimize your error rate… and you're losing percentage plummets.
Let's face it, when you throw on random trades, you might win a little at first.
But it's never consistent.
I don't know about you, but I play to win. Here's how I went 6 for 6 and extended my streak to 7 wins in a row.

Step 1: Find a catalyst that can move the stock.
Step 2: Pair it with a chart pattern.
Step 3: Develop a trading plan and execute it.
It's really that simple.
Here's an example of the plan in action, taken from a real-money trade alert in Nokia… yes, that Nokia. 
Nokia (NOK) Trade Idea Extends Fast 5 Win Streak to 7
Earlier this week I released my highest conviction trade idea to my Fast 5 clients. The whole idea is to get in on Monday and take profits before Friday.
The trade was in Nokia (NOK).
My thesis was NOK was beaten up all year, and I figured it could bounce after the New Year.
It's what's known as the "January effect".
What is it?
At the end of the year, traders cut their worst losses for tax purposes… but when the new year starts… they get back in and start gobbling up shares of these beaten-up stocks.
Many of these turds see a nice pop.
The next step was to look at the chart.
The stock formed a bull flag pattern on the daily, and trading volume was picking up.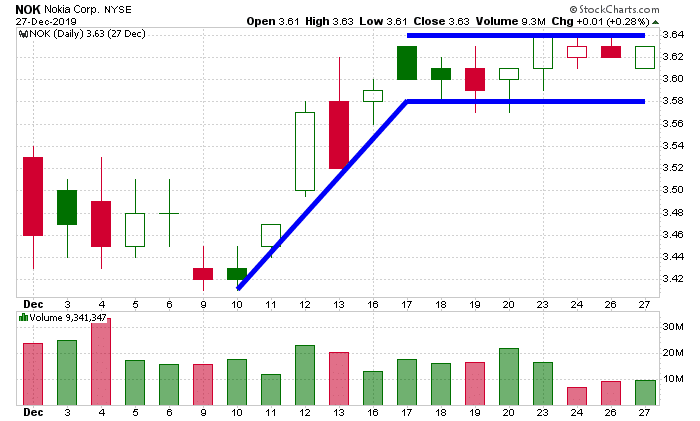 The next step was to develop a trading plan.
I send my clients three important levels— where I'm looking to buy, take profits, and stop out.
When you have a trade plan, it becomes a heck of a lot easier to execute.
For NOK, my buy zone was under $3.70. The profit zone was $3.90 or higher. The stop zone was below $3.45.
So if you received this trade idea, here's how you could've played it:
Place a buy-limit order at $3.65.

Enter your stop-loss limit order for $3.50 and $3.45. (The first price will be the trigger and the second price will be most likely where you would get filled for your shares).

Place a sell limit order for $3.89 (sometimes it's wise to place an order to take profits a penny below your target, especially if it's at a round number — that tends to be an area of resistance.



Keep in mind, you can sell a portion of your shares, and hold on to the rest. All you have to do is move up your stop-loss so you don't come out of the trade break-even, or worse… stuck with a loss.
It's pretty much "set it and forget", you can't really forget about the trade, you'll need to check up on it from time to time.
If you followed that plan, you would've got filled, and be up slightly. Here's what the stock was doing just one day after I sent out my best idea for the week.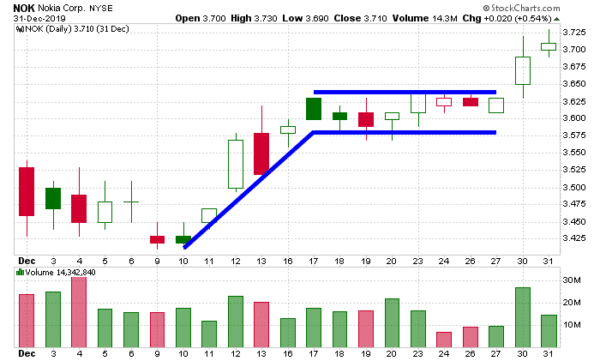 To kick off 2020, NOK gapped up massively!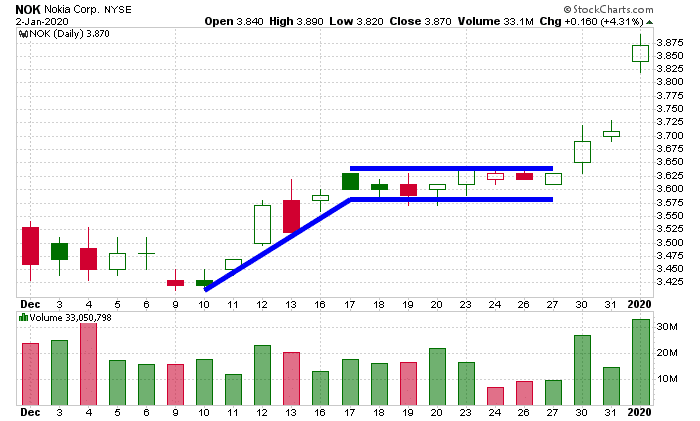 Heck, I even updated my clients about the trade via email…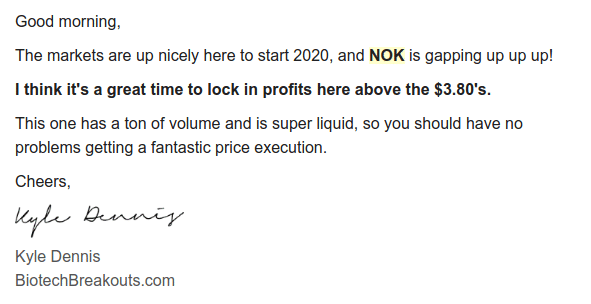 If you followed that plan to a T, you would've been sitting pretty. Up about 5% in just a few days is a great trade, and when you continue locking winners like that in… you could build your account up real quick.


The thing is… just because I send a trade idea out to you, it doesn't mean you have to copy and paste. Heck, you could make it your own, just as many of my Fast 5 clients did with NOK.




If you want to simplify your trading and catch the hot hand, then check out this exclusive clip that outlines EXACTLY how Fast 5 works.
Don't miss out on my next best trade idea, it drops on Monday… and I'm confident it could be another winner.