The more you know about tbiotech terminology, the more you can anticipate how the news will move a stock. In part 1 of this series, we covered the clinical-trial phase and some drug designations. Now we'll add some more important biotech terminology that will help you climb the learning curve. These terms should help you when learning how to trade biotech stocks.
How to Trade Biotech Stocks: Biotechnology Terminology Part 2
Again, when you're first stepping foot into the world of biotech trading, there are a plethora of terms to understand. That said, let's get right into things and learn some key terms that could potentially move biotech and pharmaceutical stocks.
New Drug Application
New Drug Application, or NDA, is an application made by a company that sponsors a drug candidate to the U.S. Food and Drug Administration (FDA) before or during the pivotal trial of the treatment. If the NDA is filed during the pivotal trial, it's considered a "rolling NDA." This can shorten the drug-development process. Keep in mind a pivotal trial is often Phase III, but can be Phase II depending on the circumstances.
Generally, when a company indicates the FDA may allow it to submit a new drug application (NDA), the stock price rises. For example, KemPharm Inc. (KMPH) rose significantly after the its ADHD drug trial met primary endpoints. Moreover, the company noted the results may allow it to submit its NDA. The stock was trading 13% higher in the pre-market that day.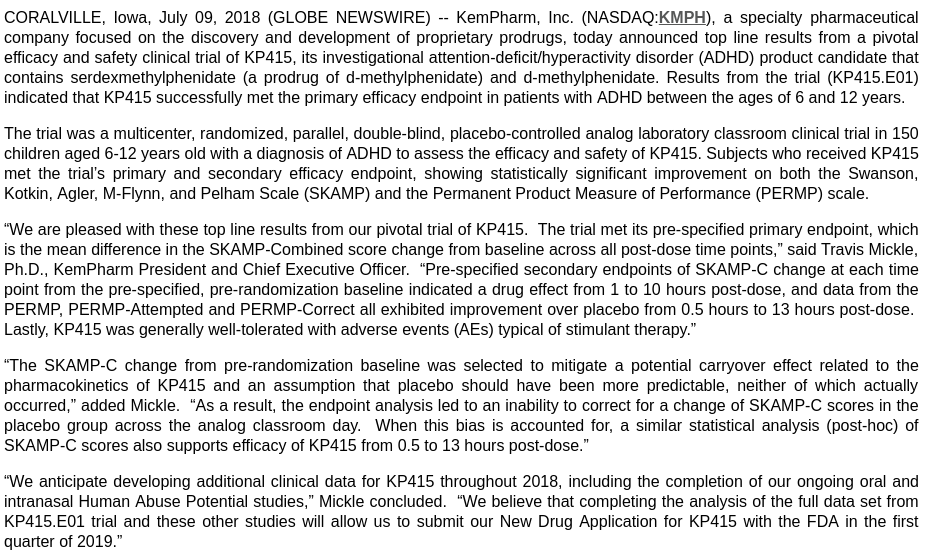 Investigational New Drug Application
Investigational New Drug Application, or IND for short, is another application filed to the FDA by a company developing a treatment, or sponsoring a treatment candidate. The IND is filed after preclinical studies are completed. The treatment needs to show potential in treating an illness or condition. When a sponsor files an IND, the company requests the FDA's permission to conduct clinical trials of a treatment. This is used to plan for the marketing of the treatment in the U.S. However, the clinical trials can be tested in any country.
Placebo
Placebo is a treatment that has no action on the human body, like a water or sugar pill. Biotech and pharmaceutical companies use placebos to determine the efficacy of a treatment, whether the drug works better than a placebo. Now, a placebo has no medicinal impact but where patients may experience some improvement because they believe they are receiving real medicine.
Priority Review Designation
Priority review designation, also known as priority review pathway, is granted to a medicine that could potentially advance the treatment of a rare pediatric disease or a neglected disease.
Advisory Committee Meetings, or Adcomms, occur when the FDA convenes, typically a month before the Prescription Drug User Fee Act, or PDUFA. The advisory committee has roughly a dozen industry experts, a patient's advocate, and a non-voting industry expert. Adcomms are open to the public, and members vote to either approve or reject a treatment.
PDUFA, meanwhile, is a process that typically takes around 10 months for the standard path, unless a treatment is on the accelerated path, which typically takes about four months less.
The bottom line
It will take a while to memorize the terminology biotech companies use, but once you get the hang of it, the understanding may add another dimension to your trading. By now, you should have a good understanding of the terminology, which should further your learning of how to trade biotech stocks. In the third, and final part, of this series, we'll cover more definitions that should get you up to speed with commonly used biotech jargon.     
#-#-#
Kyle Dennis runs Kyle Dennis' Biotech Breakouts (biotechbreakouts.com). He is an event-based trader, who prefers low-priced and small-cap biotech stocks. He's also using his knowledge and looking to multiply his capital through options trades.