Biotechnology and pharmaceutical stocks offer a wealth of trading opportunities. However, you need to understand the biotech stock terms and what their press releases mean. You probably already know biotech companies release earnings and other corporate releases. In addition to those updates, biotech and pharma companies offer product-development updates such as "Phase" trials, "clinical testing" and more. That said, when you're learning how to trade biotech stocks, you need to know and understand some key biotech stock terms.
How to Trade Biotech Stocks: Biotech Stock Terminology Part 1
Clinical Trials
The biotech terminology 'clinical trial' is simply the clinical testing of a treatment on humans. This stage includes three clinical trials, which are Phase I, Phase II and Phase III.
The Phase I clinical trial is conducted on healthy volunteers in order to determine the maximum amount that the human body can tolerate. In this stage of testing the company is searching for safety and tolerability. Moreover, the company also determines how the body metabolizes the drug, as well as the effect of the treatment.
Phase II clinical trials test the dosage requirements in patients and the initial efficacy of the treatment.
Phase III clinical trials are large-scale assessments of the safety and efficacy of the treatment, comparing it to any similar, commonly used drugs. These are just a few terms you'll be learning as you follow the path to trade biotech stocks like a pro.
It's important when researching companies to understand this biotech terminology to identify how mature their treatment is.
Complete Response Letter (CRL)
Beyond simple testing stages, another catalyst event in the biopharma cycle, and biotech terminology you should know is the problematic complete response letter, or CRL. This biotech stock term is a letter that indicates to the sponsor that the new drug application (NDA) was reviewed and that the application can't be accepted in its present form. Although this may raise red flags, CRL issues often are resolvable.
For example, the U.S. FDA issued Valeant Pharmaceuticals International Inc., currently trading under Bausch Health Companies (BHC), a CRL regarding its New Drug Application (NDA) for DUOBRII.
According to Valeant Chairman and CEO Joseph C. Papa, "The CRL did not specify any deficiencies related to the clinical efficacy or safety of DUOBRII and no issues with CMC* processes. The CRL only noted questions regarding pharmacokinetic data."
The CEO added, "We are working to resolve this matter expeditiously and have already requested a meeting with the FDA. We hope to bring forward this important new treatment option for those who suffer from plaque psoriasis as quickly as possible."
Despite the CEO trying to ease investors' and traders' negative thoughts about this news, the stock sold off hard.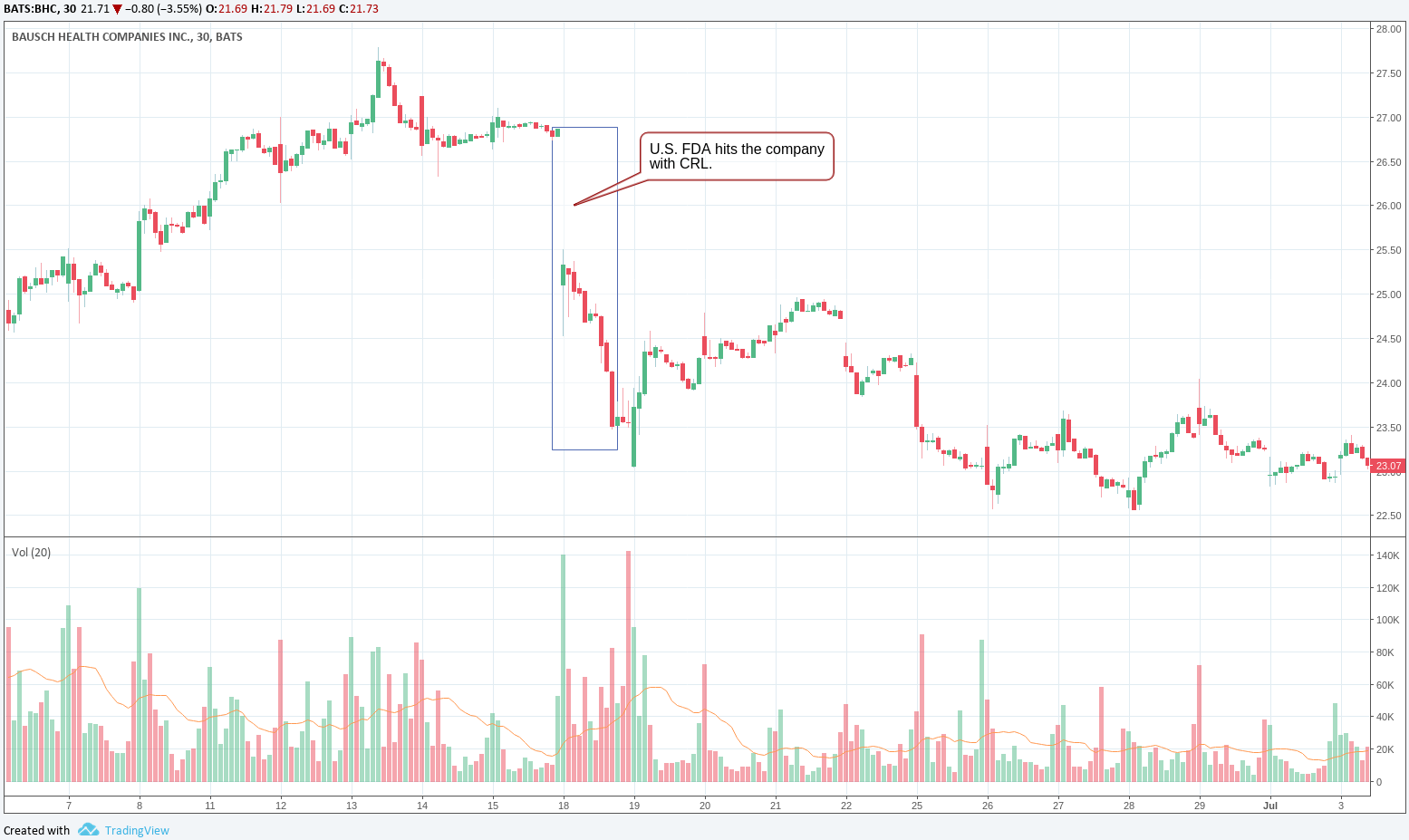 That said, when you're learning how to trade biotech stocks and developing a plan, understanding biotech stock terms is important because it could affect your positions.
Orphan Drug Status
If you're following biotech stocks, you might have heard of this biotech terminology when a company's treatment received orphan-drug status or breakthrough designation.
Orphan-drug status is granted to a company that has a drug used to treat a rare disease, as defined by the Orphan Drug Act. That in mind, these diseases are rare and only affect a small population, these treatments have the potential to be cash cows. Consequently, if a company's treatment is granted orphan status, it may boost the stock price.
For example, here's a look at Cellectar Biosciences (CLRB), which received Orphan Drug Designation for one of its treatments. Since the company received this designation, the stock price moved to nearly $8, from $6.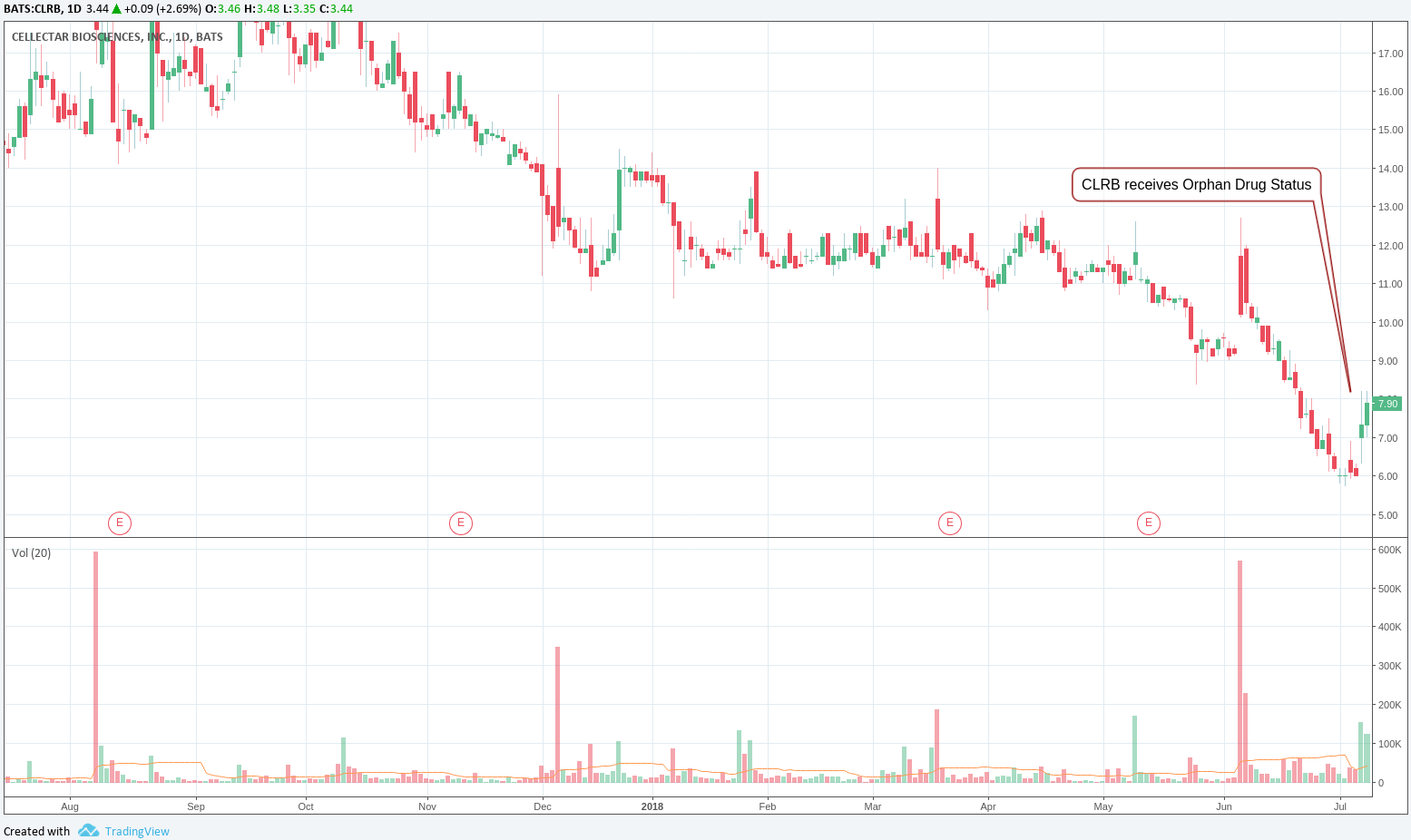 Breakthrough designation is granted at the investigational new drug (IND) stage to a drug candidate targeting a life-threatening disease. This designation expedites the approval process, which includes the rolling NDA submissions.
Form 4
While it may not be high on the list of biotech stock terms, knowing what and how to analyze Form 4 is important. This document in the biotech space helps to identify insider buys and insider sells. The SEC Form 4 could potentially indicate whether a stock is poised to rise or fall. When you combine the analysis of SEC Form 4 filings and catalyst events, it could increase the probability of success for a trade.
Final thoughts
The more you learn biotech terminology, the easier it will be for you to learn how to trade biotech stocks. What I have covered here is just a start to learning how to trade biotech stocks. There are way too many terms to cover in one lesson. That said, we'll review more terminology in the next part of this series.
#-#-#
Kyle Dennis runs Kyle Dennis' Biotech Breakouts (biotechbreakouts.com). He is an event-based trader, who prefers low-priced and small-cap biotech stocks. He's also using his knowledge and looking to multiply his capital through options trades.