Biotech and pharmaceuticals are attractive industries for new investors to look into, but if you don't know key starting points they're like any other sector, confusing and overcrowded with names. When you're learning how to trade, you need to know some common biotech stock tools to use. If you know which tools for biotech stock trading to use, it should be a lot easier for you to learn how to trade biotech stocks. That said, here are three useful biotech stock tools to use when you're looking for biotech and pharma companies that have potential catalyst events.
The Best Biotech Stock Tools To Use For Beginners
BioPharm Catalyst
BioPharm Catalyst (www.BioPharmCatalyst.com) is a great biotech stock tool for anyone trading biotech or pharmaceutical stocks, providing a database of upcoming events in specific biotech and pharmaceuticals companies. The web site is not all-inclusive, but it does cover the bulk of the action out there. BioPharm Catalyst should provide you with the company ticker, the name of the drug, the stage the drug is currently in, the event and its date. That said, you can stay up to date on the industry with this tool, which is extremely helpful when you're learning how to trade biotech stocks. Here's a look at BioPharm Catalyst's FDA calendar.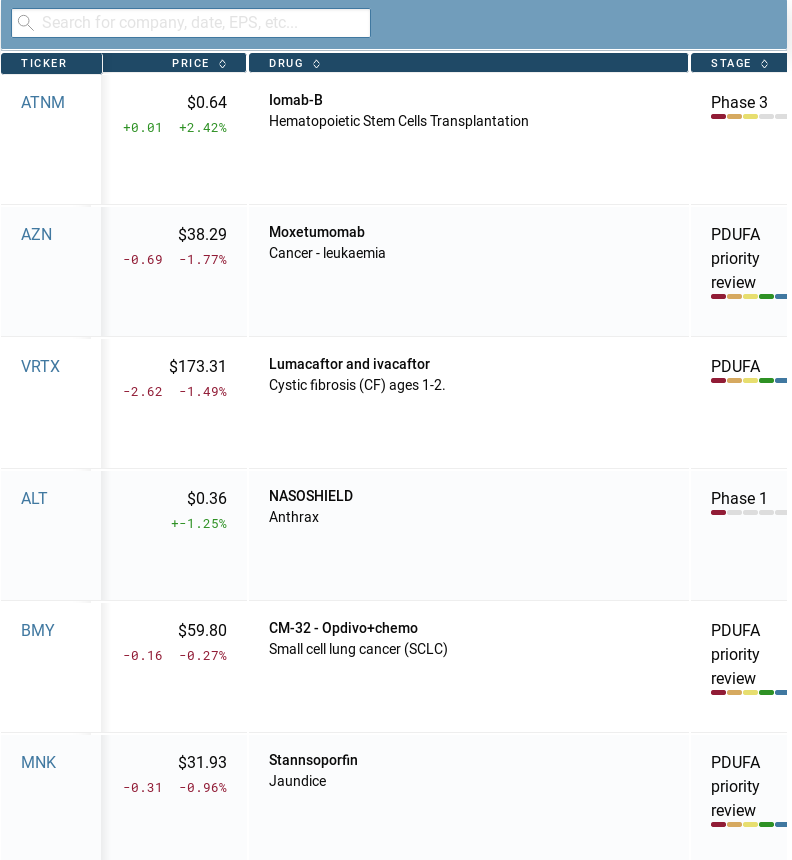 FDA Tracker
This biotech stock tool will run you around $30 per month. When you're  first starting to trade biotech stocks, this price tag is a bit steep. Once you are consistently profitable, this tool for biotech stock trading can provide additional information and can help you take another step forward.
FDA Tracker allows you to find trading opportunities, and it's products include burn rate, trial tracker, FDA calendar, Adcom explorer and patent tracker.
Seeking Alpha
Another site that can be useful is www.seekingalpha.com, but be wary when you're reading articles or reports about small biotech companies, as the writers could be looking to pump their position. That said, the earnings-call transcript that Seeking Alpha offers can be an asset. If a biotech or pharmaceutical company has a conference call after its earnings release, go to Seeking Alpha to read what officers and directors said.
SEC EDGAR Database
Another helpful biotech stock tool is the U.S. Security and Exchange Commission's (SEC) EDGAR database. This is extremely helpful when you're looking to trade biotech stocks. You could search for biotech companies and conduct your due diligence by reading into their filings. Some important filings to read into include: 8-K, Form 4, 10-Q and 10-K. The more informed about a biotech stock, the more confidence you should have in your trades.
For example, here's a look at a search on Mallinckrodt PLC (MNK).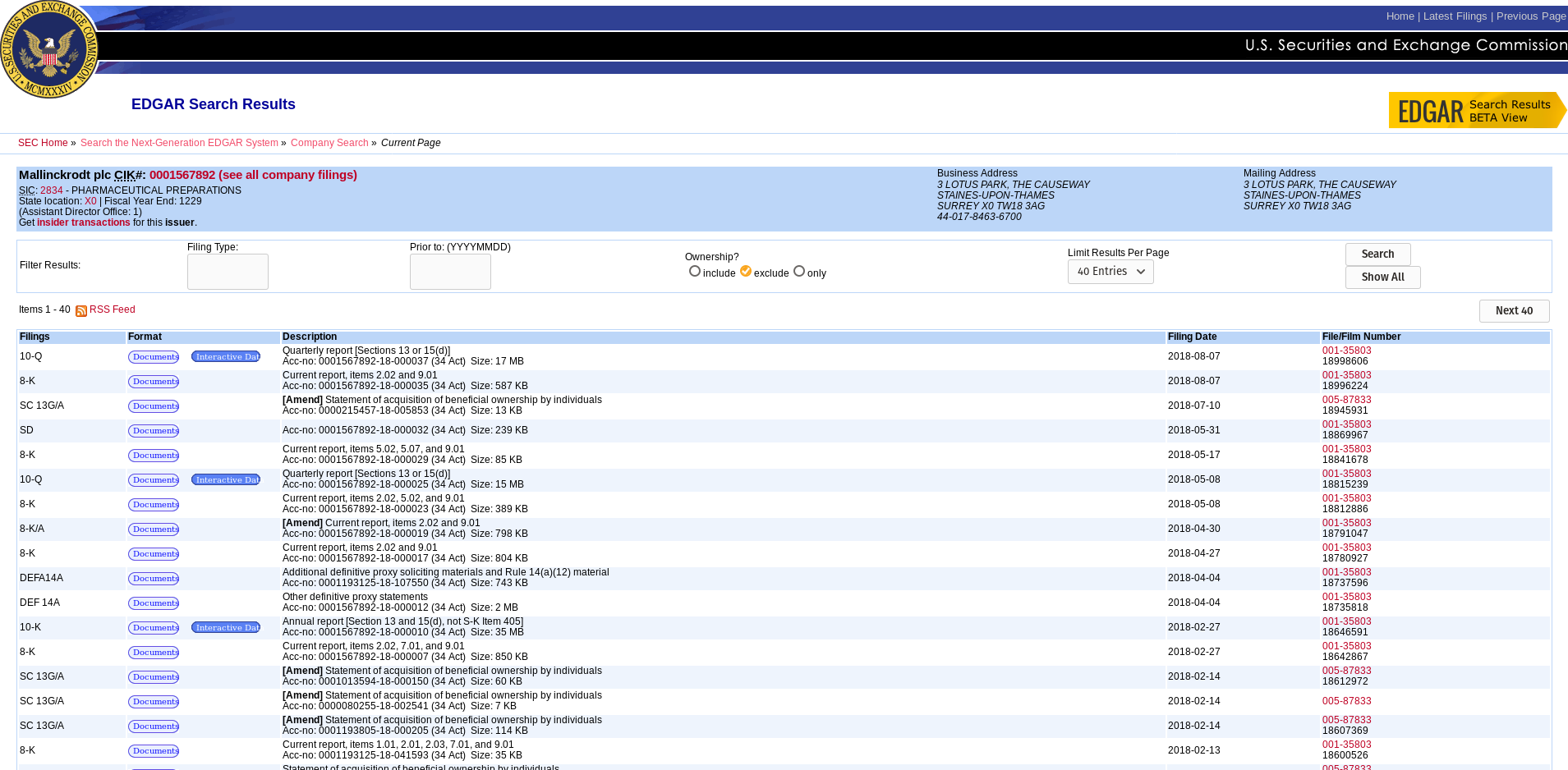 Clinical Trials
If you're savvy and understand how to trade biotech stocks, you can research studies. Remember, before a biotech or pharmaceutical company markets and sells its products, it needs to conduct studies. For example, let's say you want to look for biotech or pharmaceutical stocks conducting research in a rare form of cancer, you could search for that on ClinicalTrials.gov. You could search this database for both privately- and publicly-funded clinical studies.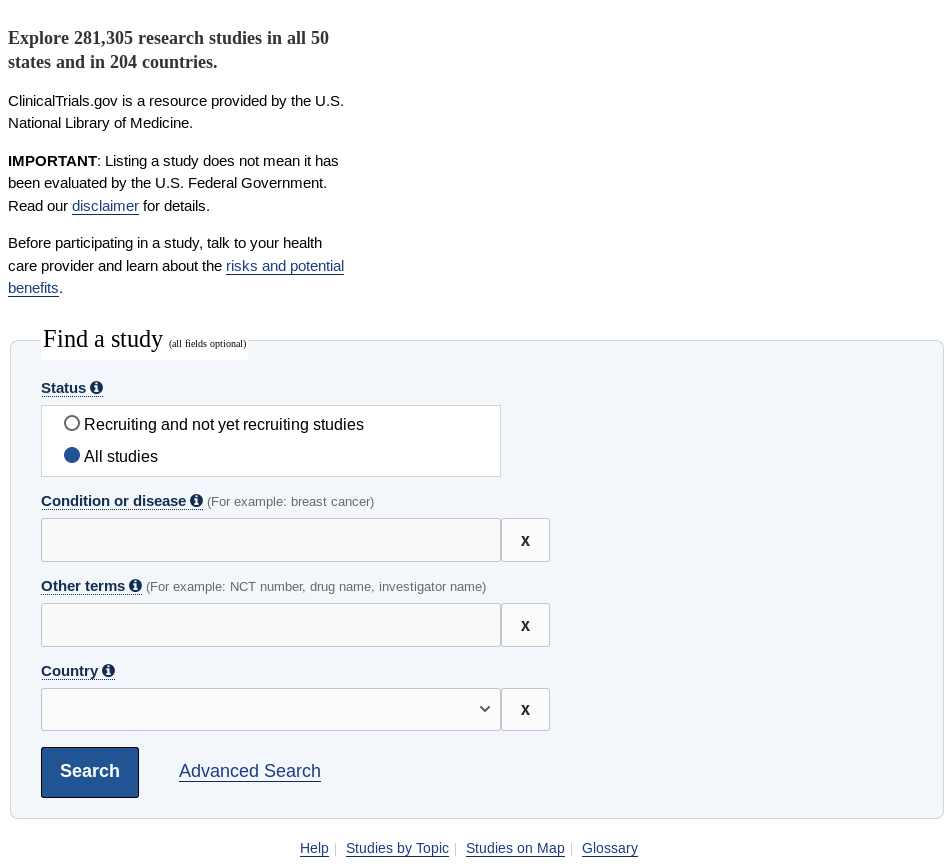 Final thoughts on trading tools for biotech stocks
When you're learning how to trade biotech stocks, you need to be mindful of the timing of catalyst events. BioPharm Catalyst, Seeking Alpha, EDGAR Database and ClinicalTrials.gov provide free services, which can both be useful when you're starting out. If and when you become consistently profitable, consider subscription services if you believe the additional information will help you make more and better trades.
#-#-#
Kyle Dennis runs Kyle Dennis' Biotech Breakouts (biotechbreakouts.com). He is an event-based trader, who prefers low-priced and small-cap biotech stocks. He's also using his knowledge and looking to multiply his capital through options trades.