The set-up: It's hard to find a sector that isn't stretched to the moon and giving good trade scenarios right now – and it has been this way for a while – but you go where the right chart is and right now that means biotechnology.
The iShares Nasdaq Biotechnology ETF (IBB) is giving a nice defined entry point here on solid support.
The chart: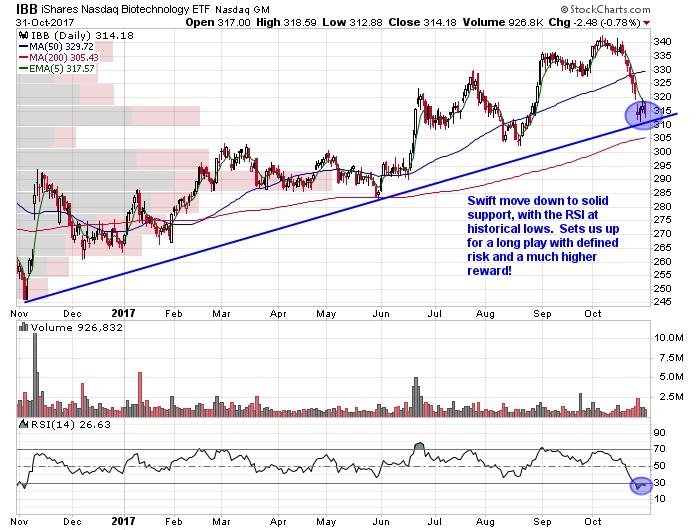 The IBB has pulled back to a solid support trend line and is short-term oversold based on the Relative Strength Index ( RSI). I'd be looking to buy it here – while it is in the $314 – $315 range so long as it doesn't break support.
You can see the last time this happened at the start of this chart; notice how the IBB rebounded out of oversold about a year ago, and the RSI is giving an even-stronger signal now.
The play: I think IBB trades back to its 50-day moving average, which is around $330, and I would set my stop-loss below the trend line, which means $312. That gives us about a 15-point reward with risk of just two or three points.
I'm not playing it because I don't trade indexes, but my RagingBull.com colleague Jeff Bishop of TopStockPicks.com is looking at options on IBB and leveraging it with the Direxion Daily S&P Biotech Bull 3X ETF (LABU) and I trust his strategies here.
Listen to Jeff Bishop talk about why he is watching biotech and the IBB
#-#-#
Jason Bond runs JasonBondTraining.com and is a swing trader of small-cap stocks.