What Is Reverse Stock Split?
The term 'reverse stock split' is how a company says it's consolidating shares. The company's total value does not change, but the number of shares outstanding lowers, and the value of each share increases proportionately.
What a Reverse Stock Split Means
If you see that a biotech or pharmaceuticals stock is way up without any news to justify the move, see if the stock went through a reverse stock split.
This is a move by which company directors reduce the company's total number of shares outstanding and shares available for trade. Additionally, the stock price is multiplied by some specified factor, thus accounting for the big gain.
Reverse Stock Split Example
For example, if you owned 100 shares of a stock that conducted a one-for-five reverse stock split, you would end up with 20 shares of the stock. However, the price from the previous day's close — when you owned more shares — would be multiplied by five. The result is the market value of your position remains the same when the reverse stock split is completed.
Reverse Stock Splits Could Raise Red Flags
Reverse stock splits can raise red flags when you're trading biotech or pharmaceutical stocks.
When a stock is listed on national exchanges such as NYSE and NASDAQ, there are stringent requirements to remain listed. If a company does not meet those requirements, it risks being delisted. In other words, it would move to something like the OTC Bulletin Board — which is bad news for shareholders.
Thus, if you see a history of reverse stock splits in a company's past, it could indicate the company's treatments had unfavorable data for some of its pivotal clinical trial data or earnings. Those events could cause the stock to sell off, pushing it to the brink of delisting and forcing management to use a reverse split.
Example of a Biotech Company That Issued a Reverse Stock Split
Innovate Biopharmaceuticals (INNT) announced it would be trading under a new symbol and declared a 1 for 10 reverse stock split.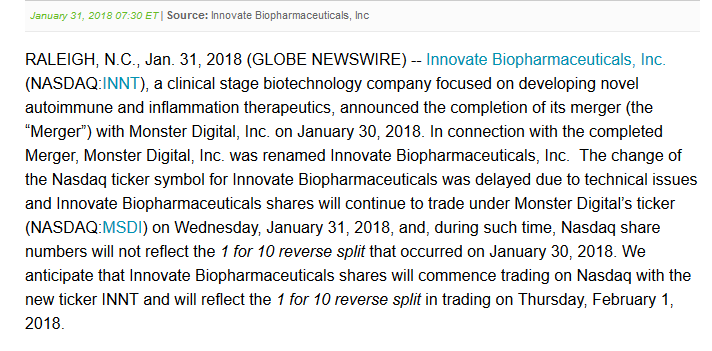 Source: Nasdaq
If you were conducting an analysis on INNT, you should take some precautions and delve deeper into the company. A reverse stock split is often a red-flag raiser, and you should not take this corporate action lightly.
Final Words
A history of reverse stock splits could be an indication of a biotech or pharmaceutical company's weakness. Consequently, this automatically raises a red flag. If you notice a stock has issued multiple reverse stock splits, it could signal that the company's drug pipeline is not robust, which could make it subject to further potential sell-offs.