Good morning everyone,
Today we're covering Juul's bold new strategy and discussing Nike's woes.
And here's what we've been talking about at Raging Bull HQ …
"Basically the Apple store for people who blow dank ass clouds." – Jeff explaining Juul's idea to Jason
Keep raging,
Jeff & Jason
---
THE MARKETS

---
THE HEADLINES
With great power comes great responsibility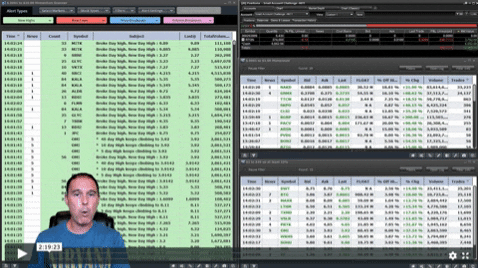 Boomers have already blamed millennials for killing off plastic straws, "breastaurants" and cheap domestic beer.
The next target? LaCroix. Shares of LaCroix parent, National Beverage Corp, dropped 2.9% on Thursday after Guggenheim Partners suggested that the company's sales were in a "free fall." The fizzy flavored water company's price target was cut from $45 to $36 dollars.
Guggenheim Analyst Laurent Grandet said that his company doesn't believe that LaCroix can recover while in the hands of National Beverage, and cites increased competition, lack of innovation, and inexperience in managing a rapidly growing brand, as reasons for the brand's bleak outlook.
So what are they buying?
E-cigs! While LaCroix struggles to win the hearts and minds of young professionals across the US, Juul is exploring the possibility of opening its own retail locations to counteract the recent crackdown by the FDA. 
Juul plans to use retail locations to gain valuable insight from shoppers that it can't typically get from convenience store or smoke shop partners, while also giving current users the ability to test new products, and recycle old ones. As of now, rumor has it that Juul is targeting Texas as its testing ground, given the high smoking rate. Clear eyes, full pods, can't lose. 
Bottom line: "If this trend keeps up … short Chipotle." – Jeff
Just do it
Shares of Nike have taken a beating on news of the US-China trade talks falling apart. How bad is it? The company resorted to writing a strongly worded letter to POTUS asking him to reconsider tariffs on shoes made in China. 
And when the company isn't busy adopting your grandmother's preferred method of relaying dissatisfaction, it's facing headwinds as US consumers cut back on discretionary spending. Apparently, self-lacing Back to the Future Air Mags aren't a great investment during a time of economic uncertainty. Who knew?
Exhibit A: Look no further than Foot Locker which relies on Nike for more than ⅔ of its sales. The mall staple missed Q1 earnings and revenue projections. For what it's worth, Foot Locker's woes certainly also reflect Nikes direct to consumer push and shift to online sales.
Bottom line: "A tidy resolution to this trade war would prove beneficial to Nike's stock. Hey, stranger sh*t has happened." – Jeff
---
IN OTHER NEWS
Okay, we have some good news and some bad news. The good news: Uber's, um, "earnings," if they can be called that, came in line with analysts expectations. The bad news: the company lost just over $1B for the quarter, mostly due to the cost of signing up restaurants for the Uber Eats program and onboarding costs associated with new drivers who most certainly aren't employees
Carl Icahn is suing Occidental Petroleum following its $38B deal to acquire Anadarko Petroleum. Ichan has a $1.6B stake in Occidental. The activist investor is upset that the deal was done without a shareholder vote and the fact that his boy Buffett ponied up some cash for funding the effort. Uncle Carl's fix? Shuffle board seats and force a sale of the combined company should the deal go through.
USA Today publisher Gannett is in talks to merge with Gatehouse Media. This deal would bring together the two largest newspaper companies in the US. Gannett isn't sure if it wants to settle down yet, though, as the company has held similar discussions with Tribune Publishing and McClatchy.