The SEC is supposed to be the financial watchdog and protect everyday traders like you and me…irconically they help Wall Street's largest funds get the upper hand.
Case and point — between 2010 and mid-2014, ITG omitted important structural features of one of its dark pools, splitting the trading venue into two separate pools. 
In essence, this prevented certain orders in those pools from interacting with each other.
Now, ITG did not disclose these pools. 
Not only that, but ITG did not ensure the information was protected. You see, dark pools were designed for Wall Street's largest players—allowing them to hide their trades and execute their orders covertly.
The SEC uncovered the fact that between mid-2014 and late 2016, ITG did not disclose it applied a "speedbump" that slowed down interactions from certain high-frequency trading (HFT) firms. 
Here's the kicker…
ITG disclosed the confidential dark pool trading information from its clients. Every day, the firm sent out its Top 100 Reports that outlined the previous day's trading activity. If you were able to get your hands on that information, it would've been very easy to put the pieces of the puzzle together.
These reports contained valuable information that identified the top 100 stocks for which orders were executed. Essentially, the trading firms would be able to use those reports to detect unsatisfied liquidity needs… and ITG assured its clients it would not disclose their trading intentions. 
ITG and its affiliate AlterNet Securities Inc. agreed to pay $12M to settle the charges, and they were hit with a cease and desist from committing or causing any future violations. Basically, they violated the antifraud provisions and rules governing the requirements for dark pools.
I don't know about you, but a $12M fine for making information available isn't a big deal to me.
As you can see, the SEC protects dark pool users, and it seems a little shady to me. We all know how Wall Street is filled with scummy traders who place bets on non-public information, and many times they use dark pools to trade covertly.
How To Use Dark Pool Information To Your Advantage
Sure, the SEC fined ITG and AlterNet for disclosing dark pool information. However, it's not actually illegal for us to trade off that information. You see, there are special filters out there that detect massive block trades that go off on dark pools. This helps us effortlessly generate trade ideas, and legally steal ideas from the large banks on the street.
In order to spot these trades, I use a proprietary scanner.
For example, I noticed an interesting order that hit the market in Virgin Galactic Holdings Inc (SPCE). One whale came in and bought up 560K shares of SPCE at $10.20 in a dark pool. That signaled to me the stock could run higher.
When I see a massive options order go off on the dark like SPCE, I place it on my watchlist… waiting for the perfect entry. Just a few days later, I saw more block trades hit the market and figured something was up. It could've been the same player from earlier scooping up more shares of a potential catalyst, who knows. It was an interesting play for sure, so I decided to put the trade on.
However, I didn't buy the stock… I decided to stick to the options because it provides me with more leverage and allows me to generate high returns, fast.
Since this was a strange play, I decided to size my trade a bit smaller than usual, just in case things went sour. 
Here's what the stock did after I got into the trade…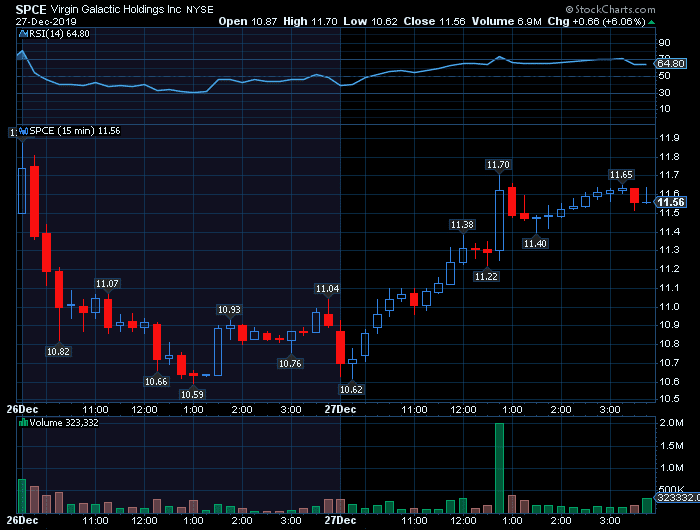 I alerted the trade on Dec. 27, and it started to trend higher all day!
As you would expect, the calls were running up that day… and it got right to my profit target! When I hit my profit targets, I think it's a good idea to take some off the table, and let the rest ride. Remember, just someone decides to sell half, it doesn't mean you have to follow suit.
Maybe you're satisfied with locking in the entire position for 50%. Do what makes you feel comfortable.
I decided to hold the rest to try to juice some more profits out of it… but no cigar. However, it was still a very nice trade overall. Here's a look at what I sent out to my clients when I closed out the last portion of the trade.
That's the power of using dark pool information, and my clients are finding a lot of success with my strategy.
Just sold SPCE calls for +36% Thx Taylor! ~ Gary T.
Same here Gary out SPCE +38%, Thanks Taylor ~ Dave
same here for 40%, excellent… ~ Lee
+50% on SPCE ~ Robert
There are a plethora of trades going off in the market just like these… and all you need to do is be there to execute the trade. If you want to start profiting off Wall Street's greed, click here to see how to do just that.