At these levels, it's getting a whole more difficult to trade the market. We went from a potential gap down as geopolitical tensions rose… only for the "buy the dippers" to rush in and push the market to all-time highs.
The market has sure stumped a lot of traders. Right now, I think it'll be detrimental to your psychology and trading account if you decide to get heavy on either side of the market.
As a trader, I'm neither a perma-bull or a perma-bear, I just want to make sense of the market and what exactly is going on. We all know the market is fragile right now, and the tides can turn very quickly. 
For the most part, I'm sticking to my guns — following the paper trail of Wall Street's largest players.
Why am I only looking for dark pool trades?
Well, they work in any market environment — bullish, bearish, or choppy — following the smart money is effective.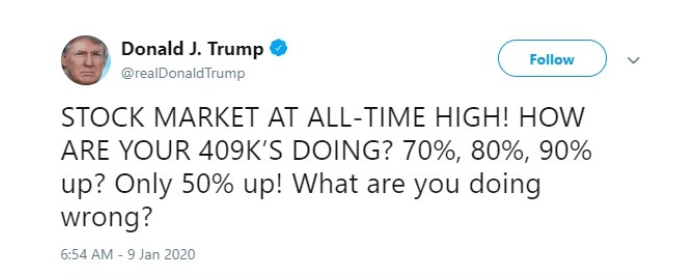 If you're underperforming the market, you'll want to check out why you need to be looking at dark pool information.
The Smart Money Stays Winning
I think the best way for you to learn how dark pools work is by providing you with a real-money trade example. You see, the Wall Street insiders look for ways to cover their tracks. Many times, they have access to non-public information, better technology and research… you name it
The smart money has an unfair advantage.
However, I've figured out a way to level the playing field. All I have to do is look at the order flow going off in the dark pools using a proprietary scanner… then look to the charts.
Don't believe me?
Yesterday, I sent my clients out my watchlist with my potential dark pool plays. 
MRK – 2m at 88.65 – Jan 17th $89 Calls watching close in the morning for a potential trade
Heck, I even let them know Merck &  Co. (MRK) was my favorite setup.
Why?
Well, someone dropped a whopping $177.3M on the trade! I don't know about you, but that's a massive trade in my eyes… and I don't think someone is throwing down a massive bet like that if they're not confident it's going to pop.
When I looked to the daily chart, MRK it was an interesting setup.
MRK sold off a bit earlier this week, but it hit a key support level. The reason for the sell off: MRK's Keytruda drug missed key data points in a pivotal study. The drug failed to produce survival benefit for a study with small cell lung cancer. 
However, if you know anything about drug companies like Merck… they're so massive that a headline about one of their treatments shouldn't move the needle a whole lot. In fact, the following day, Merck actually received FDA approval for its bladder cancer treatment.
That said, I figured the bullish news would overshadow the negative news from the other day, especially with the market ramping higher.
When I saw a large player hammer MRK shares at $88.65, I just knew I had to keep an eye on it.
Why?
The trade went off right at a key support level, and I realized the smart money had a great idea. 
So what did I do?
I followed suit.
Shortly after, I was sitting in some hefty profits, and I locked in a 54% winner on half of my position (keep in mind, I'm holding on to the rest and am still in the calls, but I'll be sure to let my clients know once I sell them).
The thing is, I wasn't the only one who profited from this trade… many of my clients also locked in a monster winner.
jeez MRK ST up 25% ~ Lee S.
first 1/2 of MRK calls sold +30% Thx Taylor ~ Gary T.
MRK st up at 38%, will trail out at 50% ~ Ben E.
first half of MRK out at 50% ~ Ben E.
second 1/2 of MRK sold +45% Thx again Taylor ~ Gary T.
Thnx Taylor I'm back over 10k! ~ Mark S.
Out at +50% on MRK…thanks, TC! ~ Chad E.
had a trailing stop on MRK as I had to step away, got 46.2%, thanks Taylor! ~ Kevin S.
If you're having trouble finding trades in this market environment, then dark pool trades may be the solution. Click here to learn how you can effortlessly generate trade ideas and piggyback off Wall Street's largest players.