If you don't think bitcoin, cryptocurrencies and blockchain aren't getting crazy yet…think again. This is reminiscent of the dot com era, when companies were just putting .com at the end of their company name and just popped up. It seems like companies are getting into blockchain and cryptocurrencies everyday, causing a meteoric rise in their market value. For the most part, we've been catching these moves, and traders in the community are getting paid. Most recently, we got into Seven Stars Cloud Group (SSC), and I'm ecstatic to see traders locking in hefty profits.
The trade idea

In the week leading up to the holiday weekend, I realized SSC had breakout potential above the trendline in the high $4 area. I chased, looking for a move above $5.20.
Here's what I was watching when I was getting in SSC: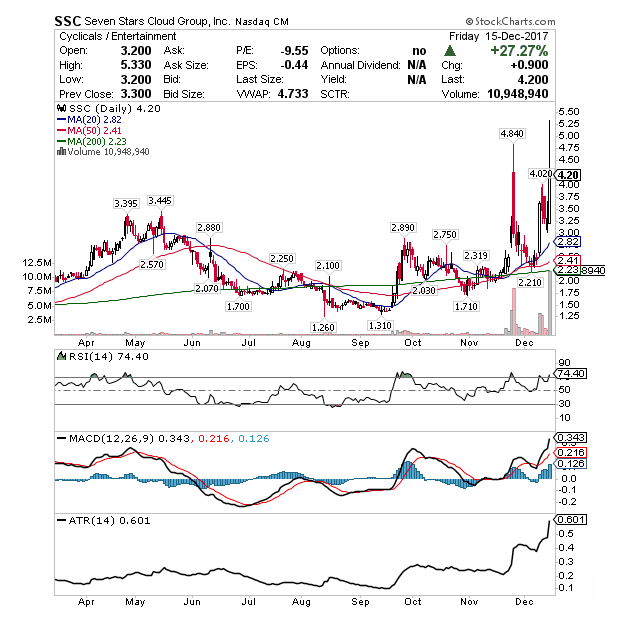 I bought 5K shares of SSC at $4.90 and added 3K more at $4.87. I was looking for a pop above $6, but, sadly, I sold for pretty much break even at $4.91. When I sold my shares, the stock didn't look like it was going to breakout. Tough break.

SSC is getting into blockchain
This happens a day after I sold SSC…
Source: New York Post
Seven Stars Cloud CEO Bruno Wu, an experienced investor and Chinese mogul, is pushing for trading in cryptocurrencies. With the 27% stake in the Delaware Board of Trade, Seven Stars will trade ETFs backed by digital assets, which could be settled into cryptocurrencies. Consequently, this move could bring in more revenues and earnings for the company, causing the stock to rise significantly overnight. Big ups to whoever stayed in the name.

It pained me to not be in the trade with our trading community when the catalyst was released, but it was great to see this in the chatroom:

The stock went as high as $8.15, and I showed some traders how to sell during pre-market hours. Here's what happened during normal trading hours:
The stock hit a high and traded in range pretty much the whole day.
The takeaway: have a trading plan and stick to it. Even though I didn't bank like others did in the community, I stuck with my plan and trusted my instincts. My target was above $6, and I stopped out where I said I would. If your position is up more than you expected, take profits and don't stick around because you could end up giving a lot of it back.
That said, if you missed out on this trade, I wouldn't worry too much because we're seeing these plays nearly everyday. I won't be surprised to see a slew of companies get into the blockchain or cryptocurrency business because we saw it happen so many times already.

#-#-#
Jason Bond runs JasonBondTraining.com and is a swing trader of small-cap stocks.