The set-up:  Seemingly every index is at record highs and seems to be staying there, but the Russell 2000 index has had the biggest move of them all. The iShares Russell 2000 ETF (IWM) has been overbought for almost a month now, so I've been looking for a signal that things were about to change and that it is time to get short. We got that signal on Monday.
The chart: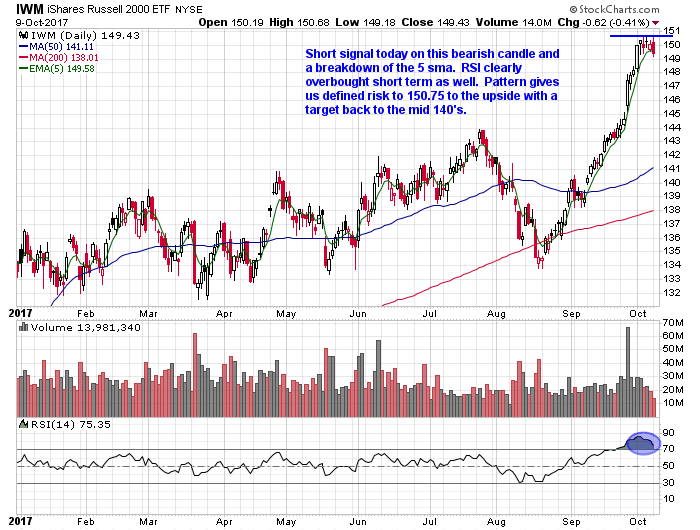 Notice the green line on this chart, the 5-day exponential moving average. It has been support for the IWM throughout this entire rally.
Monday, IWM closed below it for the first time since early September. Moreover, it broke that line on a day it had a bearish engulfing candle.
This makes this trade easy to evaluate, because it gives us defined risk at the $150.75 level, with a target set back in the mid $140s; specifically, the high in July was $144, which I think will act as support.
It's a great R-multiple, which is why I can make this call despite the bull market we have been in and the record highs we have seen.
How to play it: You can short the IWM or use a leveraged ETF that bets against it, but you are looking today to make sure it stays below that $150.75 high. I don't have a preference – since I don't play ETFs – but my Raging Bull colleague Jeff Bishop of TopStockPicks.com prefers the Direxion Daily Small Cap Bear 3X ETF (TZA), which he currently is holding.
If the IWM takes out the highs and rips it all day, the trade is off, but that would just have me looking for the next technical set-up to get short here, because I believe this reversal is coming sooner or later.
#-#-#
Jason Bond runs JasonBondTraining.com and is a swing trader of small-cap stocks.