The set-up: The dollar had a breakdown in a solid uptrend on Tuesday, with a solid close below the support line. From a purely technical standpoint, that makes it time to short the dollar.
The chart: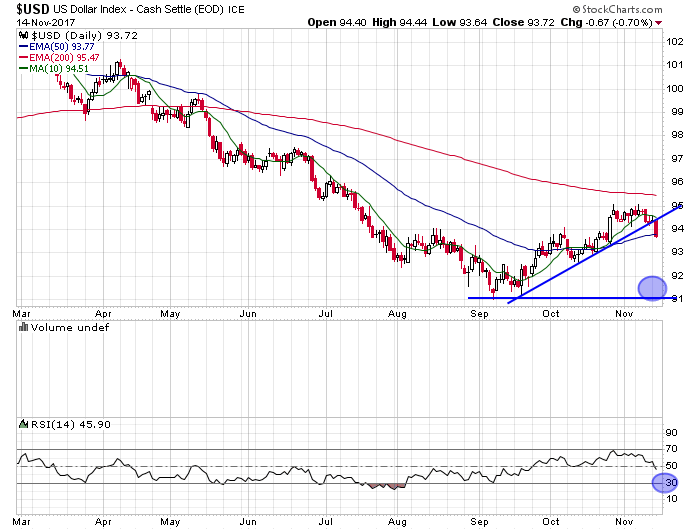 The Relative Strength index is neutral here, the dollar isn't in oversold territory, and the obvious breaking of the recent uptrend should mean that we are starting a new short-term downtrend, which would take the dollar back to about 91. I'd set a stop-loss back at the support line, which means 94.50, giving the trade a potential three-point gain with a 50-cent risk, the kind of trade I'm always willing to take a chance on.
The play: I use indexes and ETFs to inform my day trades, not as something I trade myself, but the PowerShares DB US Dollar Bearsih ETF (UDN) would seem to be the obvious choice here.
#-#-#
Keith Kern has been a full-time day-trader for 17 years; he moderates the Lightning Alerts chat room at BiotechBreakouts.com. He does not trade in indexes or ETFs at all – focusing his day-trades on individual stocks – but analyzes the market from the top down looking for his daily trading ideas. At the time this commentary was published on Raging Bull.com, he was 100 percent in cash.