He currently ranks 13th,  one spot below Kim Kardashian as one of the most actively followed people on Twitter.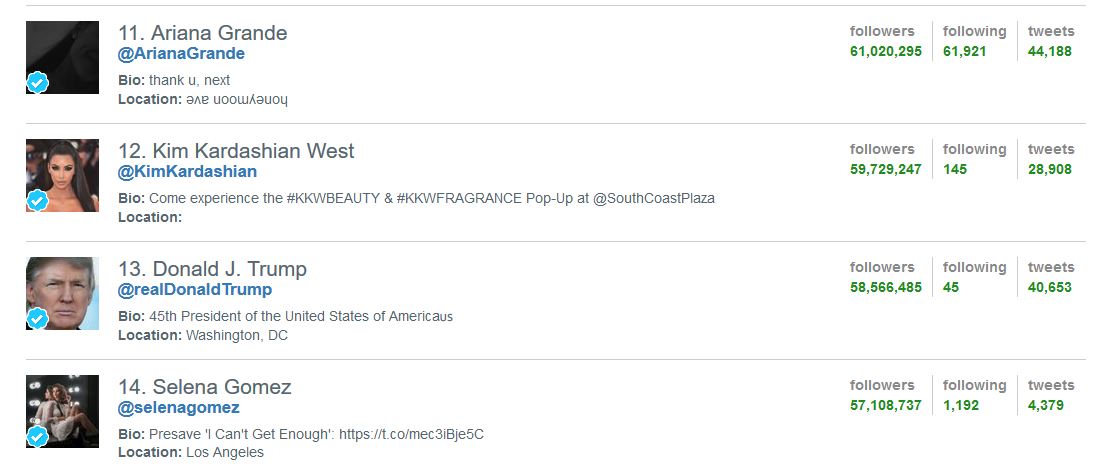 Source: Friend or Follow
President Donald Trump has an active presence on Twitter, having sent out almost three times as many tweets as former President Barack Obama. That said, no other world leader currently can move markets as much as a Trump twitter post.
The President uses Twitter as his public forum. The majority of the media sides against him, and he has often criticized the media for being one-sided (against him).
Trump tweets about the media, his staff, other world leaders and politicians, current events, politics, and policy. But that's just the tip of the iceberg, and there is virtually no topic that is off limits for the President.
And that is why traders love him. Because above all, a day traders need volatility, and when Trump tweets he can move stocks and the global market.
President Trump will use Twitter to praise or call out U.S. companies when he thinks they are acting in line with or against his "America First" policies.
As the 45th President of the United States, Donald Trump is likely the most powerful man in the world.
Of course, his events in Washington tend to have a significant effect on Wall Street because government policies can trigger bearish or bullish reactions.
Therefore, savvy traders and investors pay attention when Trump speaks about publicly traded companies.
Trump Twitter Influencer
Donald Trump's handle on Twitter is @realDonaldTrump where he has almost 60 million followers. Twitter itself is a global social networking platform with more than 300 million monthly active users who post about 500 million tweets per day.
On the night Donald Trump was declared the winner of the U.S. Presidential elections in November 2016, Dow futures slipped roughly 800-points.
It seems like Wall Street investors began to fear what they imagined would be a chaotic presidency.
However, the stock market returned to its bullish optimism within a few days after being elected. Wall Street started to consider the effects of a pro-business White House objectively.
Today, Trump must know the influence his tweets have on specific stocks and the overall stock market.
Some have argued about the ethics concerning Trump's Twitter posts. However, the President claimed the bragging rights to the uptrend on Wall Street.
In his words, "The stock market has smashed one record after another, gaining $8 trillion, and more, in value in just this short period of time."
Furthermore, all major U.S. stock indices have recorded double-digit growth from the date of Trump's inauguration January 20, 2017, as depicted by the chart below.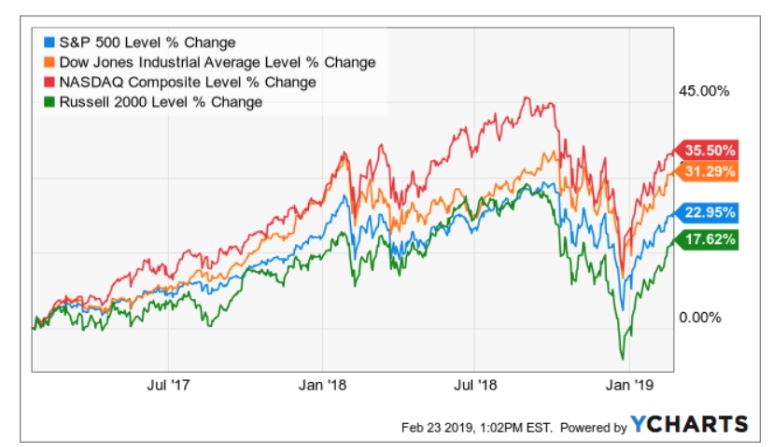 Source: YCHARTS
The Trump Twitter Effect on Stocks
[button link="https://millionaireroadmap.com/lp/webinar-yt/?utm_campaign=mr-webinar-yt&utm_medium=rb-post&utm_source=swnp-post&utm_content=trump-twitter&utm_term=rb-website" type="big" color="red" newwindow="yes"] Believe it or not, they've helped ordinary folks become stock market millionaires. Click here to find out how you can be next. [/button]
Trump's tweets about specific companies often create additional volatility in the stock. Therefore, if you're an active day trader, then you'll want to have alerts set to catch all of Trump's tweets.
Auto stocks
In September 2018, Donald Trump posted this Tweet: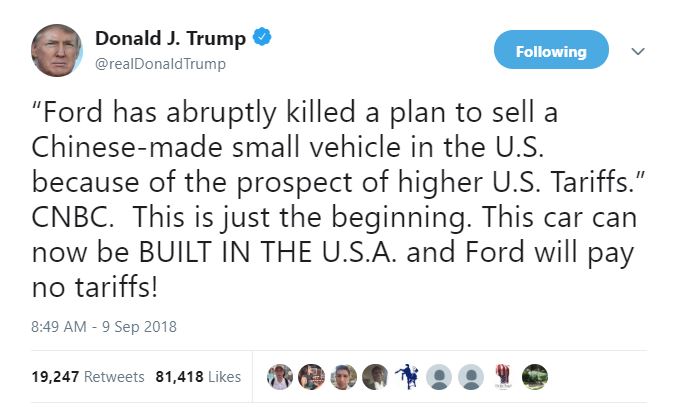 Ford, however, refuted the claim, noting that "It would not be profitable to build the Focus Active in the U.S. given an expected annual sales volume of fewer than 50,000 units."
Anyways, shares of Ford rose 1.6% in the next trading session to suggest that investors were choosing to side with the firm's management.
General Motors Company (NYSE: GM)

Trump posted a tweet in which he threatened to impose an "a big border tax" on GM because it makes the Chevy Cruze in Mexico.
Shares of the automaker dipped almost 3% after the tweet. However, it recovered before the end of the trading day.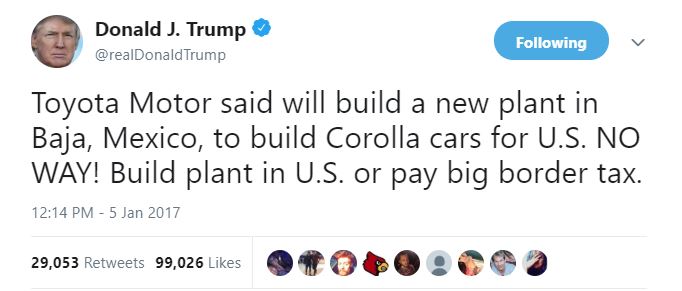 Toyota got a similar threat from  Trump in a tweet criticizing the firm's decision to build a new plant in Mexico. Trump told the firm to "build the plan in the U.S or pay big border tax."
Five minutes after the news went live, Toyota investors in Asia took the tweets saw about  $1.2B of the stock's valuation disappear.
Trump Tweets about the Tech Sector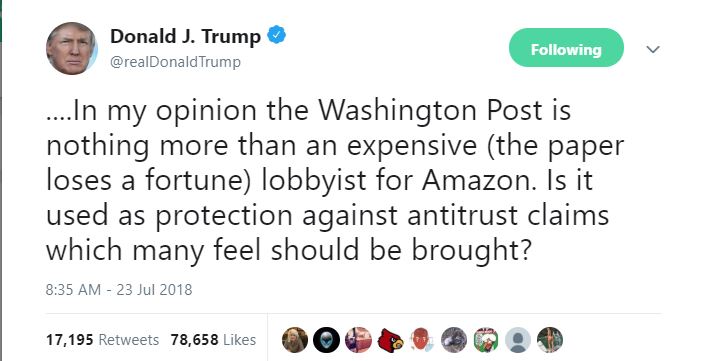 Maybe it's personal. Amazon's CEO, Jeff Bezos is also the owner of the Washington Post newspaper. President Trump often disagrees with what the Post reports.
It's fair to say that he and Bezos are not best friends.
The feud between the two men often leads to Trump criticizing Amazon and Bezos' other business interests.
Last year, Trump tweeted that Amazon has a "huge antitrust" problem after previously hinting that Amazon wasn't paying fair taxes.
The shares of Amazon fell about 2.4% after the news, and it took a couple of days before it recovered.
It wasn't that long ago when Trump tweeted that the price of Apple's products might see a spike if Washington imposed tariffs on China.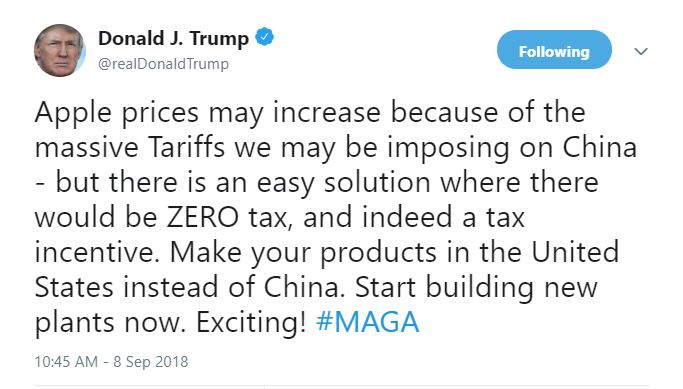 He notes that an easy solution to avoid the tariffs will be for Apple to make its product in the U.S. instead of China.
Shares of Apple fell by 1.3% after the tweet. However, analysts noted that Apple will still need to raise the price of its products if it moves production to the U.S. because of higher labor costs.
The Aerospace & Defense Sector
Trump tweeted about Boeing just a few weeks before his inauguration noting that he might cancel the country's Air Force One order because of its high cost.

The tweet triggered a 1% decline in Boeing stock as analysts and investors began to mull over the potential impact of such cancellation on Boeing's future earnings.
Lockheed Martin Corporation (NYSE: LMT)
Before his inauguration, Trump criticized Lockheed Martin's F-35 program noting that it was too costly and way behind schedule.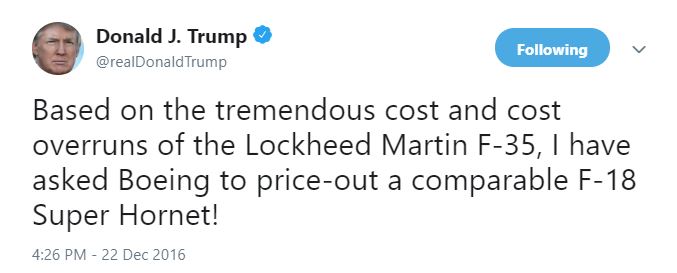 The first time he criticized LMP, in December 2016, the stock declined by 2% and then it dropped another 1.64% when Trump slammed the company the second time.
The Trump Twitter Effect On the Overall Market
A bull market is good for investors, the economy, and it also looks good for the President. And like any great politician,  why not take credit when stocks are raging.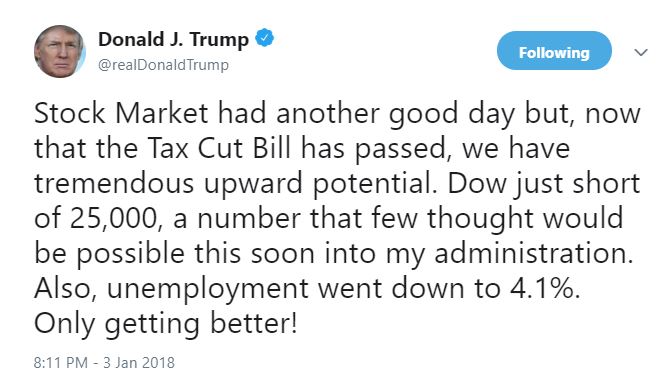 That said, like any good trader, if things are not going your way, it's never your fault, it's the markets.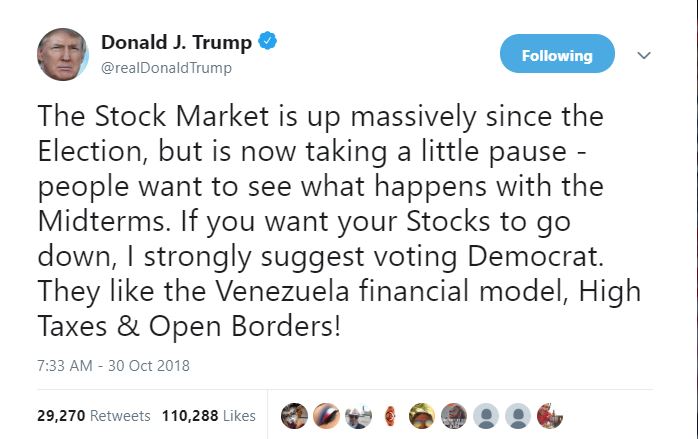 Are Trumps Tweets Tradeable?
The Wall Street Journal created a Trump Target Index of 12 stocks that have experienced added volatility as a direct consequence to one of the President's tweets during his first year in office.  The Journal reported that while many of the stocks recorded declines immediately after Trump took shots at them, overall the index was up 32.5%.
That said, the effect of Trump's Twitter use on stocks tends to be short-lived.
It seems like Trump's political tweets have a more significant effect on the overall market than his tweets about individual stocks.
For example, when Trump tweets about trade, interest rates, and the Federal Reserve Bank, they tend to have a substantial impact.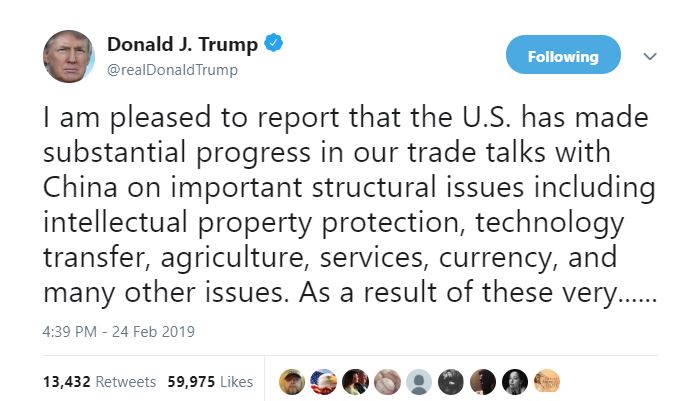 Anyways, some analysts believe that Twitter's resurgence is owed to Trump.
Soon after winning the election in 2016, Trump revealed that he would be making lots of announcements via Twitter.  The company ended up adding 327 monthly active users during the first year of Trump's presidency.
If you trade large-cap stocks, then you must follow the President on Twitter. And of course, if you are a catalyst trader, Trump's tweets can cause a volatility spike in any stock he mentions.