The set-up: General Electric (GE) has taken a beating lately after disappointing results and a dividend decrease. If you like to think off the charts, it's actually turning into a possible oversold play.
Clearly, I'm not the only one thinking this, as my colleague Jeff Bishop of TopStockPicks.com – unbeknownst to me – wrote about his stake in GE options for this site yesterday. Where he is already in the trade, I'm simply moving the company to my watch list.
What I'm looking for: Obviously, I want to see the stock find and hold support and start a move up. The Relative Strength Index (RSI) has to push above 30; there typically are a lot of shorts ready to take their money and run when a stock comes out of oversold, and those guys have been winning while GE is losing, so you have to expect them to be ready to take their profits.
How I will play it: If we see that upturn, there could be money to make buying to open January at-the-money call options for a potential swing. I don't have entry or profit/stop targets in mind yet, though you certainly could follow Jeff Bishop's lead here.
See why Jeff Bishop already is in GE options
To me, this is a great example of a potential trade to be patient with. You need to let it come to you; if it doesn't come all the way to complete the set-up, forget about figuring profit/stops/entries and just move on.
This isn't a trade for everyone. I've never traded GE before because it just isn't volatile enough; as you can see in the chart, it could be a bottom bouncer or it could just continue its landslide, but it's worth at least watching to see how it plays out.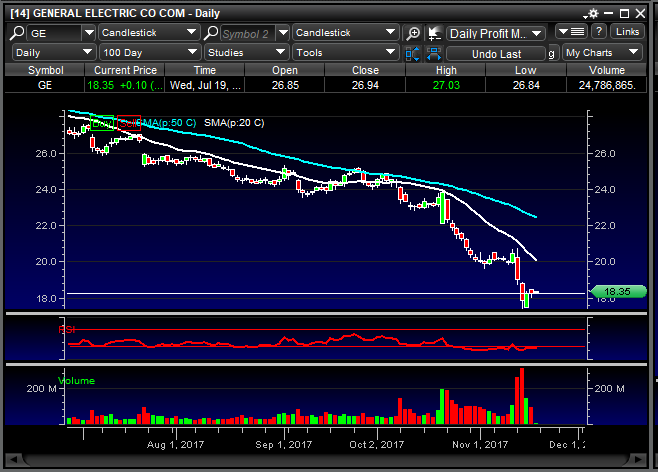 #-#-#
Davis Martin is the head trader at Dailyprofitmachine.com. He trades SPY calls and puts and swing trades individual stocks and stock options. At the time this article was published on RagingBull.com, he had no shares, options or open orders in GE — and had never traded i the stock before — but he was watching the stock as described in this article.