The set-up: While I prefer to trade indexes, when they get extended I start looking at individual names, and that's what is happening in the energy sector where the sector has been strong and profitable, but where the chart on the index isn't working for me right now. That brings me to Halliburton Co., an energy name that I have never traded before but which has been strong of late.
The chart: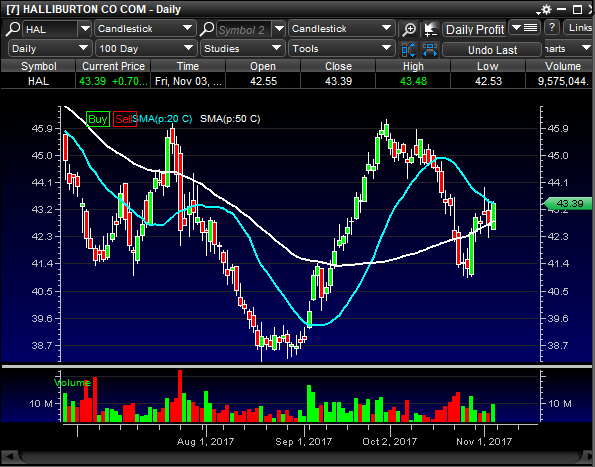 The 50-day simple moving average, the base, is in white and the 20-day simple moving average – the breakout – is in blue. Should the sector remain hot, combined with increasing volume on the stock itself, as shown in the chart, I believe HAL just off the charts could go up a dollar giving the upside potential on HAL Dec. 15 $45 calls at least 30 percent, depending on the hold time.
What I am looking for:  If I see the cross to the upside above the 20-day simple moving average, I'm in, using those options. I like it for a shorter-term play, one to four days; I'll set a stop at a close below the 20-day simple moving average line.
#-#-#
Davis Martin is the head trader at Dailyprofitmachine.com. He trades SPY calls and puts and swing trades index ETFs, individual stocks and stock options. At the time this article was published on RagingBull.com, he had no options, shares or open orders on HAL – having never traded it before – but was watching for an entry point on Dec. 15 call options today as described in this commentary.