The setup: We've seen a tremendous run in the biotech sector recently, to the point where entering long positions for anything other than a day trade, in my opinion, is just chasing. The sector has run up for a couple reasons. 1) Politics. I don't get in to politics, but selling the news and the headlines is common and popular for a lot of traders. 2) Traders look for what is moving. Well, to me it's obvious that Biotech has been moving.
The chart and the analysis: Take a look at this chart and notice that on 6/20/2017, with an inverted hammer candle and indicators suggesting that it was time to start building a short position.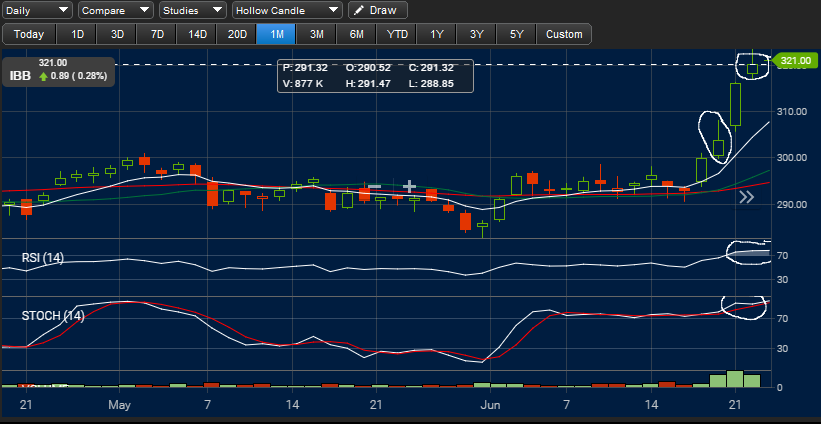 Well, that was a total head fake. I noticed yesterday toward the close that it was doing the same thing. Pattern recognition accounts for a large amount of my swing trades. I said no thanks to buying to open put options due to a previous head fake only two sessions ago. Being patient saves you a lot of money in the stock market.
What I'm looking for: I'm writing this before the market opens and a lot can change in the pre-market. I want to see profit taking and buy to open low-risk put options on IBB if the opportunity presents itself.
August's puts, trading around $11/contract could return 10 percent or more in a couple of days if IBB drops to first support which I'm seeing at $308.50 from its current price of $321. If IBB goes up again today, I'll write it off and wait until next week.
#-#-#
   Davis Martin is the publisher of DailyProfitMachine.com. He trades SPY calls and puts and swing trades mid-large cap stocks and stock options. He has never traded IBB.