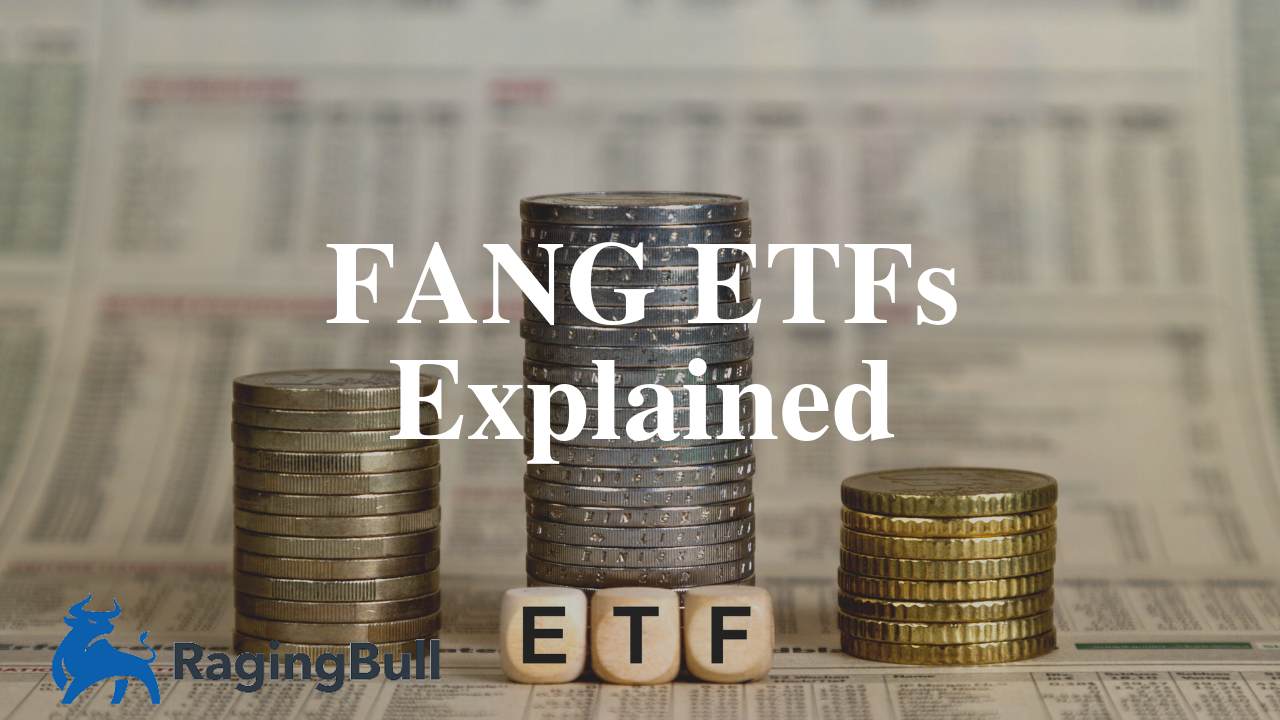 You've probably heard the talking heads mention FANG stocks before, and wondered, "What are these people talking about?" Well, the FANG group includes Facebook (FB), Amazon.com Inc (AMZN), Netflix (NFLX), and Google parent company Alphabet (GOOGL).
Now, if you've seen these stocks, you might've thought, "Wow, these stocks are expensive and volatile at times… how can I trade them while minimizing my risk?" Well, there is one way to gain exposure to these names without having to build a portfolio of them. You see, there are a few exchange-traded funds (ETFs) holding FANG stocks. When FANG stocks are heating up, it may make sense to consider one of these FANG ETFs. That said, let's take a look at some of the top ETFs holding FANG stocks.
What are FANG Stocks?
Simply put, FANG stocks are those that allow you to purchase interests in the valuable FANG group. As mentioned above, this includes Facebook, Amazon.com Inc, Google's parent company Alphabet, and Netflix. When you purchase FANG stocks, you have a small ownership in these wildly successful companies. Before you invest in FANG stocks, you should know:
These are typically volatile options
ETFs are available to balance your investment
You can get 20% or more of your ETF in FANG stocks
What are FANG ETF Stocks?
Now, FANG ETFs offer exposure to FB, AMZN, NFLX, and GOOGL without the need to purchase a basket of those names. The fund managers do all the work for you by allocating a specified percentage of their portfolio to FANG stocks.
FANG ETFs trade just like stocks. You can buy and sell shares on any major exchange like NYSE, Nasdaq, NYSE Arca, and BATS to name a few. The best part about trading or investing in a FANG stocks ETF is the fact that you don't have to put all your eggs in one basket, as fund managers purchase other stocks, which helps to diversify risk. That in mind, FANG ETFs provide an efficient way for traders and investors to gain exposure to FB, AMZN, NFLX, and GOOGL.
That said, let's take a look at some of the largest ETFs holding FANG stocks.
PowerShares QQQ Trust (QQQ)
The PowerShares QQQ Trust (QQQ) is one of the first ETFs with FANG stocks. This option gave investors an early opportunity to get in on these investment opportunities. Now, QQQ provides exposure to the Nasdaq-100 Index, which includes FB, AMZN, NFLX, and GOOGL in its top holdings. The Nasdaq-100 Index includes 100 of the largest non-financial stocks listed on the Nasdaq Stock Market, and is weighted based on market capitalization. In other words, both QQQ and the Nasdaq-100 Index will allocate a higher percentage of their portfolio to stocks with larger market capitalizations.
Currently, QQQ allocates 9.51% to AMZN, 4.86% in FB, 4.15% in GOOGL, 4.73% in GOOG, and 2.02% in NFLX. Thus, QQQ allocates over 20% of its total portfolio to FANG stocks.
Since QQQ is the largest FANG ETF, it's extremely liquid with tight bid-ask spreads. The ETF trades over 30M shares on average per day, and typically, you would see bid-ask spreads of just a penny. That's great if you want to get in and out of it easily.
Not only that, QQQ is optionable. That means options traders are able to leverage their capital and gain exposure to QQQ. For example, I primarily trade options and nailed this trade in QQQ using my money pattern, which signaled me to buy put options.
Now, if you're interested in learning how I snatched $22.7K in QQQ, check out this guide here.
Moving on, let's take a look at another ETF with exposure to FANG companies.
First Trust Dow Jones Internet Index Fund (FDN)
FDN tracks the price and yield performance of the Dow Jones Internet Composite Index. Similar to QQQ, FDN's underlying index is a market-cap weighted index. However, the Dow Jones Internet Composite Index represents the largest and most actively traded internet stocks.
Now, there are some requirements to be eligible for this index. First, the stock must be listed on NYSE, NYSE MKT, or Nasdaq. Additionally, the company needs to generate a majority of revenues from the internet. Moreover, it needs to have a minimum trading history of one quarter, and the three-month average market cap must be greater than $100M.
FDN typically holds around 40 stocks, 15 of which are internet commerce and 25 of which are internet services companies.
Although FDN is not as liquid as QQQ, it still trades on average around 1M shares per day.
For those who want more exposure to FANG stocks, they may consider FDN. Now, FDN currently allocates 9.24% to AMZN, 8.42% to FB, 6.43% to NFLX, 4.92% to GOOG, and 4.81% to GOOGL. Therefore, FDN allocates over 30% of its portfolio to these four companies alone.
Now, keep in mind, FDN and QQQ aren't the only ETFs out there tracking these stocks.
Notable FANG ETFs
Some other notable ETFs include:
Invesco NASDAQ Internet ETF (PNQI) allocates over 30% to FB, AMZN, NFLX, and GOOGL. However, this ETF is illiquid and trades on average 40K shares per day. This is best left for experienced traders due to potentially wide bid-ask spreads.
ERShares Entrepreneur 30 ETF (ENTR) allocates over 25% to those stocks. Keep in mind, ENTR is a fairly new ETF and started trading back in November 2017.
O'Shares Global Internet Giants ETF (OGIG) is another fairly new fund (it started trading in June 2018). This fund allocates approximately 20% to FANG stocks.
Now, take note, these ETFs could be illiquid at times, and should only be considered by those who have experience trading stocks and ETFs.
Final Thoughts on ETFs Holding FANG Stocks
Even though there are a plethora of ETFs holding FANG stocks, QQQ and FDN stick out. These two ETFs are liquid, as well as optionable. That said, they could provide opportunities for both equity traders, as well as options traders.
Now, if you're looking to learn more about options and potentially multiply your money trading options on FANG ETFs… then check out this lesson here.
To really master your skills trading in ETFs with FANG stocks, check out our webinars and consider signing up for one. You can learn a great deal about the best ways to select and manage these types of stocks.