If you want to learn how to trade small cap stocks, or small caps, it helps to learn about what other traders are watching. For example, when traders want to know where small cap stocks are headed, they often look to a small cap exchange-traded fund (ETF) called the iShares Russell 2000 ETF (NYSEARCA:IWM). Here's a quick overview of what the Russell 2000 index ETF actually does:
IWM provides traders with exposure to U.S. small cap stocks.
The iShares Russell 2000 ETF gives market participants access to 2000 small cap stocks domiciled in the U.S.
NYSEARCA:IWM could help traders who trade large cap stocks or blue chip stocks diversify their portfolios.
Now, let's take a look into the iShares Russell 2000 ETF (NYSEARCA:IWM) and delve into the intricacies of this small cap ETF. As always, before trading an ETF like IWM, make sure you conduct your due diligence.
NYSEARCA:IWM – Small Cap Stocks ETF in Focus
As the name of the small cap ETF suggests, IWM tracks the Russell 2000 Index. That said, if you're learning about IWM, it helps to learn about its underlying, or benchmark, index.
The Russell 2000 Index includes approximately 2,000 U.S small cap stocks. The constituents are based on a combination of their market cap and index membership. These stocks are also included in the Russell 3000 Index, which is comprised of 3,000 of the largest U.S. traded stocks. The Russell 2000 Index includes the stocks ranked between 1,001 and 3,000, by market cap.
What Is a Small Cap Stock?
The term "small cap stock" simply describes investments in a smaller company as opposed to those in a larger company (known as big cap stock). A stock's "cap" is the market value of its current outstanding shares. Typically, a small cap stock is defined as one with market valuation between $300 million and $2 billion, although these thresholds vary significantly depending on your broker. To find the total valuation, just multiply a company's share price by the number of its outstanding shares on the market.
Now, since you can't directly invest in an index, issuers like iShares created NYSEARCA:IWM, allowing traders to actually gain exposure to small cap stocks. Since its inception, IWM has become one of the best choices for investors in the U.S. small cap stock space. The iShares Russell 2000 ETF is popular thanks to its high liquidity and low holding costs (good for those who want to hold for the long-term).
IWM has an annual expense ratio of 0.19%. It is one of the most diverse small cap ETFs and even holds micro-cap stocks. Moreover, it has a low tracking error. In other words, it closely follows the performance of the Russell 2000 Index ETF
Now that we've gone over some of the basics of IWM, let's look into its holdings.
IWM Exposure and Holdings
IWM offers an array of sector exposure. Here's a look at its current sector exposure:
17.09% Financials.
15.98% Health Care.
15.55% Information Technology.
14.35% Industrials.
11.95% Consumer Discretionary.
7.57% Real Estate.
3.81% Utilities.
3.80% Materials.
3.70% Energy.
3.28% Communication.
2.79% Consumer Staples.
The iShares Russell 2000 ETF top 10 small cap stock holdings include:
0.40% Etsy Inc. (ETSY).
0.32% Five Below (FIVE).
0.31% Integrated Device Technology Inc. (IDTI).
0.31% The Trade Desk Inc (TTD).
0.31% Hubspot Inc. (HUBS)
0.29% Planet Fitness (PLNT).
0.29% Cree Inc (CREE).
0.26% Ciena Corp. (CIEN)
0.26% Primerica (PRI).
0.25% Coupa Software (COUP).
As you can see, no one stock could really drag IWM in either direction. Moving on, let's take a look at the ETF's risk and historical performance.
Benefits of Small Cap Stock (new)
Investing in small cap stock carries several key benefits for traders. Institutional investors such as mutual funds are unable to take advantage of small cap gains because they are prohibited from buying up a significant percentage of a company's outstanding shares. This allows individual investors to get a leg up on large firms by accessing the potential value of Russell 2000 ETF and other small caps.
IWM Risks and Historical Performance
Holding IWM over the long term carries multiple risks. The risks associated with this small cap ETF includes:
Asset class.
Concentration (IWM may be susceptible to an increased risk of loss since the holdings are concentrated within one space in the market).
Cyber security.
Sector.
Market.
Index-related
Issuer.
Now, these are just a few risks associated with IWM, and that's why small cap stocks traders like Jason Bond focus on active trading rather than on the traditional buy and hold.
You see, when you buy and hold IWM, you're susceptible to moves like these: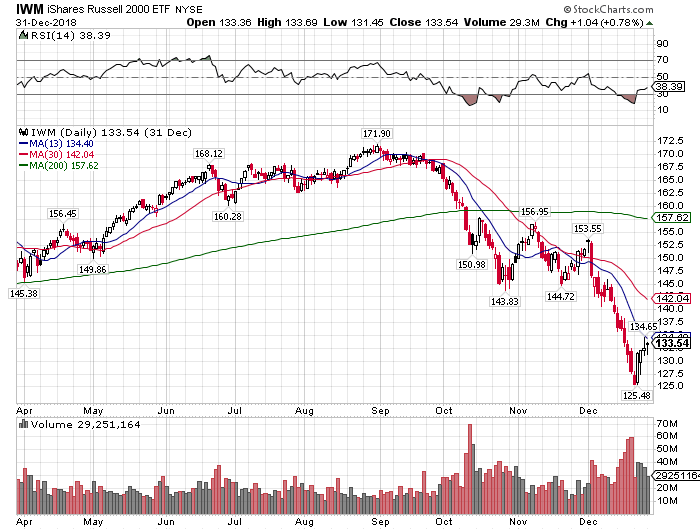 If you bought and held, you would've been down quite a bit during the heightened volatility during the second half of 2018. However, many traders in Millionaire Roadmap and Jason Bond Picks actually thrived during that volatility… heck Jason Bond was able to turn $100K to $250K during that time. Within the first three months of 2019… Jason Bond was up nearly 150% – significantly outperforming the Russell 2000 Index.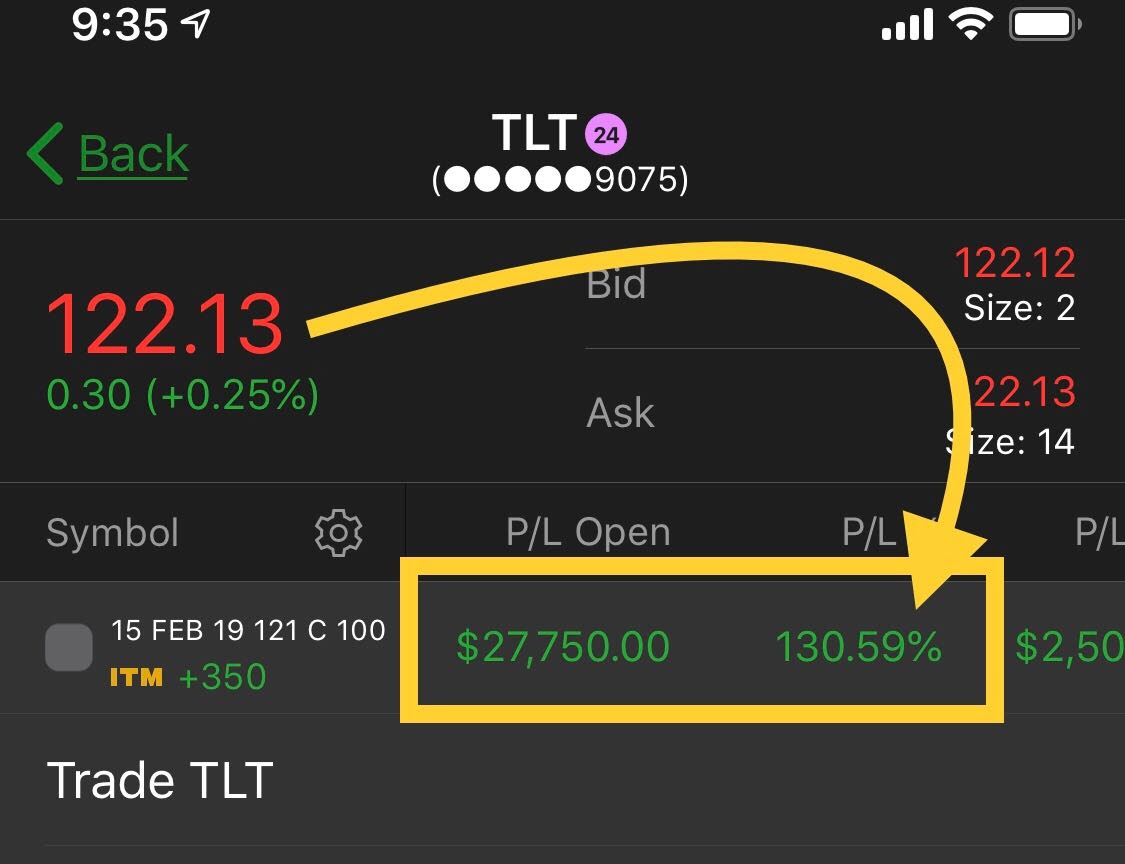 Now, if you want to learn how exactly he did this…
Check Out How Jason Bond Snagged 147% From Trading Small Caps
IWM Historical Statistics
When compared to the Russell 2000 Index, IWM has an R-Squared of 100 over the last three years. Additionally, it has a beta of 1. That means it tracks its underlying index to near perfection.
When compared to the S&P 500 Index, IWM has an R-Squared of just 74.75 and a beta of 1.25. In other words, IWM is not really correlated to the S&P 500 Index. Moreover, it's more volatile than the S&P 500 Index. For example, if the S&P 500 Index moves 10%, IWM could move around 12.50% (10% * 1.25).
From a volatility standpoint, IWM is more susceptible to violent moves than the S&P 500 Index. Over the last three years, IWM has an average annual standard deviation of 16.25%, while the S&P 500 Index had a volatility of just 11.21%. From a risk-reward view, buying and holding an S&P 500 Index ETF would've been more beneficial.
Final Thoughts on IWM
IWM is great for tracking small cap stocks. However, buying and holding this ETF isn't for the faint of heart. Now, before you even consider investing in IWM, make sure you conduct your due diligence and understand the ETF.
But what happens if buying and holding stocks and ETFs isn't your style?
Well, you can learn how to actively trade small cap stocks.
If you want to learn more about small cap stocks and how Jason Bond turned $100K into more than $250K in just a few months, make sure you understand his three bread-and-butter chart patterns.