Nearly 200 companies conducted their initial public offerings (IPOs) in 2018 – raising over $40B. Plus these names included billion-dollar tech companies like Dropbox (DBX), Eventbrite (EB), Tencent Music (TME), and Spotify (SPOT) – note: SPOT conducted a direct offering to be specific.
Now, there were a lot of opportunities in these IPOs – some of these hot companies bolstered portfolios, while some of these IPOs were duds.
At Ragingbull, some of our traders had some monster profits in IPOs, such as Tilray (TLRY).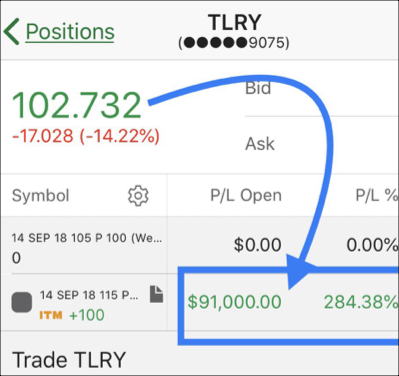 With so many companies conducting IPOs in 2018, 2019, could have more opportunities in the IPO space. With huge companies like Uber, Lyft, Pinterest and Palantir getting ready to go public so long as the markets aren't volatile.
That said, let's take a look at some major companies looking to go public in 2019. Now, keep in mind, if these IPOs are weak, don't be a hero and try to pick a bottom.
5 Hot Companies Conducting IPOs in 2019
1. Uber
At a recently available private valuation of $120B – an Uber IPO at that level would be one of the biggest public offerings ever before. Chief Executive Officer (CEO) Dara Khosrowshahi notes he intends to consider taking the business public in 2019, so long as volatility subsides, and the company employed Chief Financial Officer (CFO) Nelson Chai in August to greatly help have them there. This rideshare company has a plethora of users, and it's shown increasing revenues for multiple quarters. However, the company has struggled to turn a profit.
Uber has nearly 70% of the ridesharing market in the U.S. and has a presence in 70 countries, and has other revenue streams, such as UberEats and freight.
2. Lyft
Uber's competitor can be racing towards an IPO in 2019. Lyft could be trying to beat Uber to the punch and raise capital from the markets. Now, Lyft is much smaller than Uber and was valued at $15.1B in June, when it raised $600M. JPMorgan Chase (JPM) will lead the IPO.
Unlike Uber, Lyft operates simply in the U.S., but both of these companies happen to be striving to re-brand themselves just as transportation and mobility corporations with assets beyond only ride-sharing – tapping into the e-scooter and bike-sharing businesses.
3. Palantir
Now, one hot company looking to conduct an IPO in 2019 is not as talked about as Uber or Lyft. This tech unicorn specializes in data mining and analytics. With tech companies focusing on these fields, Palantir could see a run up after its IPO.
Palantir has been in discussions with investment banks Credit Suisse (CS) and Morgan Stanley (MS) – hinting at a potential IPO in 2019, which could value the company at over $40B.
4. Pinterest
Pinterest is a social media web and mobile application focused on image sharing. Now, this social media company is flying under the radar as a hot IPO prospect – being overshadowed by Uber, Palantir, and Lyft. However, Pinterest reported that it had doubled its ad earnings. Pinterest's advertising income was projected to reach $1B this year. Pinterest was privately valued at just over $12B during its previous round of financing in 2017.
That said, Pinterest could be one of those IPOs that many don't catch wind of until after it's made the move.
5. Robinhood
Robinhood has evolved into a widely-used mobile brokerage platform. Now, Robinhood has been disrupting the industry. Unlike traditional brokerage firms that make money on commissions and trading fees, Robinhood earns earnings from interest and income on its accounts, coupled with earnings from prime subscriptions. The company is often looked at the brokerage platform for millennials. The company was valued at more than $5B at its latest round of financing, and CEO Baiju Bhatt confirmed the company was looking to conduct an IPO.
The Bottom Line
If market volatility subsides, we should see a strong 2019 for IPOs. However, if the markets don't stabilize, look for these companies to push their IPOs back. Whatever the case may be, traders at Ragingbull will be ready for any action in these names.