Analyst recommendations could move stocks. Now, it does not happen all the time. However, it would be nice to buy, sell or hold a stock based on some "experts" on the street. Just because an analyst cuts their price target or rating, it does not mean the stock will sell off. This all depends on which firm is releasing the recommendation. For the most part, analyst recommendations from big banks have the most clout, such as Goldman Sachs, JP Morgan Chase, Citi, Bank of America Merrill Lynch and RBC Capital, just to name a few. Ultimately, you need to keep a list of analysts that have moved a stock, historically. Once you gain some experience, you should be able to figure out whether the analyst has clout. Now, let's take a look at a case study to see why you need to pay attention to analyst comments.

Analyst recommendations move stocks
McDonald's (MCD) shares were trading significantly lower in the beginning of March 2018, primarily attributed to an analyst recommendation. RBC Capital Markets cut its price target on McDonald's, slashing its expectations from the fast-food giant. There were many comments, including one that noted its outlook on MCD was due to "deteriorating industry conditions and a disappointing early sales impact from the $1, $2, $3 value menu." Now, RBC cut its estimates for MCD's growth in Q1 2018 and 2018 same-store sales to 1% and 1.8%, respectively. Previously, the firm expected MCD to grow by 3.5% in each period. RBC Capital markets also cut its earnings per share (EPS) estimates for MCD in 2018 and 2019 from $7.60 and $8.46 to $7.43 and $8.17, respectively. That's a pretty big reduction in its projections. However, RBC left its investment rating on MCD at outperform. Although they were cautious on MCD in the near term, it still thinks McDonald's could continue to grow its same-store sales within the coming quarters.
For the most part, the market cares about the short term, especially in day trades and potentially swing trades. McDonald's has been relatively weak, and some indicators we use in the trading community let us know MCD could be a good short play.
Indicators signaled a large potential drop in MCD
One of my favorite indicators is the 13-period and 30-period simple moving averages (SMAs) on the hourly chart. When the 13-period crosses below the 30-period, it's an indication the stock could run lower. Additionally, I love taking rounded top plays because I find these tend to work well on break downs.
Here's a look at McDonald's on the hourly chart.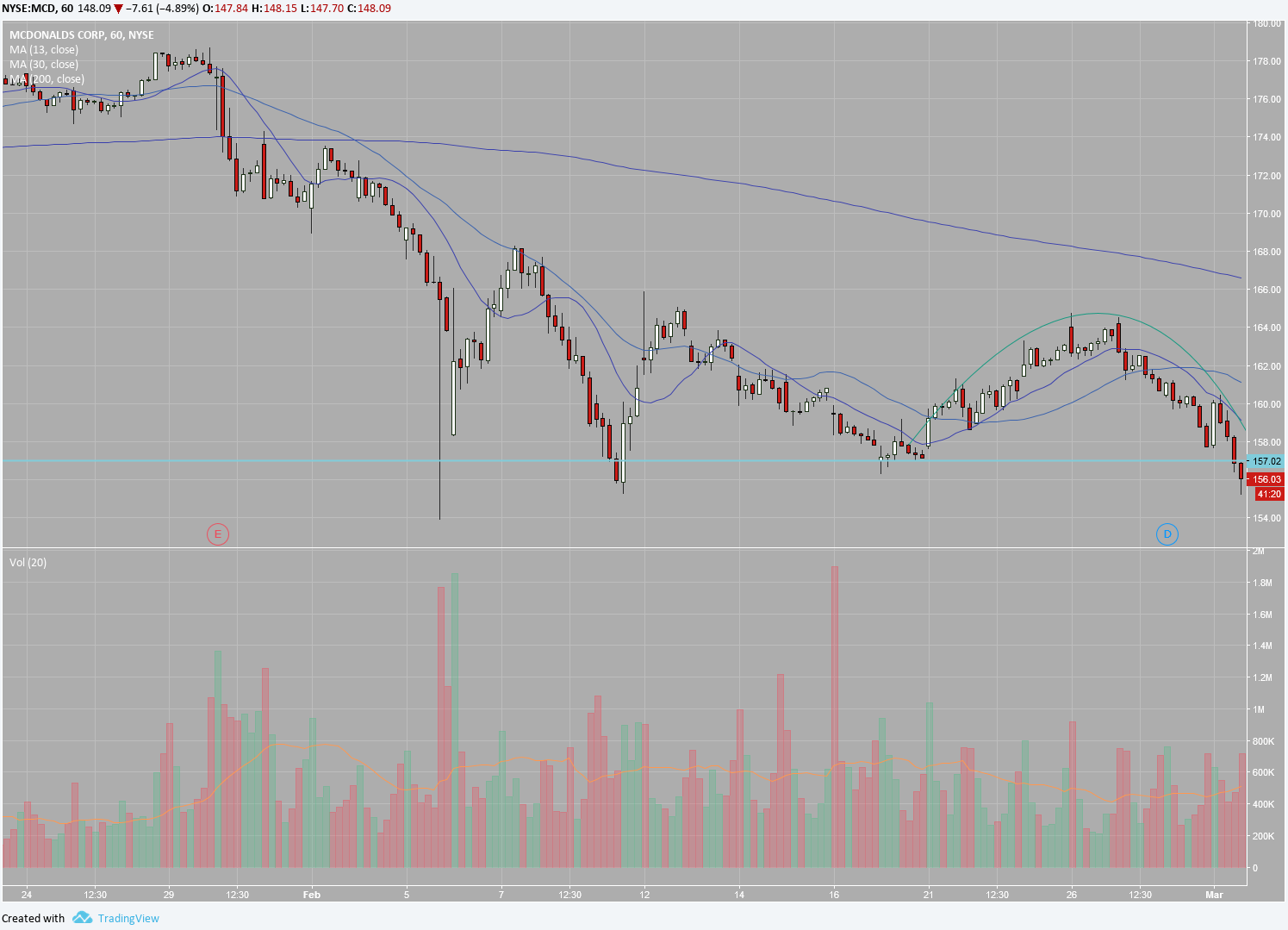 You'll notice those indicators right here on MCD. Now, all it needed was a catalyst to break down, and the RBC Capital Markets' analyst recommendation was it. This caused MCD to have one of its worst days since 2008.
Now, here's a look at some key technical levels in MCD.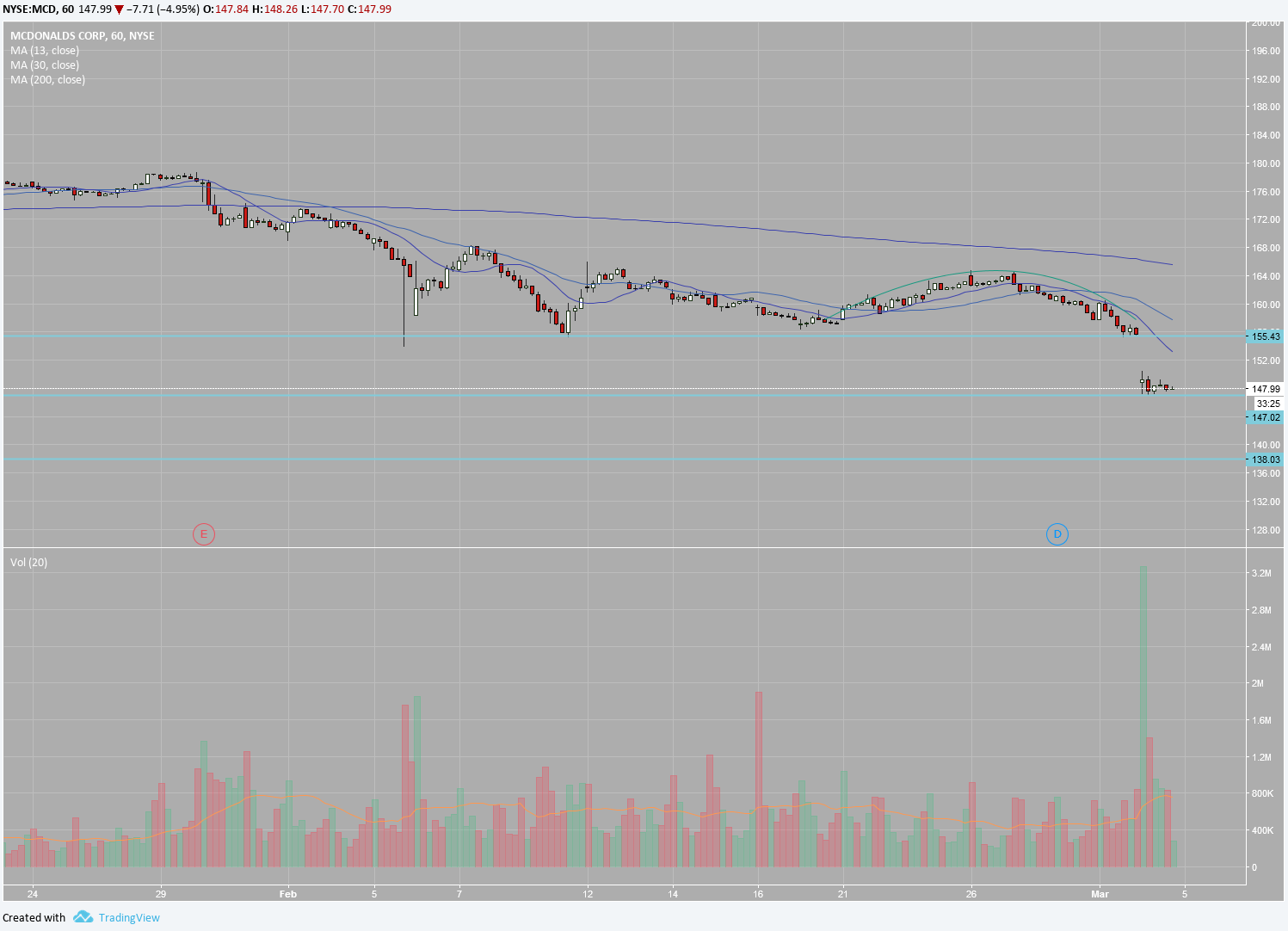 The stock is in "no man's land" right now, and I don't really see a reason to start buying yet because it has room to drop another 5% lower. I'm going to remain patient on this one until my charts let me know what to do.
Final thoughts
Analyst recommendations move stocks, and you should start paying attention to them. Most recently, we saw McDonald's drop nearly 10 points in a day due to a note from RBC Capital Markets. Keep in mind analyst recommendations are usually released before the market open or after the close. If you want to start taking on these trades, you're going to have to get up early and do your homework.
#-#-#
Jeff Bishop is lead trader at WeeklyMoneyMultiplier.com and widely recognized as the Mensa Trader. He runs short-term trading strategies, using stocks, options and leveraged ETFs.