Investing in blue chip stocks made Warren Buffett the richest man. However, does the strategy still work? Find out here.
What do Coca-Cola, AT&T, Wal Mart, and Johnson & Johnson all have in common?
Now, at first glance, they might not seem related. However, these companies all have a rich tradition on Wall Street for demonstrating growth and profitability. Some traders might consider these stocks boring because of their stability, but investors know them as blue-chip stocks. A blue-chip stock is a large-cap company that is recognized globally. They're appealing to investors because they're not as volatile as most stocks and appear to be safe. Of course, if you want to be successful as a trader or an investor, be skeptical.
For example, General Electric was founded by Thomas Edison, and J.P. Morgan and for years was considered a blue-chip stock, consistently posting impressive cash flows and a strong balance sheet. It even offered investors a handsome dividend. However, after being part of the Dow Jones Industrial Average since 1907, the firm was removed in 2018, as it saw its stock price drop by more than 54% that year.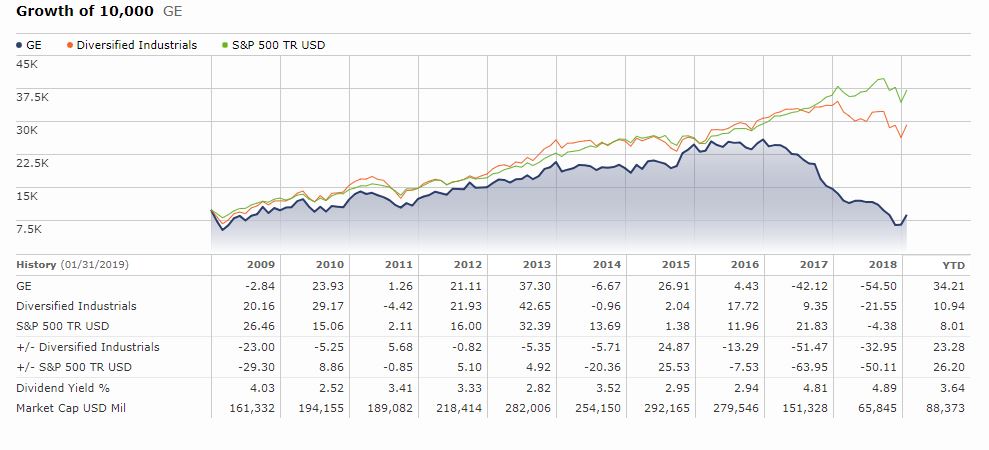 Source: Morningstar
Businesses must continue adapting to changes in consumer demand and technology if they want longevity. That said, its become more difficult to be a "buy and hold" investor. For example, if you look at the world's largest companies, many of them are relatively new- Amazon (founded in 1994), Alphabet (founded in 1998), Facebook (founded in 2004), and Alibaba (founded in 1999). Will these companies be blue chips 20 to 30 years from now or will they be replaced?  Now, anyone who gives you answers is only speculating.
That said, we do know the characteristics of blue chips along with examples:
global brand (Coca-Cola, McDonald's, and Nike)
industry leader (Microsoft, 3M, and Pfizer)
strong balance sheet (JPMorgan Chase & Co and Bank of America)
distributes a dividend (Exxon Mobil, Apple, and Pfizer)
steady growth (Johnson & Johnson, AT&T, and Wal Mart)
However, blue chip stocks are known for being stable and predictable.  It's more challenging to find blue-chip stocks because of disruption.
For example:
Square – digital payments sector
Airbnb- hotel sector
Netflix- entertainment sector
Coin Base-  banking sector
Amazon- every industry its in
But before we get into blue chips further, let's take a look at its history.
How did blue chips get their name?
The most popular narrative submits that blue chip companies got their name from the game of poker. In poker, blue chips are more valuable than white, pink and red chips. Therefore, large-cap, dependable companies on Wall Street are known as blue-chip stocks.
Another narrative holds that a certain Oliver Gingold, a Dow Jones employee coined the phrase in 1923. He was reportedly standing by the stock ticker in a brokerage firm when he observed a few stocks trading at more than $200 apiece – a massive premium to most stocks in the market at the time. He then remarked to Lucien Hooper of W.E. Hutton & Co that he was going to write about these "blue-chip stocks" when he got back to the office.
Today's Blue-Chip Stocks
Blue chips stocks are the preferred stock choice for conservative investors that want to build their wealth using a slow and steady approach. Over the last several decades, the definition, classification, and sector in which you'll find blue chips have changed, but if you want to look, look no further than the Dow Jones Industrials Average (DJIA). It is an index consisting of 30 large-cap stocks that represent the American economy. Some people call it the "blue-chip index."
The Dow 30
3M, United Technologies, Caterpillar, Boeing
American Express, Goldman Sachs, JPMorgan Chase, Visa, Travelers
Apple, Cisco Systems, IBM, Intel, Microsoft
Chevron, DowDupont, ExxonMobil
Coca-Cola, McDonald's, Procter & Gamble, Walgreens Boots Alliance, Merck & Co.
Verizon, Nike, Walt Disney, The Home Depot, Wal Mart
Johnson & Johnson, Pfizer, United Health Group
Now, the easiest way an investor can gain exposure to the Dow is through ETFs. That said, the most popular is the SPDR Dow Jones Industrial Average ETF (DIA). The ETF resembles the performance of the DJIA minus expenses and fees. It also pays its investors about a 2 percent dividend yield.
Let's take a look at some of the sectors where you can find some of these companies and others.
[button link="https://jasonbondtraining.com/webinar/?utm_campaign=jbt-webinar&utm_medium=rb-website&utm_source=swnp-post&utm_content=blue-chip-stocks&utm_term=rb-website" type="big" color="red" newwindow="yes"] Buy and hold investing is dead, but these strategies are not. Learn the 3 strategies that helped Jason Bond double his account in the first two months of 2019[/button]
Consumer Staples Blue Chips
The industrial revolution helped unlock new waves of economic wealth. Which led to people having more money to spend on consumer staples. Furthermore, the earliest blue-chip stocks go back to almost 200 years. Some of the oldest blue chips in this category include Coca-Cola (NYSE:KO), founded in 1892; Heinz (NASD: KHC) (now known as Kraft Heinz), founded in 1896; Kellogg (NYSE:K), based in 1906 and General Mills (NYSE:GIS), established in 1928.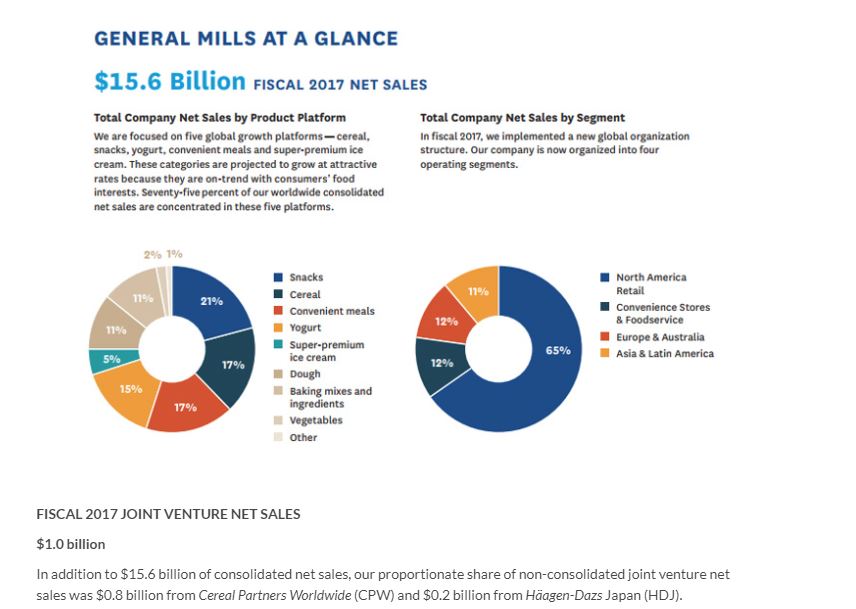 Source: General Mills
Pharmaceutical Blue Chips
The industrial revolution also triggered growth in the healthcare and pharmaceutical industries. Pharmaceutical stocks such as Pfizer (NYSE: PFE), founded in 1849; Eli Lily (NYSE: LLY), based in 1876, and Johnson and Johnson (NYSE: JNJ), founded in 1885,  are among the most prominent blue chip stocks in the last century.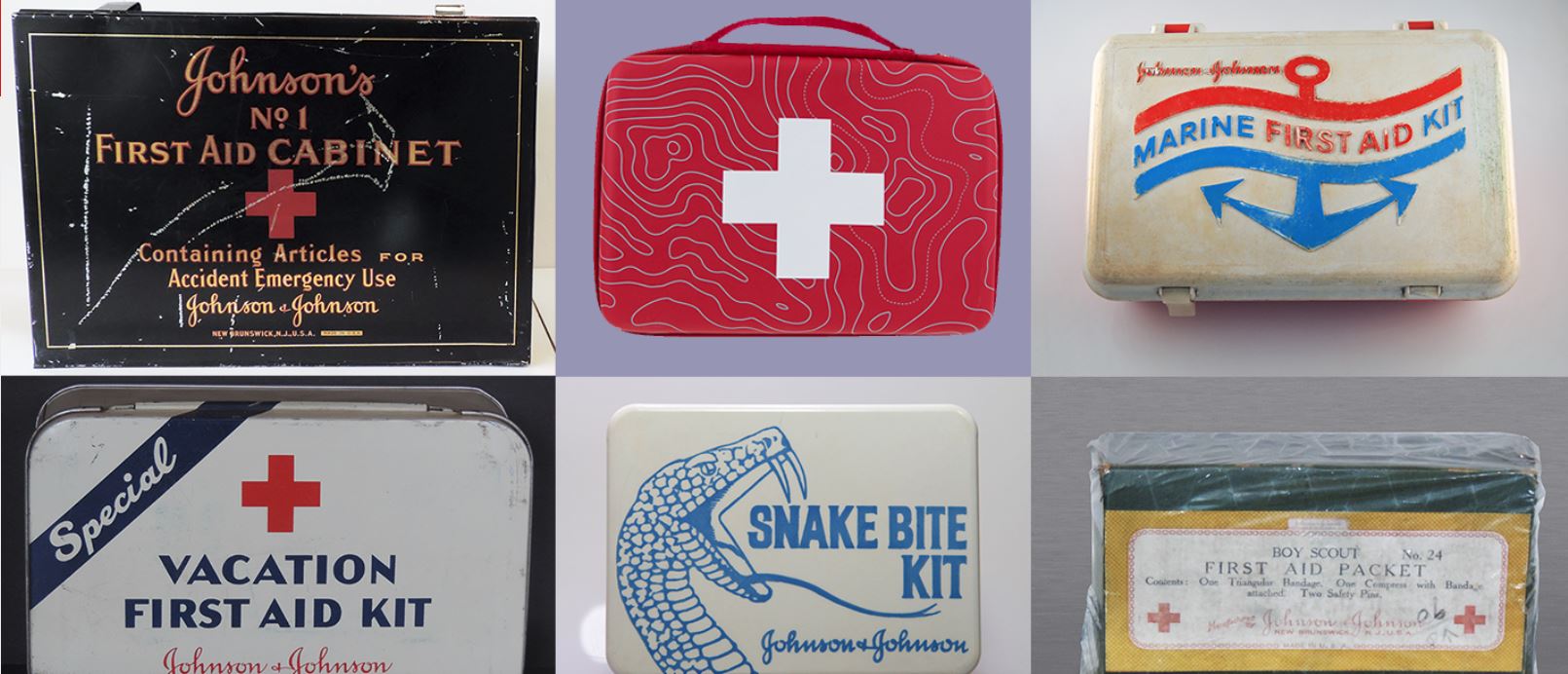 Source: Johnson & Johnson
Financial Services Blue Chips
At the tail end of the industrial revolution, a new breed of blue-chip stocks emerged- financial services companies. These firms provided banking services, credit facilities, and other investment opportunities. Some of the blue-chip stocks in the sector include Bank of America (NYSE: BAC), established in 1874; JPMorgan Chase (NYSE: JPM), founded in 1799; and Citigroup (NYSE:C), based in 1812.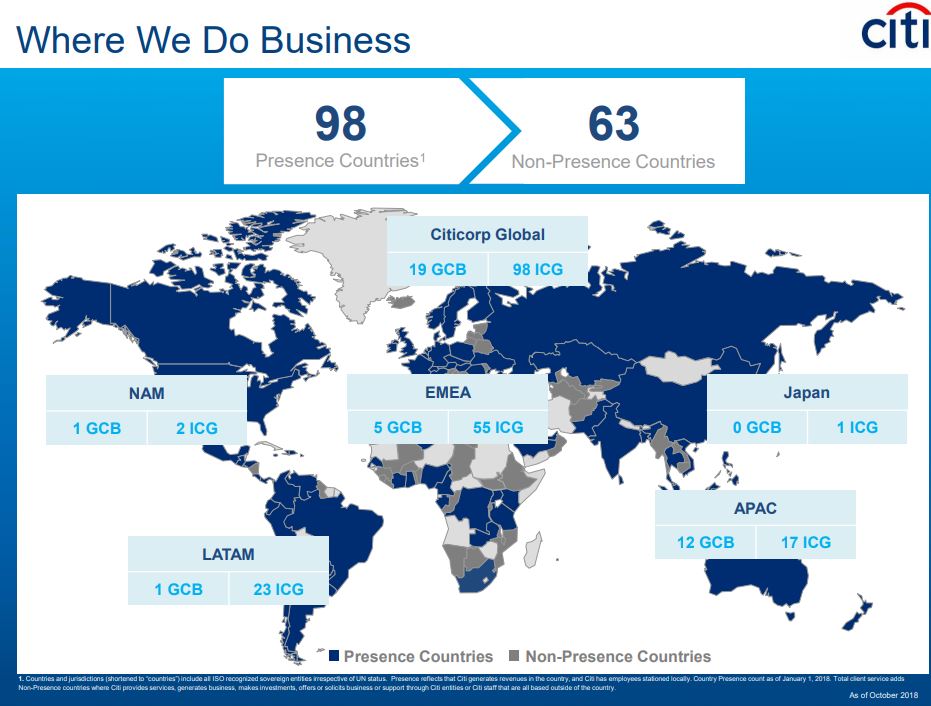 source: Citigroup
Automobile Blue Chips
The automobile sector has been an essential economic driver in America's history. For example, Ford Motors (NYSE: F), founded in 1903, helped break down the barriers for car ownership through standardization and mass production. That said, General Motors (NYSE: GM), based in 1908, is another blue-chip company in the space. Throughout the years the company has demonstrated the ability to diversify, its brands now include- Buick, Cadillac, Chevrolet, GMC, Oldsmobile, Pontiac, Hummer, Saab,  and Saturn.

Source: General Motors
The New Breed of Blue-chip Stocks?
Over the last two decades, the qualifying rules for blue chip stocks has become flexible as the global economy continues to shift away from agriculture and manufacturing and into digital technology. Digital technology has played a significant role in triggering some of the biggest bull runs in recent history. Of course, critics will be quick to remind investors of the dot-com bubble.
Despite the tech bubble, these stocks remain among the most popular on Wall Street.
In fact, the first five most prominent companies in the world by market cap are American tech companies- Amazon, Apple, Alphabet, Microsoft, and Facebook.
However, these companies are still relatively young when you compare their longevity to traditional blue-chip stocks.
Are Blue-Chip Stocks Still Safe?
Our economy now is so reliant on technology its hard to predict which blue-chip stocks will survive. After all, companies like Sears, AIG, and Eastman Kodak were once considered can't-miss blue-chip stocks. That said, buy and hold investing has become more difficult than ever. Even the great Warren Buffett is having a hard time executing his strategy of buy and hold.  During the fourth quarter of 2018, his firm, Berkshire Hathaway, posted a loss of $25.4B. Furthermore, it had to write down $3B in losses from one of its blue-chip stocks, Kraft Heinz.
What's better than buy and hold?
Active trading is the best approach when you consider how fast moving the global economy is.
Now, if you'd like to learn about what some traders have done to make millions in the market…
===>> Check out this free eBook
These traders reveal the steps they took to go from struggling to make it traders to bonafide millionaires.