California finally legalized recreational use of cannabis, and marijuana stocks are ablaze. Generally, pot stocks are traded on the OTC markets or on the Toronto Exchange (TSX). For those who have been following the industry news, our community got into a weed stock on TSX and made +10% ahead of the catalyst.

If you don't have access to those markets, it's hard to take part in the cannabis space. However, there's one cannabis-related ETF that started trading on NYSE Arca. It traded strong leading up to California's legalization of recreational marijuana. And it could continue to rise with the positive outlook on the marijuana market.

Cannabis Stocks are on Fire

The first day after California legalized retail sales, cannabis stocks started skyrocketing. A plethora of pot stocks trading on TSX and OTC were up over 10% at one point due to the positive catalyst.
The legalization news unleashed one of the largest marijuana markets in the U.S.,  causing a spike in demand for marijuana. People were lining up as if there was a new iPhone coming out.
There are already estimates noting U.S. legal marijuana sales could reach more than $5B in 2017.  These are indications marijuana companies could see a meteoric rise in earnings. In turn, it should drive their stock prices higher.
Attorney General Sessions Could be a Threat to the Industry
Attorney General Jeff Sessions recently announced he would rescind the Cole Memo, a Justice Department memorandum, granting protection to regulated and state-legal cannabis companies. However, states with legal marijuana are not backing down without a fight. For example, Colorado U.S. Attorney General Bob Troyer noted that his office wouldn't change its stance on prosecuting marijuana crimes. Moreover, Colorado's Republican Senator Cory Gardner threatened to block President Trump's Department of Justice (DOJ) nominations if Sessions doesn't back down. Now, it's going to be hard for a widespread government crackdown in states with legal pot if the states are pro-cannabis.
Although pot stocks were down the day the news was released, they quickly rebounded the following day.
MJX, a marijuana ETF, is showing signs of resiliency and just brushed off the news: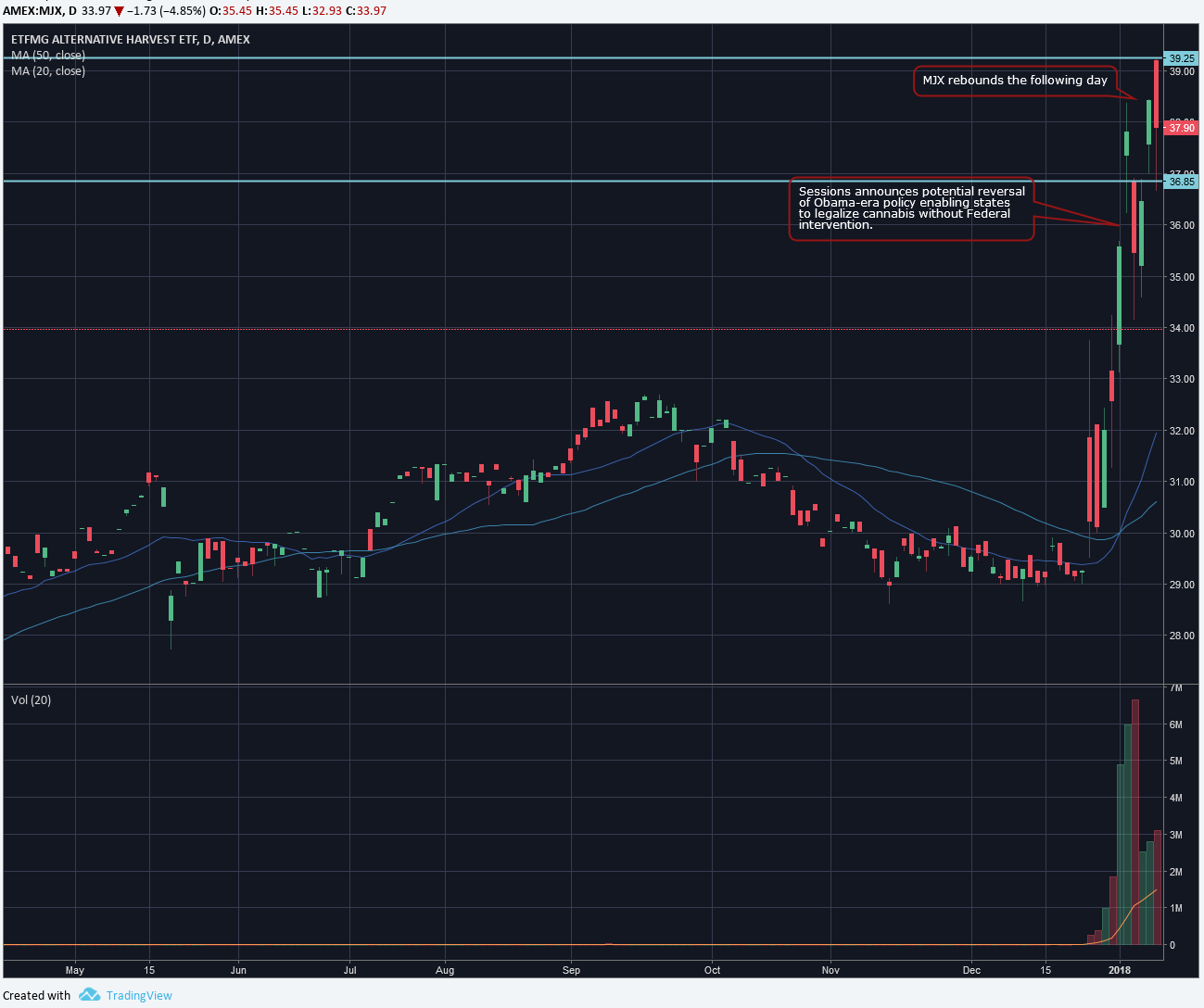 I don't think the move in pot stocks is done yet, especially since states are fighting Sessions on his decision.
What You Need to Know About this Cannabis Play
The ETFMG Alternative Harvest ETF (MJX) is the first fund to provide exposure to the cannabis industry, in the U.S.
MJX aims to provide investment results corresponding to the Prime Alternative Harvest Index. The fund's underlying index is comprised of companies engaged in the legal cultivation, legal production, distribution or marketing of cannabis products for both recreational and medicinal use. Additionally, it includes companies engaged in the marketing, distribution and creation of prescription drugs with cannabinoids.
Although MJX also includes tobacco stocks, its top 10 holdings are all cannabis-related. The ETF's top 10 holdings account for over 50% of its total net assets, making it a good play for marijuana industry catalysts.
For those who want to trade weed stocks, this is probably your best bet if you don't have access to OTC or TSX.  With all the legalization news, you could bank on MJX, if you're right. For example, if you knew California was going to legalize marijuana for recreational use starting in 2018, MJX would've been a great long play. However, there's always political news surrounding pot legalization. If there's any news threatening the industry, you should look to get out. There are some inherent risks with the industry, and you'll want to do your own due diligence before considering an investment in MJX.

The Bottom Line
There's finally a pot ETF traded in the U.S. and it's great for those who want exposure to the space. Keep in mind that this ETF could be risky due to the political view on cannabis. The Federal government could shut cannabis companies down, but it doesn't seem like that's going to happen anytime soon. Again, with states fighting Sessions every move, it's going to be hard to get rid of legal pot. However, you still need to be wary of the political risk surrounding MJX.
#-#-#
Petra Hess runs PetraPicks.com. She is a technical swing trader and long-term investor in domestic and Canadian stocks and ETFs.