All eyes are on President Trump and his infrastructure plan. Many traders and politicians question his ability to deliver, and there are a multitude of roadblocks. However, stocks in the industry could still grow without the U.S. Even if President Trump does not deliver on his long-awaited plan, the iShares Global Infrastructure ETF (IGF) could still benefit from infrastructure growth from other countries. However, IGF allocates over 30% of its assets to the U.S., so if Trump's plans are lighter than expected or do not get passed by the Senate, this ETF could get hit hard.
On the other hand, it could break out if both Democrats and Republicans vote for Trump's infrastructure scheme. Now, if you don't want to leave it down to U.S. politics alone, the KraneShares MSCI One Belt One Road ETF (OBOR) would serve as a pure play for China's infrastructure, which is still projected to grow at relatively high rates in 2018.
Trump's Infrastructure
Trump plans to appeal to Democrats on infrastructure plans in the State of the Union address on Tuesday. The President of the U.S. is offering $200B, or more, in federal cash over the next 10 years in order to increase growth in localities and states, as well as the private sector. This spending could be worth over $1.5T.
The markets expect Trump to depict his plan in his State of the Union speech. Now, no matter what Trump plans, Republicans control the Senate by only a 51 to 49 margin. That in mind, he needs Democratic votes because it's unlikely the Senate would pass the bill with the party majority votes.
China Infrastructure Growth Expected to be Strong
China plans to keep a budget deficit at around 3% of GDP this year, which is in line with a pro-active fiscal policy. This means there would be more spending on infrastructure, new sectors, and social welfare.
One of the main focuses in Chinese infrastructure is transportation. In the first 11 months of 2017, China spent 2.12T yuan, or $323B. In 2018, China will invest the similar amount on transportation infrastructure as it did last year. Moreover, China is looking to embark on the largest infrastructure project in history, which would span four continents and link the old Silk Road to Europe, then back to China. This project alone would be worth over $1T, and over 70 countries would be involved.
Not only that, China Railway Corporation, the state-owned operator of China's railway systems, announced the country would invest 732B yuan.
With such strong growth projections in China alone, infrastructure stocks could still grow, despite the political roadblocks in the U.S.
iShares Global Infrastructure ETF
For those who are bullish on global infrastructure, IGF could be a great play. The ETF provides exposure to stocks providing communication, electricity, transportation and water services. The top sector exposures in IGF include: 42.43% transportation; 38.07% utilities; 19.18% energy; and the rest is allocated to cash and, or, derivatives. That said, if you think global infrastructure would continue to grow, specifically the U.S., this ETF would allow you to do that. With over 30% allocated to U.S. companies, you could profit on Trump's blueprints. However, if Trump's plans do not pass the Senate, you would minimize your risk since the ETF is well diversified.
Here's a look at IGF on the daily chart: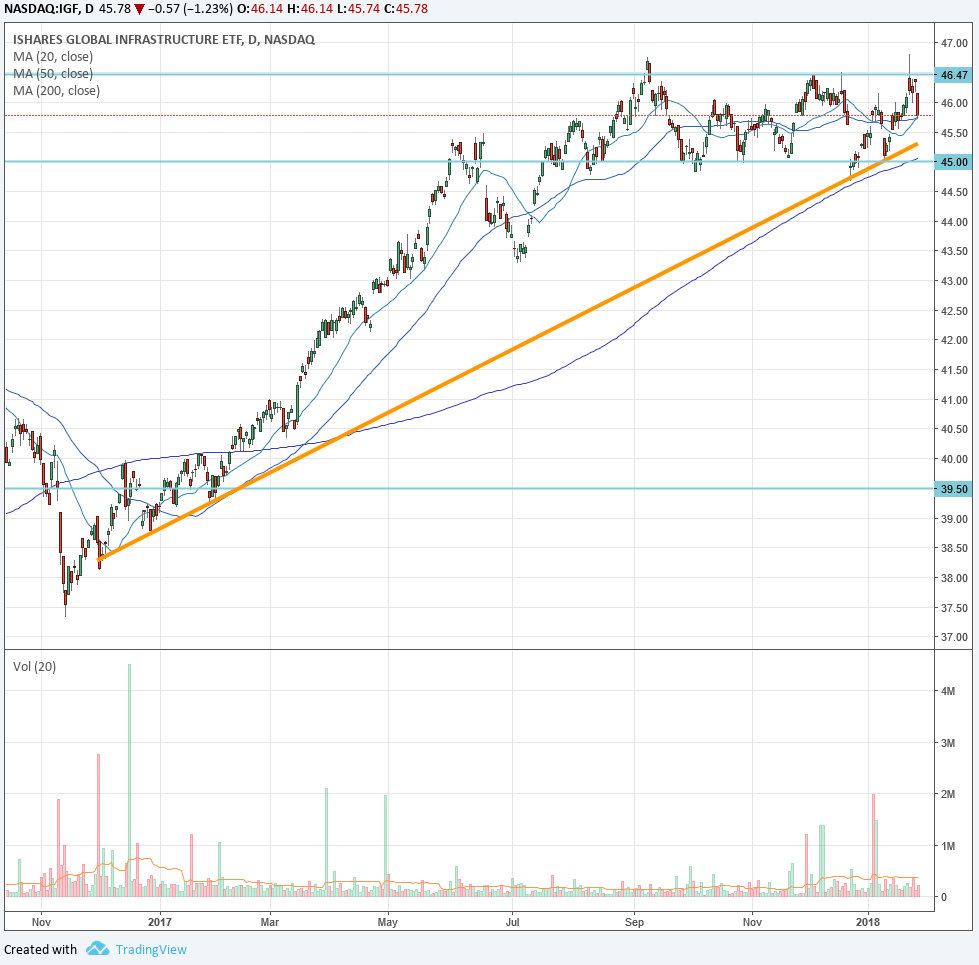 Notice how it's had some choppy trading since Q4 2017? Well, it all hinges on America and its infrastructure plan. That said, we're going to break hard one way or another.
The KraneShares MSCI One Belt One Road ETF
If you're highly bullish on China's plans, OBOR would serve as a potential play. This ETF tracks the MSCI Global China Infrastructure Exposure Index's performance. Now, the fund seeks to find potential beneficiaries of the One Belt One Road initiative based on the company's revenue, geography and sector alignment with Chinese President Xi Jinping's long-term infrastructure initiative.
Check out OBOR on the daily chart: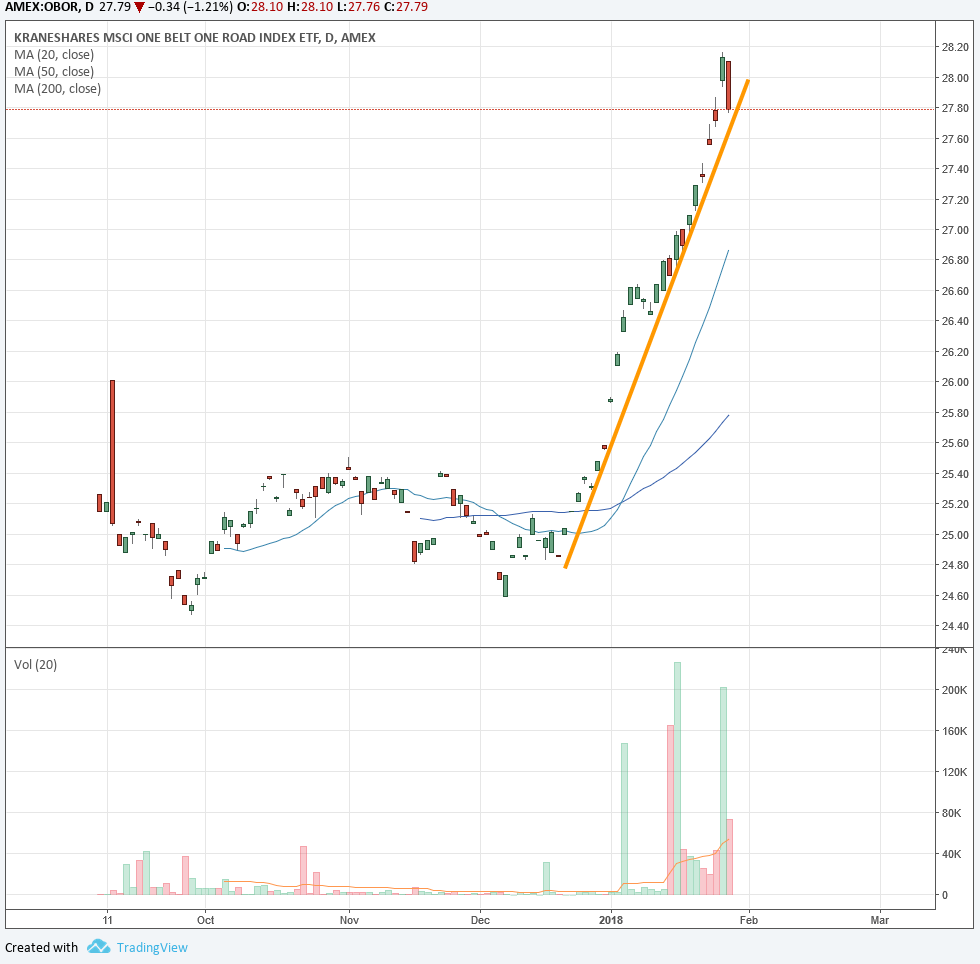 Keep in mind OBOR is a fairly new ETF and has low average daily trading volume (ADV), and therefore it could have wide spreads. That said, this is best left for more experienced traders with a higher risk tolerance. If you compare OBOR with IGF, you'll notice how OBOR has gone pretty much vertical recently, while IGF has had some really choppy trading. Again, the sideways trading is primarily due to the potential roadblocks in Trump's infrastructure plans. This ETF could get a push higher if Democrats favor the proposed U.S. plans, but for now, it's a wait-and-see game.
The Bottom Line
The POTUS is going to lay out his plan for America's infrastructure, but he has to jump through a lot of hoops before anything comes to fruition. Now, IGF has been trading sideways, but there could be a massive break higher if Trump's infrastructure plans exceed the market's expectations. However, if this doesn't pan out, look for a hard pull back in IGF. China's infrastructure blueprints are still strong, and those wishing to take on a little bit more risk could look to OBOR for a "pure play" in the country.
#-#-#
Petra Hess runs PetraPicks.com. She is a technical swing trader and long-term investor in domestic and Canadian stocks and ETFs.