Well it was no surprise, in Janet Yellen's last meeting as Fed chair, interest rates were left unchanged. This was probably a given since Yellen is known to be dovish. However, there were some clues in the comments made, which could tell us what might happen to bond prices in the near future. In turn, this could uncover some trading opportunities in bond ETFs. Now, our community is watching bond ETFs carefully, because if you're trading options, these could be "money makers. "
First, we need to see what the Federal Open Market Committee said in its statement for the most recent meeting.
The Skinny on the January 2018 Fed Meeting: What it Means for Bonds
According to the FOMC statement, "The Committee expects that, with further gradual adjustments in the stance of monetary policy, economic activity will expand at a moderate pace and labor market conditions will remain strong. Inflation on a 12‑month basis is expected to move up this year and to stabilize around the Committee's 2 percent objective over the medium term."
 Well, the FOMC has a 2% inflation target, and they sound pretty confident about economic conditions and inflation could rise to the target. That said, this might cause the Fed to increase rates at a faster pace than expected.
Check out the CBOE 10-Year T-Note Index:
Well, the markets seem to already be pricing in higher interest rates when you look at the chart above. Now, remember: when interest rates rise, bond prices fall.
Here's a look at the longer-date yield (the 30-year Treasury yield):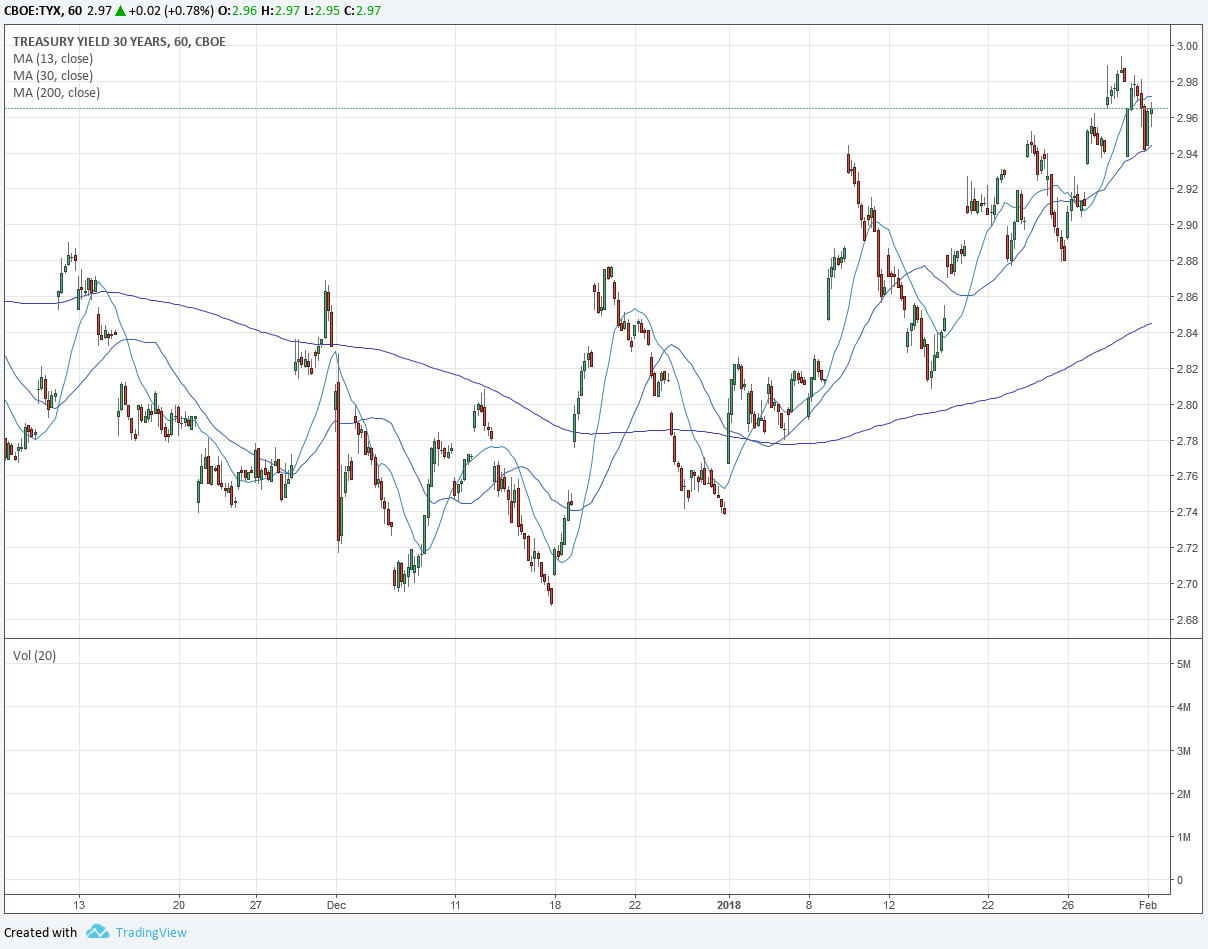 The 30-year Treasury yield are also trending higher and could break above, and stay, above 3% soon.
The 5-year Treasury yield is also following suit.
What are these rising rates telling us about where bond prices could be headed?
They're letting us know that U.S. government bond prices could fall soon. Consequently, this could cause a selloff in some ETFs holding those assets.
iShares 7-10 Year Treasury Bond ETF
With the 5- and 10-year Treasury yield rising, that could be a tell that the iShares 7-10 Year Treasury Bond ETF (IEF) may fall. Since IEF tracks the ICE U.S. Treasury 7-10 Year Bond Index and holds U.S. Treasury bonds with remaining maturities between 7 and 10 years, it could continue lower.

Here's a look at IEF on the hourly chart:
It's been in a strong downtrend, and now with the Fed looking to potentially raise rates, IEF could head much lower. However, I wouldn't suggest going out and shorting IEF. A better play would be to purchase put options on the name because that's where you could double your money, just as our community did in the iShares 20+ Year Treasury Bond ETF (TLT) when we though the bond rally was losing steam. Now, if you don't have options, you could also use inverse ETFs to "short" the bond market.

The Bottom Line
It looks like the Fed could raise rates soon, and this could push bond prices down. In turn, IEF could follow suit and trend lower. Now, this would be a great short play, but I don't think you should do it with shares of the ETF. If you use put options, you're able to manage your risk better and potentially generate high returns on a small move in IEF.
#-#-#
Jeff Bishop is lead trader at TopStockPicks.com. He runs short-term trading strategies, using stocks, options and leveraged ETFs.