Medical cannabis companies are back in focus. Now, it gets difficult to look for which ones are the best to trade… and the best way to learn about how stocks in the industry move is by analyzing the top stocks. If you haven't already, make sure you check out some other top stocks in the cannabis industry: Canopy Growth (CGC), Cronos Group (CRON), and Aurora Cannabis (ACB). Before Aphria stock traded under the ticker APHA… it was actually traded under OTCMKTS:APHQF. However, with companies like Canopy Growth, Cronos Group and Tilray Inc (TLRY) all listing on major exchanges… APHQF wanted to step its game up to try to attract more investors.
Consequently, it filed a U.S Securities and Exchange (SEC) Form 40-F to uplist its stock to trade on the New York Stock Exchange. Basically, APHQF was changing the type of stock, by uplisting from OTCMKTS:APHQF to NYSE:APHA In turn, this caused some investors and traders to pour into the stock… increasing its liquidity and market capitalization.
Here's a look at the daily chart on APHA from Finviz.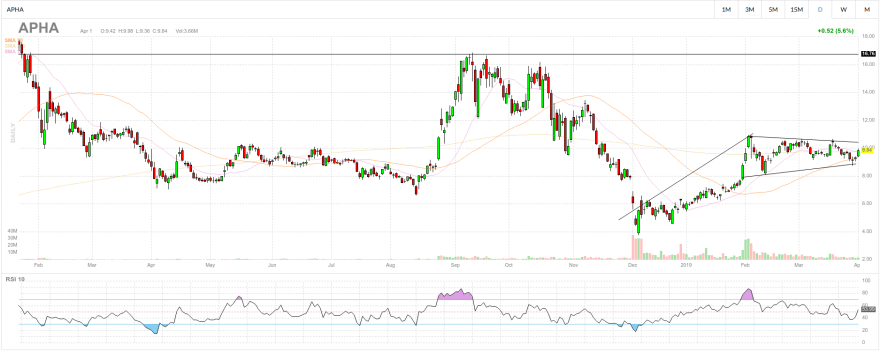 As you can see above, APHA is forming a bull pennant pattern… indicating it could potentially breakout soon. If you want to learn how to trade small cap stocks, and spot potential breakout trades like this…
[button link="https://jasonbondtraining.com/webinar-yt/?utm_campaign=jbt-webinar-yt-1&utm_medium=rb-post&utm_source=rb-website&utm_content=acbff-apha&utm_term=NPSW-post" newwindow="yes" type="big"] Check Out My Three Money-Making Chart Patterns[/button]
Now that we have an idea of where Aphria stock is currently… let's take a look at the company profile, and what exactly it does, as well as some recent catalysts.
APHA Company Overview
Aphria is a Health Canada Licensed Producer of medical marijuana products. Additionally, it's high-quality medical marijuana is 100% greenhouse grown. In other words, its plants are grown with natural sunlight. Aphria's products have been touted as safe and consistent… and the company goes well beyond industry standards in order to ensure patients to receive pure, safe, and clean medical marijuana products. Not only does the company offer safe and consistent products, but it also offers patient care.
Patients can use Aphria's platform to order cannabis for their medical needs. Here's a look at the order process.

Moreover, healthcare professionals can use Aphria for prescribing medical cannabis to patients.

Now, Aphria's product line includes:
Oral solutions.

These products contain purified cannabis oil in liquid form. Patients ingest the solution, and could be taken with foods and beverages. Moreover, they contain natural flavorings and may have longer onset effects than traditional products.

Capsules.

APHA offers capsules with a precise dose of cannabinoids (CBD). These capsules are in the form of purified cannabis oil and provide patients with the therapeutic benefits of CBD in a convenient form.

Syringes.

Patients can consume APHA's syringe products in various forms, such as orally or inhaled at a high temperature. Moreover, there is a dosage indicator, making it easy for patients to properly consume this medication.

Flowers.
Vaporizers.

APHA's single-unit vaporizer cartridges are pre-filled with purified cannabis oil made from marijuana plant extract and natural terpenes.
Now that we've gone over some of the company specifics, let's look at some recent catalysts. If you want to learn more about the company, conduct your due diligence here.
APHA Hostile Bid
Recently, Green Growth Brand's tried to take over APHA with a hostile takeover bid. However, Aphria's board of directors unanimously rejected that bid. Not only that, the board of directors unanimously recommends that APHA shareholders reject the bid, and do not tender their shares. Those who are long APHA do not need to take any action to reject the hostile bid.
APHA notes:
The hostile bid is at a steep discount. Green Growth Brand (GGB) undervalues APHA relative to its current and future worth.
If GGB takes over APHA, the stock would be prohibited from listing on the Toronto Stock Exchange and New York Stock Exchange. Consequently, this could hurt the market value of the stock.

Certain investors and strategic partners might be unwilling to hold shares in APHA, should GGB take the company over.

GGB is taking value from shareholders.
There are no material synergies between GGB and Aphria.
There are significant potential risks associated with GGB shares.
Moving on.
Now, let's take a look at the recent catalyst events.
APHA Stock Recent Catalysts
Back in March, Aphria filed an SC 13G, indicating it acquired 1,344,250 shares of Scynthian Biosciences. Consequently, with this new investment, APHA is expanding its research and development (R&D). In turn, this could increase its earnings and revenue over time.
Furthermore, Health Canada granted Aphra its license amendment. In turn, Health Canda permits APHA to start production in an additional 800,000 square feet of facilities. Therefore, the company executed and completed Part IV and V of its expansion plan. Consequently, APHA will establish over 20,000 plants in just Part IV and V of the expansion… and it will continue to add 12,000 plants each week until it reaches full production capacity. That said, this was a major milestone for APHA… and the company could be a leading global cannabis producer because of its increased production capacity.
More recently, APHA introduced CannRelief to the market. Through its subsidiary, Aphria Germany, the company launched its first CBD-based nutraceutical. Moreover, Aphria launched the first product in its CBD-based cosmetics lines… tapping into the German market. Aphria is producing CannaRelief brand products in the European Union. Thereafter, the company's subsidiary CC Pharma will distribute those products to potentially over 13,000 pharmacies in Germany.
Therefore, Aphria is continuing to expand across the globe. Moreover, it's executing on its strategic growth initiatives in the European Union. As a result, this could cause the stock to continue to run higher.
Final Thoughts About APHA Stock
APHA stock is still trading below its competitors valuations (CGC, CRON and TLRY). That said, the company could be poised to run given its recent price action, as well as its catalyst events. Moreover, with more states and countries looking to legalize cannabis, it could push stocks in the cannabis sector higher. With its increased production capacity and product line, APHA could be one of the top-performing cannabis stocks this year.