[et_pb_section fb_built="1″ _builder_version="3.22″][et_pb_row _builder_version="3.25″ background_size="initial" background_position="top_left" background_repeat="repeat"][et_pb_column type="4_4″ _builder_version="3.25″ custom_padding="|||" custom_padding__hover="|||"][et_pb_text _builder_version="3.0.74″ background_size="initial" background_position="top_left" background_repeat="repeat"]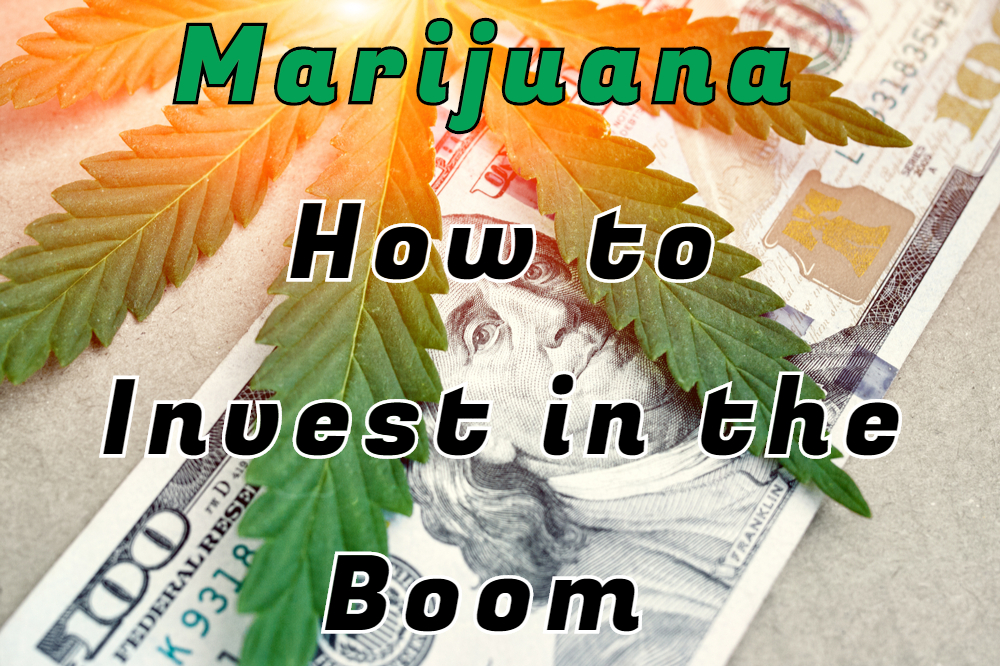 Marijuana is now an everyday topic of discussion around the country.
Sales of legal cannabis in the U.S increased 34% to $10.8B in 2018. While a report from ArcView Group and BDS Analytics forecasts cannabis spending could increase 38% in 2019, continuing into the foreseeable future.
With the cannabis market valued at $200B. Bruce Linton, CEO of Canopy Growth Corp. (CGG) said that he thinks this is a potentially conservative estimate.
Noting the market could be disrupting multiple major industries to the tune of $500 billion.
Major industries that provide products used in everyday life.
For example:
Sleep, pain, and anxiety

The pharmaceutical industry could see a big impact.

Beverages and sports drinks 

Animal health

Personal health and wellness
In the U.S. alone, 34 states and Washington D.C. have legalized the use of medical marijuana, while 10 states and Washington D.C. have legalized adult use of recreational marijuana.
Across the globe, 41 countries have legalized cannabis at the national or federal level. 50 countries have legalized CBD products and 2 countries have legalized adult recreational use of marijuana.
It's everywhere.
How to Invest in the Marijuana Boom
There are many ways to gain exposure to Marijuana. In particular the over the counter (OTC) market, major stock exchanges, and exchange-traded funds (ETFs).
Over the counter market (OTC)
The OTC market is comprised of companies in the industry that don't meet the requirements to be listed on a major exchange. Still, it is possible to invest in these stocks through your broker.
There is a lot of potential in some of these companies. However, investing this way has more potential pitfalls and risks as well.
In particular, the low liquidity and high volatility in the market. As well as, many of the companies having less operational track record.
To be listed with the OTC market, a company simply fills out a form to request to be listed. Due to the low filing requirements, there is a lack of information for the investor to base their decisions on, and find important facts about the company.
So while this is an outlet for investing in marijuana, it should be done so with caution.
Stocks Trading on Major Exchanges
Another way to invest in marijuana is through individual stocks on large exchanges. For example, the NYSE and the NASDAQ.
There are many cannabis stocks that are traded on these bigger stock exchanges. Surely these stocks will give you better transparency to the financials and company operations than an OTC stock.
At any rate have look at some of the larger companies in the cannabis industry.  With market share, growing operations, and financial backing, these companies will offer a lot of potential.
Canopy Growth Corp. (CGC)
CGC is a diversified cannabis and hemp company with operations in 12 countries on 5 continents. Continuing to expand as regulations evolve.
Being involved in cannabis-based beverage production, cannabis-based therapeutics, device and delivery technologies, large-scale cannabis processing, and cannabis plant genetics provides diversification within the market.
They have 4.4 million square feet of production capacity with over 1.3 million sq. ft. expansion underway.
Also 90 patents and over 230 patent applications filed with more under development.
Constellation Brands (STZ) made a $4 billion investment in CGC. With this, Constellation's ownership interest increased to approximately 37% of CGC's outstanding common shares.
They are a major alcoholic beverage company with brands such as Corona and Modelo. As they are also a Fortune 500 company, this provides a beneficial partnership for Canopy.
In particular, the investment from Constellation will be used for:
U.S. market entry

Global expansion

Research and Development support

Acquisitions
To list some of CGC's recent acquisitions:
Germany's C

3

 – a cannabinoid compound company

This Works  – a skincare and wellness company

Cafina – a Spanish licensed cannabis producer
CGC has some celebrity influence as well. Martha Stewart has joined CGC as an advisor to develop cannabis products for human and animal consumption.
Also, the one and only Snoop Dogg has a long-running relationship with CGC in a partnership to distribute the cannabis brand, Leafs by Snoop. In addition, he was instrumental in bringing Martha Stewart on board.
Aurora Cannabis (ACB)
Aurora is a large scale cannabis producer. They estimate the potential of their production capacity to be 625,000 kg/year in 2020.
They have diversified their business through acquisitions, research and development, and strategic partnerships. With this, they are involved in multiple market segments. Some of which are medical, consumer, and CBD products.
Being on top of technology, they have:
High tech automated greenhouses

Extraction technology to produce low cost, high-yield operations

Genetics research and product innovation
A widening international distribution network
Aurora is active in 5 continents and 24 countries with 15 global production facilities. They have 40 clinical studies underway or completed and over 77,000 medical patients served.
On the pop culture side, Aurora and UFC®, the world's premier mixed martial arts organization, have announced:
"an exclusive, multi-year, multi-million dollar, global partnership that is expected to significantly advance further clinical research on the relationship between 100% hemp derived Cannabidiol (CBD) products and athlete wellness and recovery, with a view to accelerating CBD product development and education".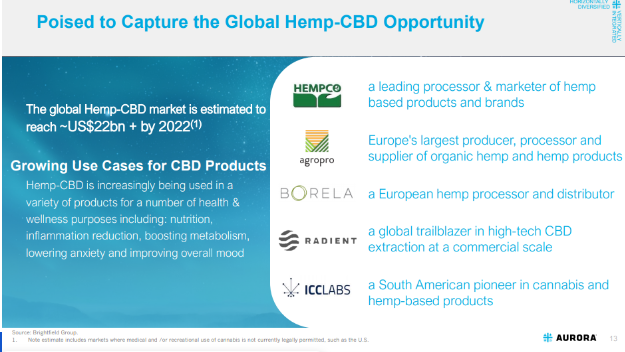 Cronos (CRON)
Cronos Group is a globally diversified cannabis company with multiple international production and distribution platforms and partnerships across five continents.
Their operations include the following: 
Multiple wholly-owned Canadian licensed producers

Direct to consumer medical products

Facilities focused on research and development

Adult recreational products and distribution
Altria (NYSE:MO), a major player in the tobacco industry, invested $1.8 billion in Cronos, and hold an approximate 45% ownership interest in Cronos Group.
They also have a warrant to acquire additional ownership in Cronos Group. If exercised Altria's ownership would increase and Cronos would be provided with additional capital.
Altria has a strong record of managing complex regulatory environments. They have a lot experience with large-scale manufacturing automation and supply chain management. They also have long-time experience in consumer branding.
What Altria brings to the table will have a big impact on Cronos Group's growth and future.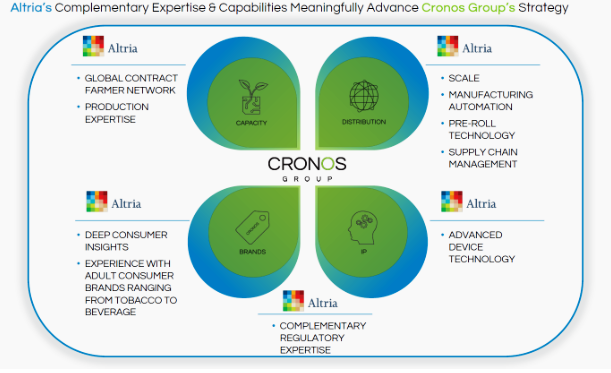 Tilray (TLRY)
Tilray is a global pioneer in the research, cultivation, production, and distribution of medical cannabis and cannabinoids.
The company currently serves tens of thousands of patients, physicians, pharmacies, governments, hospitals, and researchers spanning four continents.
Production and distribution size:
7 state-of-the-art facilities

1.1 million sq. ft. of production and processing space

Products being distributed throughout 12 countries
Tilray entered a 50/50 joint venture with one of the world's leading brewers, AB InBev. Through this joint venture, they will be working on responsible innovation of non-alcoholic beverages containing THC and CBD.
Tilray also signed a long-term profit sharing agreement with Authentic Brands Group. Authentic Brands Group currently owns more than 50 iconic global lifestyle brands, with names like Juicy Couture and Nine West.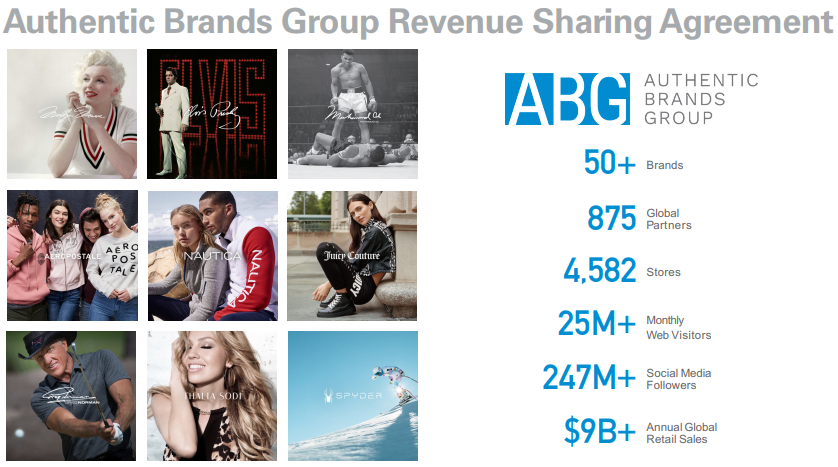 Under the terms of the agreement, together they will create and distribute a portfolio of consumer cannabis products. In other words, they will create products to reach new consumers across many sectors.
Including:
entertainment

fashion

beauty

home

health and wellness
Exchange Traded Funds (ETFs)
An ETF trades like a stock and can be purchased through your broker. The difference is that an ETF provides diversification by holding a basket of stocks.
Ultimately the purpose of the ETF is to track the performance of a basket of stocks. This can be an index, sector, industry, or any other of the number of ways to group stocks.
Many people prefer to invest in ETFs because ETFs provide a level of diversification that they might not be able to gain on their own.
By using an ETF to invest in marijuana, you will get exposure to a wide range of individual stocks in the cannabis industry.
Holding a single stock will expose you to the risk of something happening to just that stock. This can be a good thing or a bad thing. The ETF will mute the volatility of stock specific swings because of the exposure to the other stocks in the basket.
ETFs let's you invest in the industry as a whole without putting you at the mercy of a swing in just one stock.
Cannabis ETFs
There are a number of Marijuana-related ETFs. Here is a look at a couple of well-known options.
ETFMG Alternative Harvest ETF (MJ)
The ETFMG Alternative Harvest ETF seeks to provide investment results that correspond to the return performance of the Prime Alternative Harvest Index.
This being the performance of global companies that are engaged in legal activities involving cannabis use for medical or non-medical purposes.
As seen below MJ's top holdings are some of the well-known stocks listed above. By investing in this ETF you can gain exposure to all of them and smooth out the volatility of owning just one.
The listed holdings can change daily, so the caption below the chart is linked to the daily holdings for reference.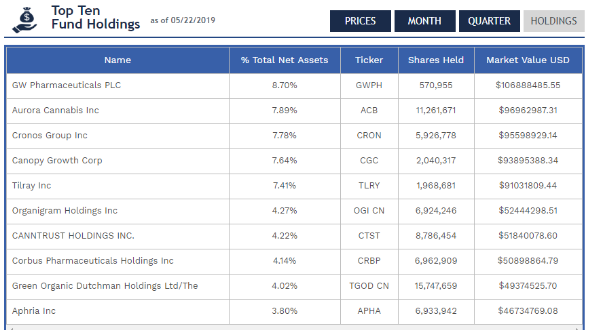 AdvisorShares Pure Cannabis ETF (YOLO)
The AdvisorShares Pure Cannabis ETF (Ticker: YOLO) became the first actively managed ETF with a dedicated cannabis investment mandate domiciled in the United States.
The AdvisorShares Pure Cannabis ETF, designed to fully-invest for pure cannabis exposure, seeks long-term capital appreciation by investing in both domestic and foreign cannabis equity securities.
Below are the top 10 holdings in YOLO. This can change daily, so the link will take you to the current holdings.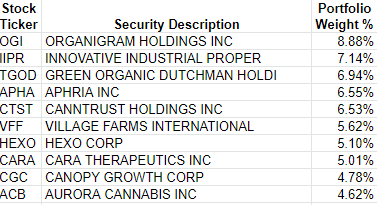 Final Thoughts
There are plenty of easy and legal ways to invest in marijuana. However, each has its own risk factors.
OTC stocks have limited regulatory oversight and transparency.
Stocks on the major exchanges have a higher level of reporting and transparency required. In other words, you will have information to research these companies in order to make an informed investment decision. However, you are still exposed to the possibility of a big company-specific event.
ETFs make for an easier way to gain exposure to marijuana without taking on the risk of picking a single stock.
The marijuana industry growth is creating a popular investment trend. However, the industry is still developing. With new laws and regulations being floated all the time.
Positive sentiment changes from the public, government, and businesses are helping to shape laws and regulations. Thus creating a more beneficial outlook for the industry.
With the battle still unfolding, it is important to stay current with the legal and political side. Especially since things can change very fast, for better or worse.
Not Sure Which Marijuana ETF or Stock is Best?
There are so many marijuana stocks and ETFs that I've listed here… and sometimes, it's hard to find when and where to buy them. Well, there's a simple solution for that… it's what I call the Horizon Line. While there are plenty of marijuana stocks to trade… you can narrow them down to just a handful with just one simple line… find out more by clicking here or below.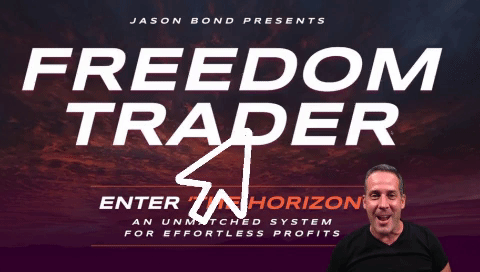 [/et_pb_text][/et_pb_column][/et_pb_row][/et_pb_section]