Catalyst trading is one style that could make you the big bucks. If you're right on the play, you could potentially double your money. No, I'm not talking just about bitcoin, blockchain or crypto plays. For example, I alerted  Energous (WATT) to let the community know it was on my radar due to a positive catalyst. Let's take a look at this case and I will explain how you could potentially bank on catalyst events.
WATT catalyst
If you're a beginning trader, you want to get into a trade due to some catalyst. The catalyst could be anything, like buying on a technical breakout, fundamentals or news. Generally, I find news plays are the ones in which you could double your money overnight.
WATT, a company offering wireless charging, announced the Federal Communications Commission (FCC) certified its first-generation WattUp Mid Field transmitter, allowing users to charge their devices at a distance. This is a game changer for the industry. We are all glued to our devices and don't want to be forced to sit near a wall while they're charging.
With a catalyst of this magnitude, there was a high probability WATT continued to make new highs. That said, I bought shares above $16:
Here's WATT's hourly chart: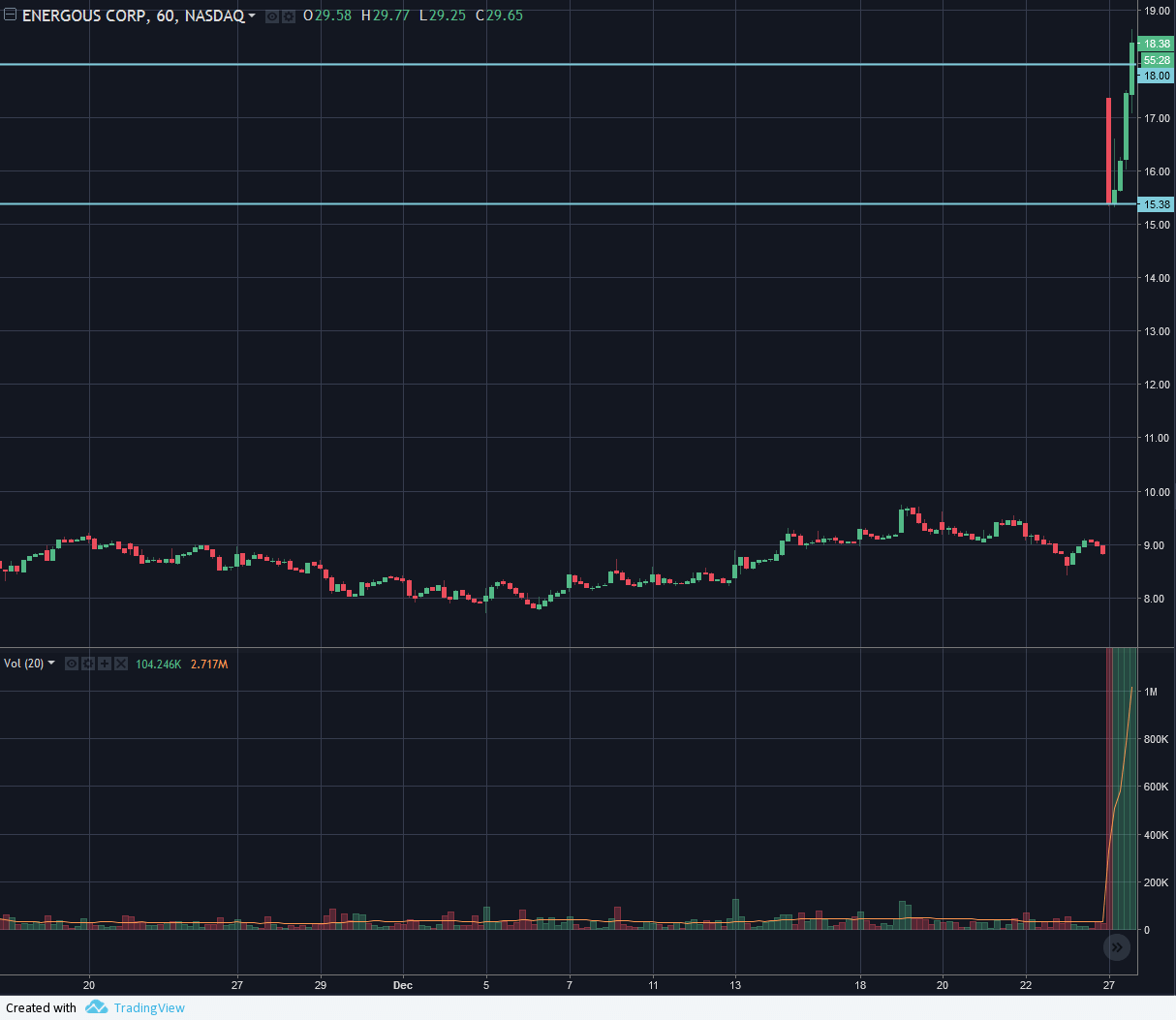 I know, I know…I didn't stick to my plan. However, WATT was continuing to make new highs, and it was prudent to sell for a profit because you just don't know when these stocks could pull back.
Looking back on this trade, I should've set a trailing stop and hold on for the bigger move.
After I sold, the stock had this monster move: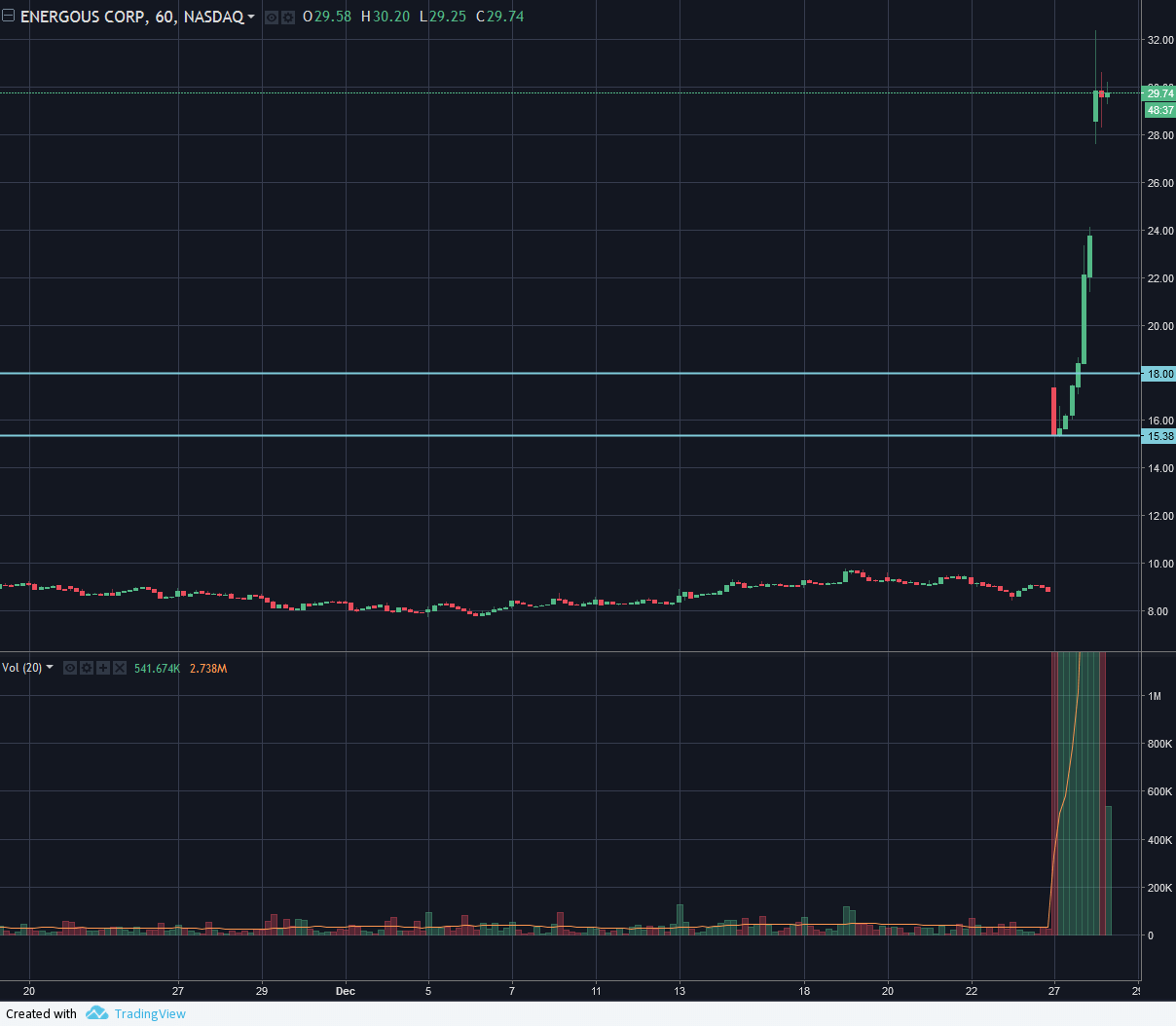 That's right…the stock went all the way above $30, and I'm kicking myself for not staying in for the entire move.
However, I love seeing when my premium members are able to bank off of moves like this…
"Hi Jason. Newbie just started with the Millionaire Roadmap yesterday. I'm not a day trader, but your WATT alert at $16 today was superb. Still up almost $3,000 on the stock and will hold overnight. Bought Jan 17.50 calls too and got out with a double! … Thank you sooo much!"
This trader held onto the stock for this sick run and even bought call options!
What to look for when trading catalysts
When you're trading stocks with strong positive catalysts, there are a few intricacies you want to analyze. First, read through the catalyst and figure out whether it's positive. Next, look at the short interest. WATT had a short interest of 27% and a relatively low float, indicating it was ripe for a short squeeze. It's that simple. You could also look at technical patterns with catalysts. For example, if you notice a bullish pattern and a strong positive catalyst, coupled with a high short interest and low float, you might look to get in the stock.
Final thoughts: It's hard to tell exactly where stocks can go on catalysts, especially when they're making new highs. However, it's also prudent to lock in profits. One way you could ensure capturing the entire move would be to take off some of your profit and set a trailing stop on the rest of your position as the move advances. If you're more advanced and know a thing or two about options, you could buy those if you think the stock could run a lot higher, but don't know when and where it could go.
#-#-#
Jason Bond runs JasonBondTraining.com and is a swing trader of small-cap stocks.
*The market data is provided by TradingView.