[et_pb_section][et_pb_row][et_pb_column type="4_4″][et_pb_text]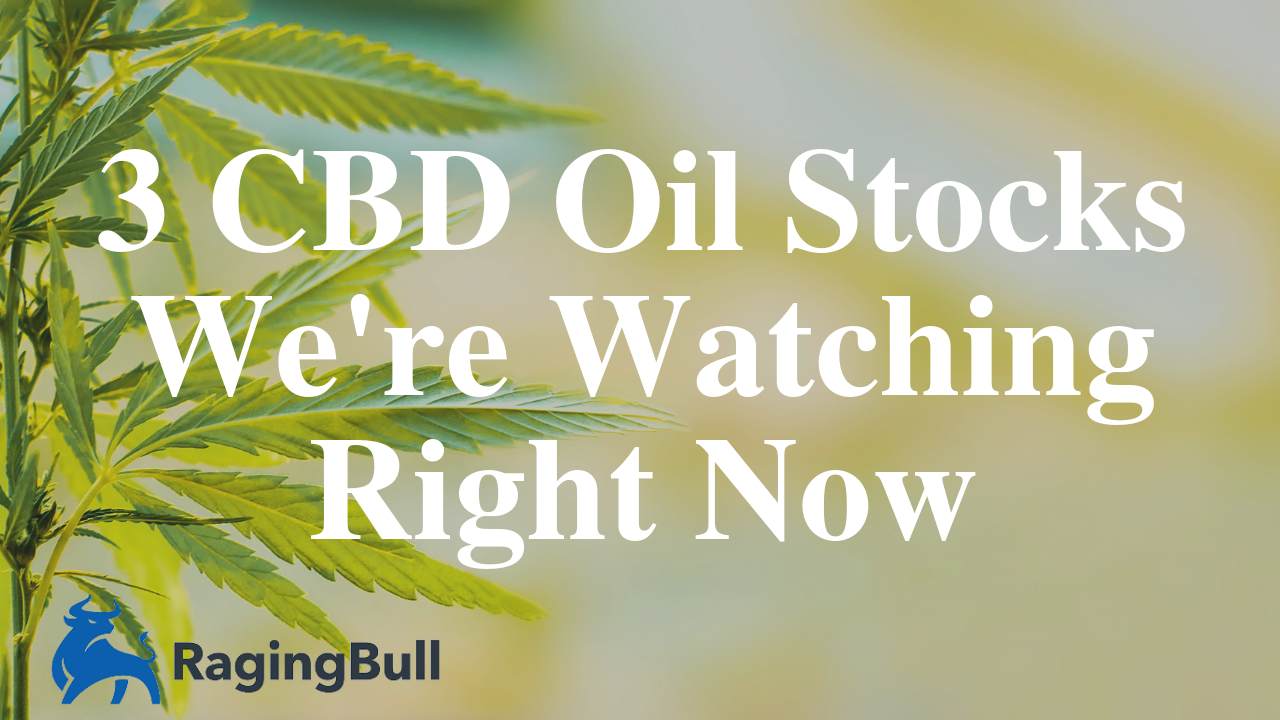 By now you've probably heard about investing in CBD oil stocks. Everyone is talking about CBD and all of its amazing uses, so there must be something to this craze. But what is it?

Cannabidiol (CBD) is the oily resin of the cannabis plant. Once extracted from the plant, the CBD oil is formulated into a variety of products. Some examples are oils, edibles, vape oil cartridges, topicals, and beverages.
The fact that CBD is therapeutically potent, as well as non-intoxicating and easy to take as an oil, makes it an appealing treatment option.
CBD can provide relief for:
Chronic pain

Anxiety

Inflammation

Depression

And many other conditions…
In 2018 CBD had turned into a highly popular subject being talked about by athletes, film stars, and soccer moms alike. A surge of consumer interest in all things CBD was suddenly newsworthy.

Significant consumer demand turned into a largely unregulated market in CBD oil products. This was the point where the government decided to act.
The 2018 Farm Bill was passed and includes a provision that legalizes the cultivation of hemp (cannabis with less than 0.3 percent THC) in large part because of the popularity and driving economic force of CBD. Growing hemp is now a legitimate agricultural enterprise in the United States. Hemp-derived CBD products are legal as long as they adhere to regulations laid out in the bill.
3 CBD Oil Stocks We're Watching Right Now
With the growth of consumer demand and the changing political landscape, CBD has become a surging industry. The Brightfield Group, released a report that states the hemp-derived CBD market could hit $22 billion by 2022.

That said, it's grabbing the attention of investors across the world, and there are new companies and investment opportunities popping up regularly.
1.) Charlotte's Web Holdings, Inc. (CWBHF)
Charlotte's Web Holdings, Inc. produces and distributes hemp-based, cannabidiol wellness products in the United States. As a vertically integrated company, every step of the process is overseen to ensure the highest quality, from seed to shelf.
They offer a product variety of liquids, capsules, and topicals, as well as canine and CBD, isolate products. New products planned for 2019 include consumables and innovative cosmetics.
The products they make support exercise-induced inflammation, regular sleep cycles, stress, and a sense of calm and focus. All of which address primary consumer needs in large markets.
It produces and distributes products under the Charlotte's Web name with over 50% e-commerce sales being direct to consumer through its website. Products are also sold through 6,000 retail locations and 4 national brand retail grocery and drugstore chains.
Charlotte's Web planted 300 acres of outdoor cultivation in 2018 with 675,000 lbs of hemp produced. They are looking to double the number of acres with 600+ planned for 2019.
They have 40,000 sq. Ft. of Current Good Manufacturing Practice (cGMP) certified processing and R&D facilities with a planned 2019 future expansion facility of 135,000 sq. Ft.
From the company website:

Charlotte's Web revenue grew 74% from $40 million in 2017 to $70 million in 2018. Gross profit rose 75% from $30 million in 2017 to $52 million in 2018.
The company's growth plan includes building brand awareness, growth of existing products, the introduction of new differentiated products, international products, improved distribution, and acquisitions of strategic complementary companies.
For the fiscal year 2019, the company projects sales of $120 million to $170 million. With projected sales and the company's plan for growth, they believe there is room to grow for years to come.
2.) New Age Beverages Corporation (NBEV)
New Age Beverages Corporation develops, markets, sells, and distributes healthy liquid dietary supplements and ready-to-drink (RTD) beverages. The company offers RTD tea, coffee, kombucha, energy drinks, relaxation drinks, coconut waters, functional waters, and rehydration beverages, as well as functional medical beverages.
It provides its products under the Bucha Live Kombucha, XingTea, XingEnergy, Marley One Drop, Marley Mellow Mood, Marley Mate, Marley Cold Brew, Coco-Libre, PediaAde, Tahitian Noni Juice, TruAge, and Aspen Pure brands, as well as the Bio-Shield and 'NHanced brands.
The company sells its products across 50 US states and approximately 60 countries internationally. The fastest growing beverage company, they are currently the 40th largest non-alcoholic beverage company in the world.
Under the umbrella of its Health Sciences Division wholly-owned subsidiary, New Age entered the CBD market with a full portfolio of topicals sold through it's 30,000 North American direct-to-consumer consultants and a dedicated e-commerce website www.NHANCEDCBD.com.
Throughout the remainder of 2019, their CBD products will roll out globally into the company's direct-to-consumer markets in 60 countries around the world.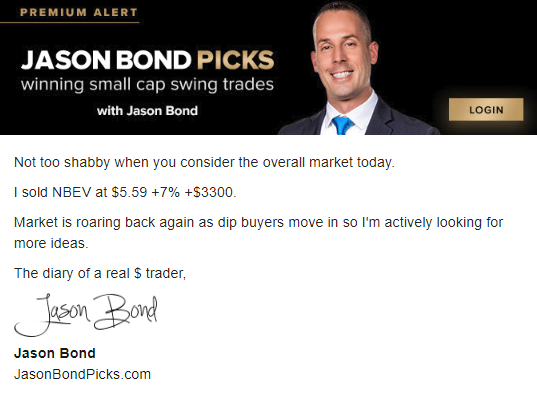 (NBEV is a great stock to trade when there is a catalyst. If you'd like to learn more about my trading style, then click here to learn more.)
New Age also entered into a distribution expansion of their Marley brand beverages with Walmart. They are planning to add CBD versions of the Marley brand drinks throughout 2019. Having the Walmart distribution channel gives New Age the ability to roll out the CBD drinks on a large scale as laws allow.
From the investor presentation: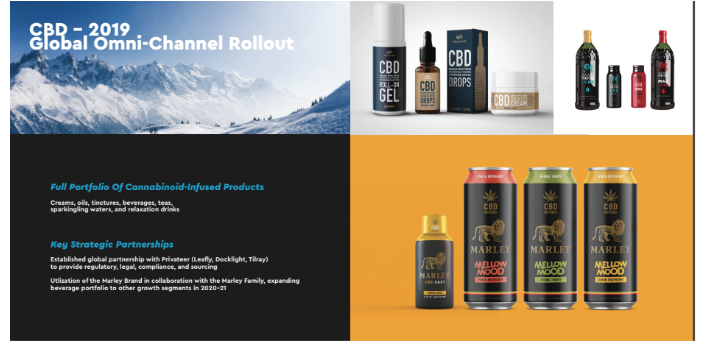 3.) GW Pharmaceuticals (GWPH)
GW Pharmaceuticals plc, is a biopharmaceutical company that focuses on discovering, developing, and commercializing cannabinoid prescription medicines using botanical extracts derived from the Cannabis plant.
Its lead product Epidiolex is the first FDA approved plant-derived cannabinoid. Epidiolex is an oral medicine for the treatment of refractory childhood epilepsies, as well as for the treatment of Dravet syndrome, Lennox-Gastaut syndrome, tuberous sclerosis complex, and infantile spasms.
Epidiolex treats multiple medical conditions and is still in trials to address a couple of others. In approximately ⅓ of patients with epilepsy, the seizures persist despite taking many anti-epileptic drugs.

There have also been no new treatments created for Lennox-Gastaut syndrome since 2011. Epidiolex could fill a need in these areas as well. Providing more options and for patients that aren't seeing progress with the modern medicines available.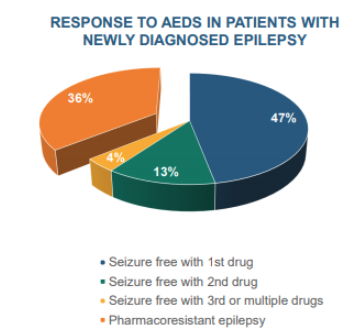 An expert commercialization team is leading sales growth with 66 neurology account managers targeting 5,000 physicians and 15 medical science liaisons. Coverage for the medication is widely approved, with 90% of all US lives now covered to some extent.
GW has set up programs to educate the clinical, payor, and patient groups to bring awareness to the brand.
GW is expecting to launch the European brand as Epidyolex in 2019 in France, Germany, Italy, Spain, and the UK. In 2020, they expect to launch in additional countries.
While Epidiolex is the only drug, currently FDA approved. GW is working on many other drugs as well. Sativex is in Phase 3 trials for MS scaticity. CBDV is in Phase 2 trials for epilepsy and autism spectrum disorders. Other conditions they are developing drugs for are schizophrenia, neonatal hypoxic-ischemic encephalopathy, Rett syndrome, and more.
Final thoughts
The CBD oil market is relatively new and still awaiting more legal clarification to reach its full potential. For those that believe these changes are coming, there is a magnitude of growth forecast for the CBD market.
This gives believers an excellent opportunity for gains from investing in this market.
CBD has many uses in all aspects of our lives, which makes for so many different ways to gain exposure to the market.
Charlotte's Web handles every step of the process from growing, manufacturing, and selling their CBD oils, capsules, topicals, etc.
Then there is a company like NBEV which produces oils and topicals, but is also making a push to have a nationally recognized CBD drink brand with their Marley brand products.
On a completely different side of the market are the pharmaceuticals with FDA approved drugs. This is where you will find GW pharmaceuticals with the first-ever FDA approved cannabinoid.
No matter which sub-sector of the CBD industry interests you, there is no denying the growth of the sector and the opportunity to profit from stocks in the space.
[/et_pb_text][/et_pb_column][/et_pb_row][/et_pb_section]