The back story: A week ago, Energous Corp. (WATT) — the development-stage tech company behind Wattup, a technology that allows for wireless charging of electronic devices – had a fabulous technical set-up. The stock was in oversold territory on the Relative Strength Index, and the four previous times it had gone there, it came out with a vengeance, gaining between 47 percent and 113 percent in short order.
I didn't know what caused the bounces in the past, and how circumstances now might be different, but when a company bounces reliably – and big – out of oversold, I'm interested.
See when Jason Bond identified WATT as 'oversold'
How it played out: When hot stocks are oversold, they sometimes act like a guy trying to recover from a fight with a spouse. Instead of the fight and the trouble they have at home, the stock has bad news and management knows the stock is depressed; their job is to create shareholder value, and you do that with good news the same way the guy at home buys flowers to move the relationship forward.
So while I couldn't foresee the news, I wasn't surprised when Energous announced a new Wattup charging solution on Tuesday, rekindling interest in the stock.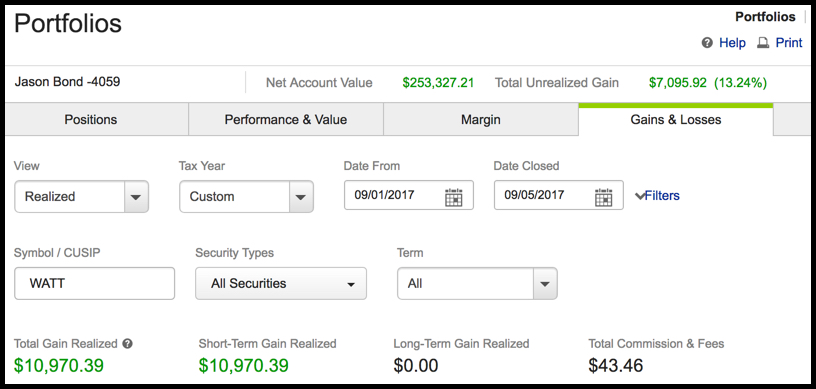 How I played it: I had accumulated WATT from Aug. 23 through Aug. 28, accumulating 10,000 shares at an average price of $9.72 over three purchases; while I expected the stock to go as high as $13, I sold out yesterday, pocketing a $10,970 profit, representing a gain of roughly 11 percent on the trade.
The stock's move was closer to 34 percent, but it's impossible to get the perfect entry and exit. Once there was news, it was time to sell because while it would have been great to see a gap up to $13, the move had the potential to attract a new round of sellers and shorts and that could turn things around. You can't go wrong making money, so you pay yourself and don't worry about trying to find the best possible entry and exit point.
#-#-#
Jason Bond runs JasonBondTraining.com and is a swing trader of small-cap stocks. At the time this was published on RagingBull.com, he had sold his position in WATT and had no shares, options or open orders in the stock.