The back story: Marinus Pharmaceuticals (MRNS) saw a positive data release in mid-September, which caused the tock to pop from roughly $3 per share up to about $7. They have another catalyst set for early 2018, a Phase II trial on the same drug for post-partum depression that caused the last move.
The side story: January is a big month for biotech stocks, because a lot of companies have data to release at the JPMorgan Health Care Conference, the biggest event of the year for biotech and pharma companies. We don't know who will be there yet – we find out sometime in December – but just the news that someone has news coming in January spurs speculation that it can be at the conference, which can keep a momentum stock like Marinus moving.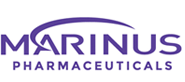 The technical story: I'm expecting Marinus Pharmaceuticals to consolidate a bit from here, and if it takes a few weeks and gets down to the low $6 range, it would make sense to buy it. The stock has a nice double-top at about $8.15. If it consolidates and starts heading back to a double top, I'll be looking for a breakout, which could push it close to $9.
The side story: In some ways, Marinus is related to Sage Therapeutics (SAGE), which has two catalysts coming in December plus their own post-partum depression drug that will have data out in the first quarter of 2018. While I'm not going to play SAGE – it is too volatile and I'd rather go with Marinus as a much lower-priced option in the space – its success could rub off on Marinus since they are both advancing drugs on the same condition.
The play: I'm looking to get into MRNS in the low $6 range for a run over the 52-week high of $8.25. If MRNS falls to where I buy it, I will keep my stop tight – likely at around $6 – and I'm not planning to hold it through the data release.
#-#-#
Kyle Dennis runs BiotechBreakouts.com. He is an event-based trader, who prefers low-priced and small-cap biotech stocks. He has no stocks, options or open orders in MRNS, but day-traded it on Sept. 9  for a smallgain. He has no shares, options or open orders on SAGE.