The set-up: Tech stocks have fallen for multiple days in a row now for the first time all year.
On the surface, you can throw all of the blame for this onto Tesla (TSLA), which over the past eight trading sessions, has lost roughly 19.5 percent on bad reports from the company, Wall Street and the auto industry. The company lost $7.2 billion in market cap and its status as the most-valuable auto-maker.
Some experts were calling Tesla's fall the signal for the end of growth in stocks altogether.
Jeff Bishop of TopStockPicks.com sees a dead-cat bounce in Tesla
It certainly weighed on the technology sector, which had looked pretty much indestructible all year.
The play: While everyone is talking Tesla – and I may be playing it myself if I see the right things happen – I'm looking at the rest of the tech sector to see what has been put on sale. Something has gotten cheap or is going to test its support levels.
If Tesla makes a run up, you will quickly see who got oversold in the wake of the Tesla news this week.
One chart that looks ripe to me now is Amazon.com (AMZN).
Take a look: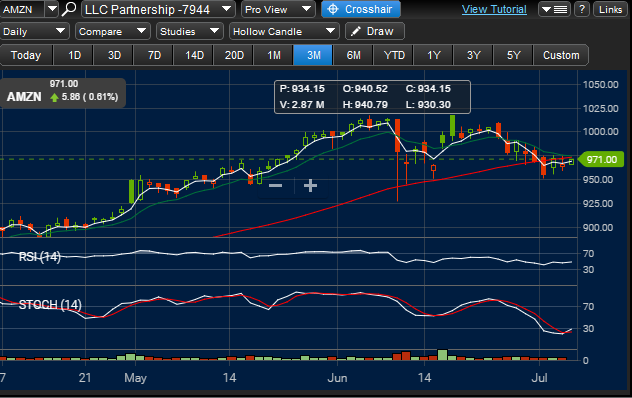 Every time Amazon bounces off of $1,000, it dips, then forms a base, then makes a run back up. It looks to me like that is about to happen again.
What I'm doing: If Amazon clears the 50-day simple moving average of $971.81, I will be looking for a move to the $990 area via August 18 at-the-money call options, although I might go with a closer expiration date if the stock is running hard.
#-#-#
Davis Martin is the head publisher of DailyProfitMachine.com. He trades SPY Calls and Puts and swing trades mid-large cap stocks and stock options. He does not currently have shares, options or open orders on AMZN, but is planning to use options in the stock as described in this commentary.