Bitcoin prices got smoked today, and some traders think the bubble is going to burst. I don't think this is the case. If bitcoin continues lower, I think it finds some support around $10K in the short term. 
Potential reasons for bitcoin and altcoin selloff
It's been a remarkable year for bitcoin, running from $700 to $20K, so it's expected for traders and investors to take profits into year-end.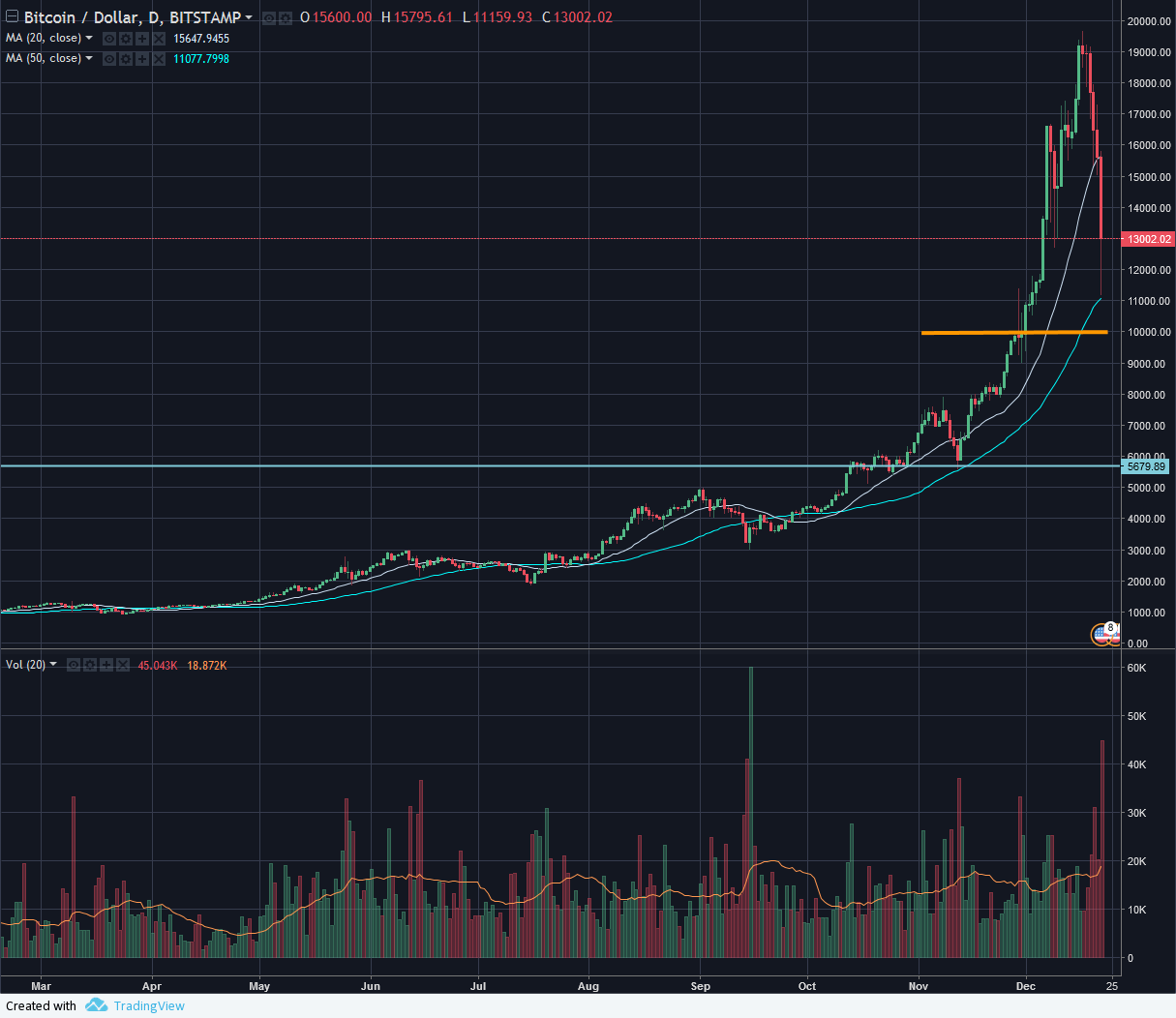 Looking at the chart above, bitcoin found support at its 50 day SMA and rebounded over $1K.
There are a number of reasons why bitcoin, ethereum and litecoin dropped over 25% in the same day. Again, I think it's mainly due to profit-taking. It's the holiday season, and people possibly sold to convert their profits to cash, spending that money on presents.
Another reason could be hacks and regulations. A popular South Korean crypto exchange, Youbit, announced its closure after it was hacked, losing over 15% of all assets. Moreover, the SEC suspended trading in The Crypto Company (CRCW) and halted an ICO scam.
That said, these catalysts may have caused some panic selling. We knew bitcoin and altcoins were going to be volatile, but I don't think this is the end yet.
Cryptocurrencies don't seem to be done yet
There's still a lot of investors and traders pouring money into bitcoin and altcoins. Most recently, someone bought 275 BTC calls, expiring on Dec. 28, 2018, with a strike price of $50K!
That's a $1M bet that BTC would hit $50K by Dec. 28, 2018. If it doesn't get above $50K by then, the investor would lose his entire investment. I don't think an individual made this trade, it's more likely an institution placing this large bet.
If it's an institution buying these options and news gets out, I think cryptocurrencies could make a move higher.
Final thoughts: I'm still holding onto my core portfolio, which includes: BTC, ETH, LTC, XLM and XRP. I think this move is overdone and buyers start to step in. We've locked in some great gains in altcoins, namely XRP, MANA, SALT, ETH, XLM and QTUM. I'm still in OMG and XEM, and I'm planning to take some off the table to reduce risk. However, I added some to STRAT because of the fundamentals and technicals. Again, I don't think the bitcoin and altcoin mania is over yet.
#-#-#
   Terry Scott runs Crypto Trader Pro. He has been trading stocks for nearly two decades and cryptocurrencies for two years. He primarily trades altcoins using proprietary trade tech and is constantly in search of the next big move.
*The market data is provided by TradingView.