It doesn't seem like bitcoin is going away anytime soon. There are a lot of people calling this a bubble, but the impact of this so-called "bubble" won't be realized until we begin to see bitcoin investors take an overvalued stance on the asset.  In other words, there's got to be people actually trying to short this thing and not lose their shirts in order for the bubble to pop. We're not quite there yet. Until bitcoin enters into some kind of bear market, I'm still looking for related stocks to go long. One crypto play on my radar is Siebert Financial (SIEB), and I believe that it could continue its momentum riding out this bitcoin wave.
SIEB could be the next big cryptocurrency stock trade
Now, this isn't the first cryptocurrency play that I and my community of traders got into recently. We've traded Riot Blockchain (RIOT), Marathon Patent Group Inc. (MARA) and Digital Power (DPW), and crushed them without owning any bitcoin. That said, I think SIEB could potentially experience the same move with the recent announcement of its positive catalyst.
SIEB signed a letter of intent to enter into a partnership with Overstock.com (OSTK) and its subsidiary company tZero. They're looking to offer online stock trading at a discount to other brokerage firms, in 1Q 2018. Investors who access Siebert's portal at Overstock would only pay $2.99 per trade through the platform. Those who are part of the Club O Loyalty and membership rewards program would only pay $1.99 per trade.
Once the stock trading platform is set up and streamlined, SIEB and tZero are looking to expand into the cryptocurrency trading game to meet the demand of crypto traders and investors. That in mind, investors and traders would have a new option to trade stocks and cryptocurrencies in the foreseeable future, and if there's large support for this platform, SIEB and OSTK could continue their runs higher, due to the potential increase in revenues and earnings.
Here's what I was looking for: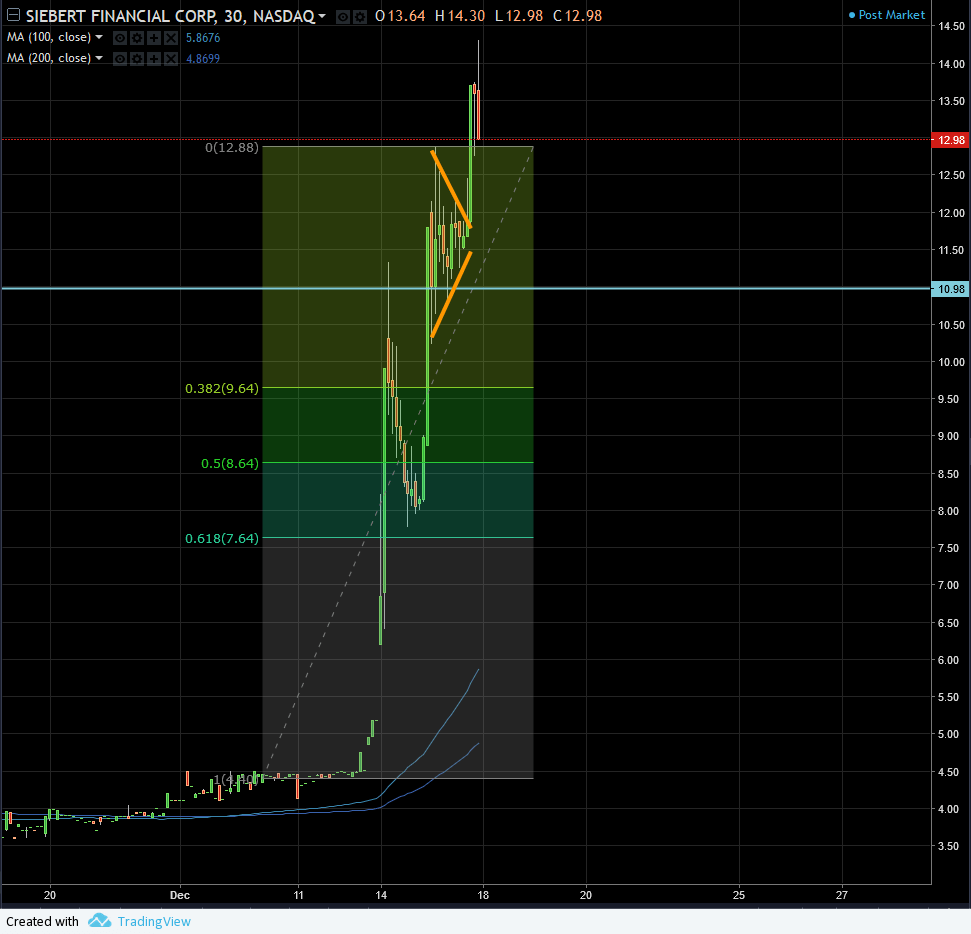 I stepped into the SIEB at $10.98 to position with the already bullish trend. If you look at the chart above, you'll notice that a pennant formation unfolded which was indication of a possible continuation. I entered the trade while price was consolidating. I am looking for upside targets in the $15 area and plan to ride this breakout since I'm in the money by 2 points now. However, I'm still going to practice proper risk management techniques, in the event that this stock pulls back.
The bottom line: Cryptocurrency plays are still around, and we're seeing some of them double in short order. My expectations are that SIEB follows through with this momentum move and ultimately holds above $15. The positive catalyst should act as a driver ahead of the company's Q1 earnings in 2018.
Disclaimer: At the time of this writing, I am long SIEB.
#-#-#
Jason Bond runs JasonBondTraining.com and is a swing trader of small-cap stocks.
*The market data is provided by TradingView.