Ripple (XRP) tanked over 20% recently, and some are calling this a bubble.
If you recall, bitcoin and altcoins sold off into 2018,
primarily
attributed to profit taking
.
I think
this was one of the main reasons behind XRP's selloff. Now, we're not focused on short-term pops or selloffs in XRP. Our comminuty is looking at XRP as a long-term play, and this could be one of the leading digital currencies soon.
Ripple isn't in a Bubble yet

XRP fell over 30% from its all-time high, but its meteoric rise warrants a short-term pullback.
Here's the daily chart of XRP/USD: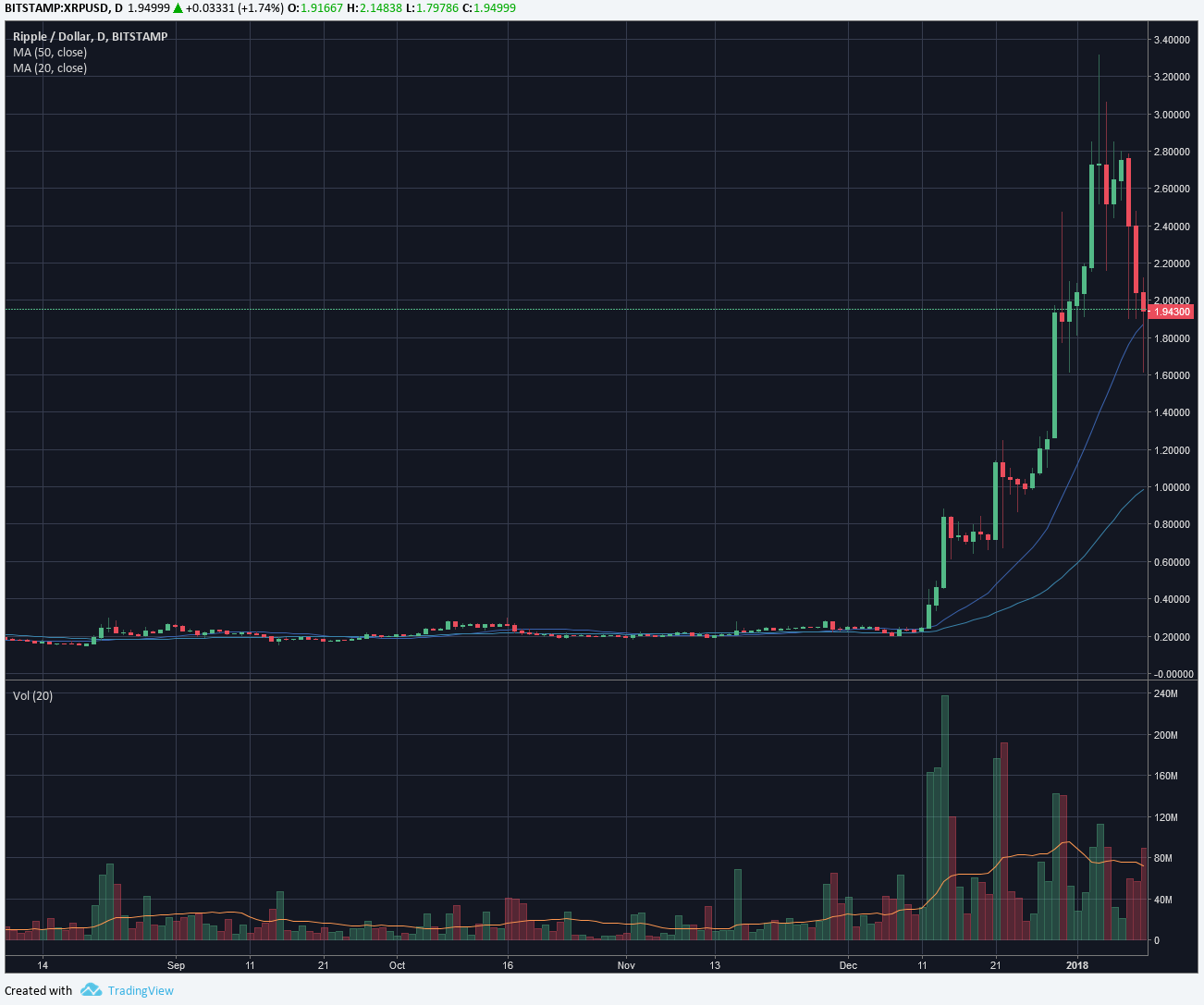 The altcoin had a monster move from 20 cents to over $3 in around one month, over a 1,200% return. So a 30% isn't out of the ordinary, but people are still panick selling. It's all part of the game.
Now, why don't
I think
XRP is in a bubble? Well, ripple could be widely-used in the digital assets industry. Banks, payment providers, corporations and exchanges could leverage Ripple's technology to increase revenues.
Moreover, businesses are currently sending over $155 trillion of cross-border payments,
annually
.
With RippleNet's
multiple
usecases, it could streamline the current payment system and take a large piece of that pie
.
For example, banks in the RippleNet are able to process cross-border payments in real-time, with tracking
. Banks could establish new revenue streams, lower costs and have one integration point. That means a user with an account in one bank would be able to send money to another user with an account in another bank.
Large institutions, such as Banco Santander, UBS, RBC and American Express, are part of RippleNet
.
And the number of institutions using the digital payment system could continue to rise
. That in mind, it doesn't seem like ripple is going away, anytime soon.
Watch Ripple with Bitcoin
Bitcoin has been pulling back and hovering around $15K.  A test of the $10,000 is not out of the question. If that does happen, I see some great opportunity for altcoin buying.
Typically
, bitcoin leads the sell off, followed by ethereum and litecoin. In turn, this causes a "ripple effect" and pushes other altcoins lower.
However
, as we've already seen
multiple
times, the BTFD trade works.
Final words: 
I don't think
XRP is in a bubble yet.
As more corporations and banks adopt RippleNet, the digital payment system becomes more solidified in the cryptocurrency space
. The more adopters, the greater XRP's growth potential. I still like XRP as a long-term hold, but keep in mind you'll need to be able to hold on during some of the price swings.
Terry Scott runs
Crypto Trader Pro
. He has been trading stocks for
nearly
two decades and cryptocurrencies for two years.
He
primarily
trades altcoins using proprietary trade tech and is
constantly
in search of the next big move
.