Well, bitcoin sold off right to our target from a few weeks ago. Our community was looking at the descending triangle that was forming, and we noted there could be some heavy volatility around this range. Now, bitcoin's selloff last week was one of the worst weekly losses since 2013, but there could be some trading opportunities on the long side. Bitcoin is still looking week, but there could be a potential short term play in the cryptocurrency soon. You should keep in mind this is a highly risky strategy and bitcoin could continue to sell, so you need to have a good risk-reward ratio and follow some technical levels.

Bitcoin Plunge Explained
Bitcoin broke through a key psychological level: $10,000 recently. If you remember, once bitcoin broke above $10K, it skyrocketed and reached $20K on some exchanges.
This was the chart we were looking at a few weeks ago in Bitcoin/U.S. dollar (BTC/USD):
Here's a look at BTCUSD now: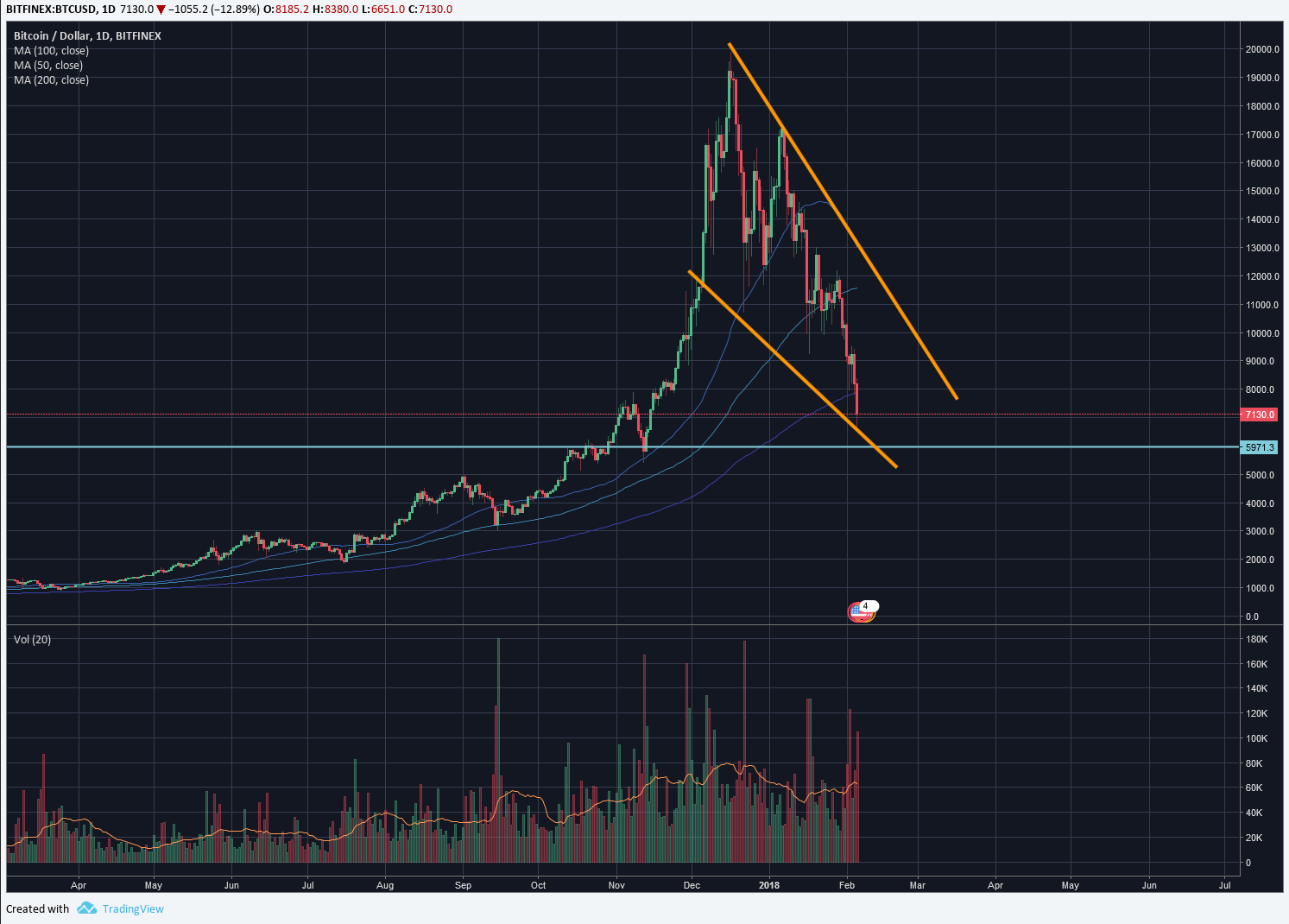 Bitcoin is trading in an area where it's had a tough time deciding which direction it wants to run to. When there's a panic selloff, you have to think this might be an overreaction. Generally, when BTCUSD is down so much in a short time frame, there could potentially be a buying opportunity, but you should look to take profits early especially if there is a catalyst. Bitcoin bears are still battling, and it's going to be hard to pick a bottom. We're still watching this descending triangle pattern form. If the triangle starts to tighten, there's some hope for bulls because bitcoin could break back above the resistance line. I think we'll need to wait a few weeks for a potential reversal, but I don't suggest traders get trigger happy and buy it without a good reason to.

The main reason for this drop was attributed to worries of a global regulatory crackdown, causing traders and investors to scramble to get out. Even though banks, like JP Morgan Chase and Citi, are limiting credit card purchases for bitcoin, people are still able to buy with cash. My thinking is this is just an emotional selloff and you could look to buy BTCUSD for a potential reversal.

Potential Opportunity in Bitcoin
Here's a closer look at BTCUSD on the hourly chart: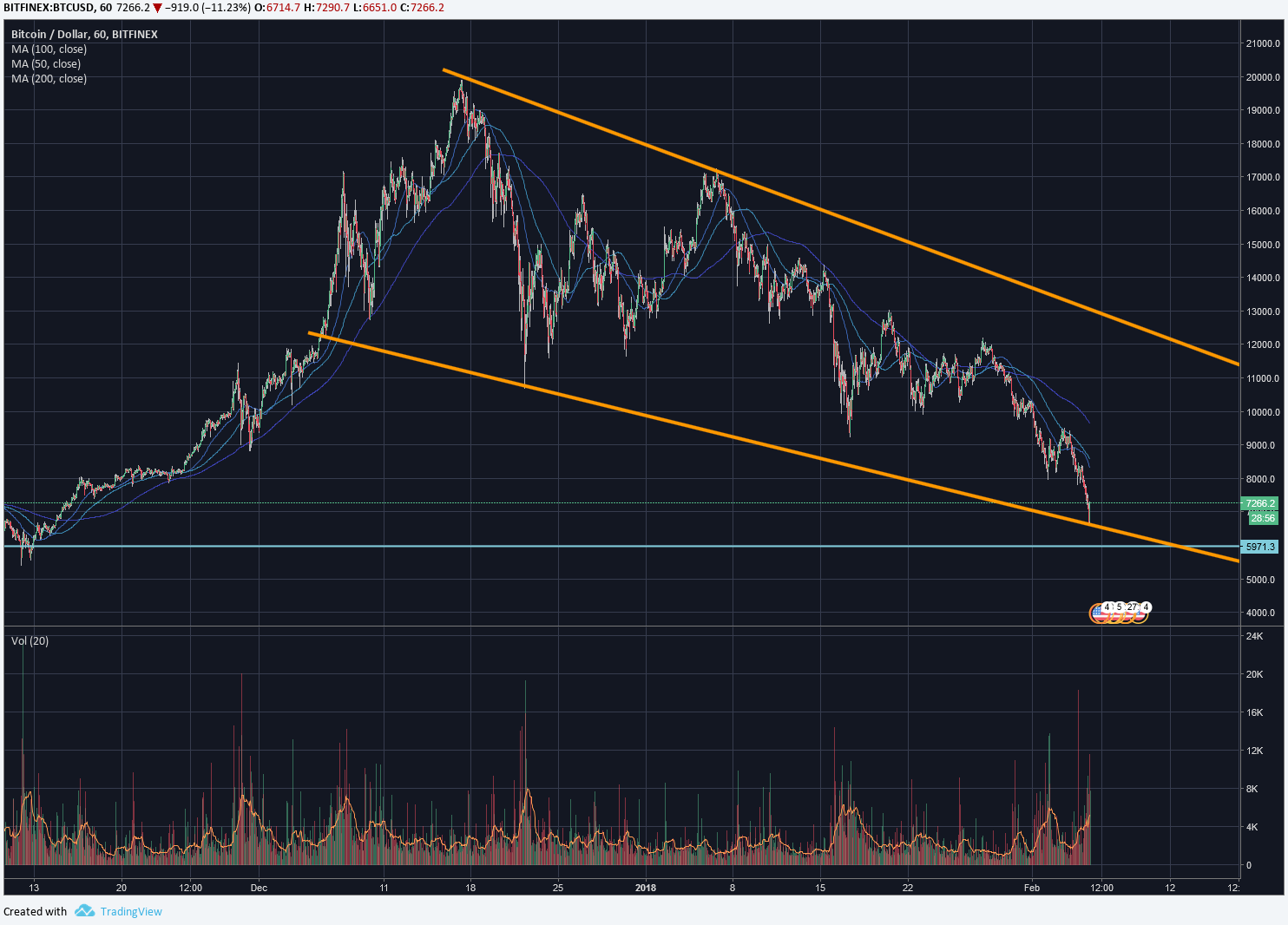 Well, you see how BTCUSD made a low just below $8K and reversed nearly $1K recently. You might be wondering how you could have risked managed this. One way would be to use the 200-day simple moving average (SMA) as a level to watch and potentially get long.
If you look at the daily chart, the 200-day SMA is around $7,800. So you could've placed a buy order around $7,990 or $8,000 and use the 200-day SMA to stop out. Now, your target would be $9K.

However, BTCUSD broke below its 200-day SMA and traders are finding a tough time finding a bottom. The next area to look for a potential short-term buying opportunity would be $6K.
What's your risk reward here? Around 1 to 5. You would have risked only around $200 to make $1,000.
Final Words
When others are panicking and selling their cryptocurrencies, you should take a moment and assess your plan. Keep in mind there are a lot of people who are long from much higher levels, so they might have placed stop loss orders at key levels. Consequently, if BTCUSD falls below a key level, like $7K, the currency could be flooded with market orders to sell. This would push it a lot lower and potentially uncover buying opportunities.
If you're trying to trade BTCUSD on a dip, you need to have clear levels to potentially buy and exit. A good rule of thumb is to look at simple moving averages, such as the 50-, 100- and 200-period SMA on the daily chart. Additionally, you might want to look at the 13- and 30-period SMA on the hourly chart. It's a tough trade, but when something falls over 30% in just a few days over speculations, it might be oversold. Unless the U.S. government says bitcoin will be banned, you could still look to buy with the right risk-reward scenario (over 1 to 4, in other words risking $1 to make $4).
#-#-#
Terry Scott runs Crypto Trader Pro. He has been trading stocks for nearly two decades and cryptocurrencies for two years. He primarily trades altcoins using proprietary trade tech and is constantly in search of the next big move.