How much do you know about trading the energy sector?
Recently, the monster oil company, Saudi Aramco was the biggest IPO ever which also resulted in the largest market cap of 2 trillion on the second day of trading… crushing the likes of Apple, Microsoft, Amazon, and Google, which all sit around the 1 trillion mark…
Of course that only lasted so long as the price came back down to reality joining the ranks of Microsoft and Apple above 1 trillion mark.
The Permian Basin economy is hurting pretty bad as the age of the shale mines is keeping production from meeting previous forecasts.
Most of the views on the OPEC price cuts are saying it won't help to boost prices and global demand is waning.
And then there is California… an island to itself, what to say about that…
They have issues with PCG and the fire safety regulations which will affect the industry out there in a big way…
And of course the push to sustainable energy, California being the biggest proponent on this front.
So far they are just a mess on all fronts of energy, but with so many balls in the air, they will be one to watch.
So did you know all of that?  Does it mean anything to you? And even if it did, would you know how to use it to your advantage in trading the energy sector?
If you like a complicated mess when trading… then I say go for it…
But not me… I just made a massive trade on an energy stock… and guess what?
I didn't have to analyze the industry or even the company for that matter.
I simply followed one of the simplest chart patterns I know…
And I'm going to show you this easy trade setup in Fuel Cell Energy (FCEL)…  and how to profit on it… without following the complicated energy sector…
FuelCell Energy, Inc., designs, manufactures, sells, installs, operates, and services stationary fuel cell power plants for distributed power generation.
The company's SureSource power plants operating on renewable biogas are an especially compelling value proposition as they convert a waste product into ultra-clean electricity and heat, solving economic and sustainability challenges.
I actually do like the technology and the implications for cleaner, more efficient energy coming from the company.
However, none of that matters to my trade… it's all about the setup.
Take a look at the chart to see just how simple this really was for me.
FCEL was in a consolidation pattern after a move up in November… and the price is also holding above the 50 day SMA (red line) providing a good support level at the bottom of the range.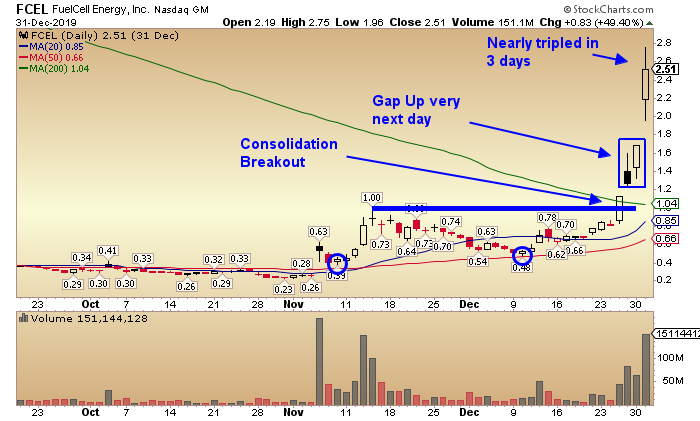 Then on December 26, as if it was delivered straight from Santa, FCEL breaks above the consolidation pattern.
But not only does it break above, volume also increases significantly lending to the relevance of the move…
FCEL hits my scanner and I watch closely as it shows strength, trading at highs towards the end of the day. Thus giving us a good indication of where this is headed going into the next morning.
I and able to jump in just above the breakout level of $1… and you can see what happened to the stock after.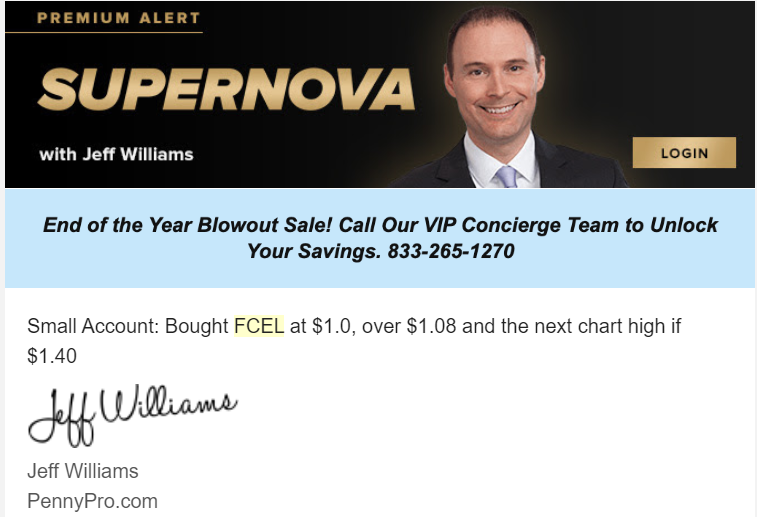 Let's break it down in simple steps:
Consolidation pattern

50 day SMA support level

Breaks above consolidation range

Significant increase in volume

Closes on high
And that's it… the very next day we get a gap up and a massive move over the next few days.
So what really pushed FCEL up?
Well a quick search of the headlines would bring you to this news release by the company: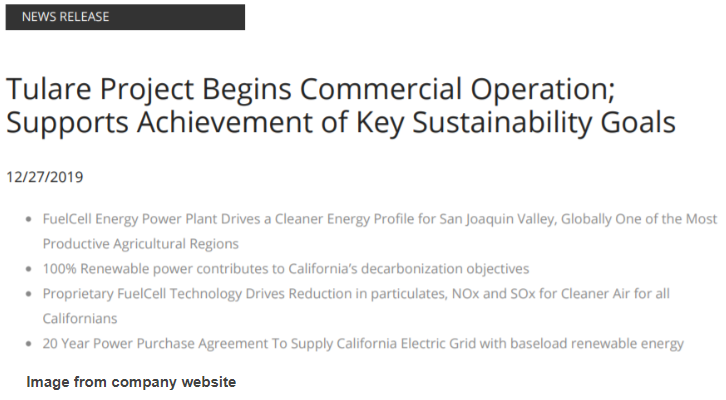 Now this may sound counterintuitive, but the news isn't an important part of this trade and I'll explain why…
You see, this is exactly the type of trade I scan for every day. And I don't scour news headlines to find them. I simply use a basic customized scanner to find simple patterns like the consolidation range breakout.
Combining this pattern with a few other criteria provides me with a list of stocks that are ready to pop overnight.
You see, the consolidation pattern tells me a stock is setting up for a move. However, it's important to note, it could be either way… this is why we are never buying in the range. At that point, we just don't know where the stock will go yet.
But what we do know, the pressure is building as the bulls and bears get set up for the next move, so whichever way it is, the next move has the potential to really pop.
Now let's dive into the ease with which this setup can be used…
The consolidation breakout is truly one of my favorites. The key is to be patient and wait for a break above the range… never trade it before.
Once it breaks above I will look for a chance to buy the stock for a massive move up. Now don't get me wrong… they won't all double in 3 days, but I only look at stocks with the potential of 10% or more on an overnight move… the higher the better of course.
Just think about that… a professional fund manager would be bragging about 10% on the year and I'm over here telling you that I'm not interested if I don't see at least 10% upside on an overnight trade…
What's wrong with this picture?
Honestly though, I'm not faulting them… I wouldn't want their job of managing thousands of people's precious savings while trying to move billions of dollars around. That's no easy task.
But that's exactly why I trade my own money. As the little guy, I can make truly massive returns on my own and not rely on someone else to slowly grow my money.
This is especially true when you don't have a lot of money to start trading with… just think about giving a fund manager $3,000 and getting a 10% return in a year, that's just $300.
So after 1 year, you still only have $3,300.
Now imagine trading in my small account challenge using my system.
In case you haven't been following, I took 3k and turned it into over 30k in just 4 months during my last challenge… and that was in just 4 months. That's 900% in 4 months or 10% in a year… your choice.
And in case you worry about repeatability, I started a new challenge on November 11. Not quite 2 months ago… and so far I have taken $3k and turned it into over $15k… that's 400% in less than 2 months.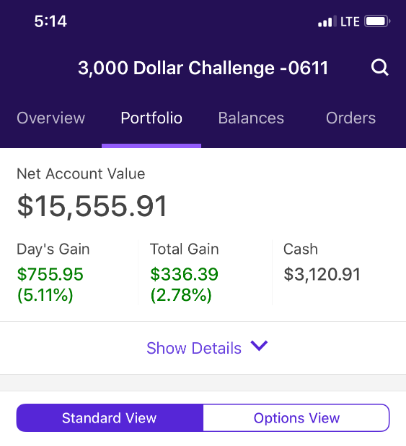 And that's not the end of course… I will be closing my current challenge Jan 11 and starting a brand new one.
This is your chance to get in from the beginning and trade alongside me and my other members cashing in on simple, reliable patterns… for massive small account growth.