Remember the polaroid cameras from back in the day? Well, if you didn't know, Kodak (KODK) is still around. Kodak is now getting into the blockchain and cryptocurrency game. Now, we've seen the list of companies using these buzzwords in press releases, changing their names and business goals, causing their stock price to more-than double. Even though KODK had a monster move, we've seen these stocks pull back after running up over 100%, and you don't want to be stuck holding the bag. It was no different with Kodak.
Kodak is Getting into Blockchain and Cryptocurrency
Kodak and WENN Digital announced the launch of the KODAKOne image rights management platform and KODAKCoin. The cryptocurrency aims to empower agencies and photographers, providing greater control in image rights management. With blockchain technology, the KODAKOne platform would create a digital ledger of rights ownership for photographers to register their work, which they could license within the platform. It works similar to bitcoin and altcoins, except it's with images.
This creates a micro-economy in the photography industry, and photographers are able to receive payments for licensing their work. Moreover, users would be able to sell their work on the secure platform. This is a game changer in the photography industry and protects intellectual property registered into the system.
According to Kodak CEO Jeff Clarke, "For many in the tech industry, 'blockchain' and 'cryptocurrency' are hot buzzwords, but for photographers who've long struggled to assert control over their work and how it's used, these buzzwords are the keys to solving what felt like an unsolvable problem…Subject to the highest standards of compliance, KODAKCoin is all about paying photographers fairly and giving them an opportunity to get in on the ground floor of a new economy tailored for them, with secure asset rights management built right in."
Kodak's Meteoric Rise
Now, KODK is a well-known company and not shady like some other blockchain firms just looking to make a quick buck by a name change or press release. That said, once it announced this news, a lot of traders bought KODK on the positive catalyst and saw the stock quadruple in just 2 trading days.
Here's a look at KODK on the hourly chart:
(Source: https://www.tradingview.com/)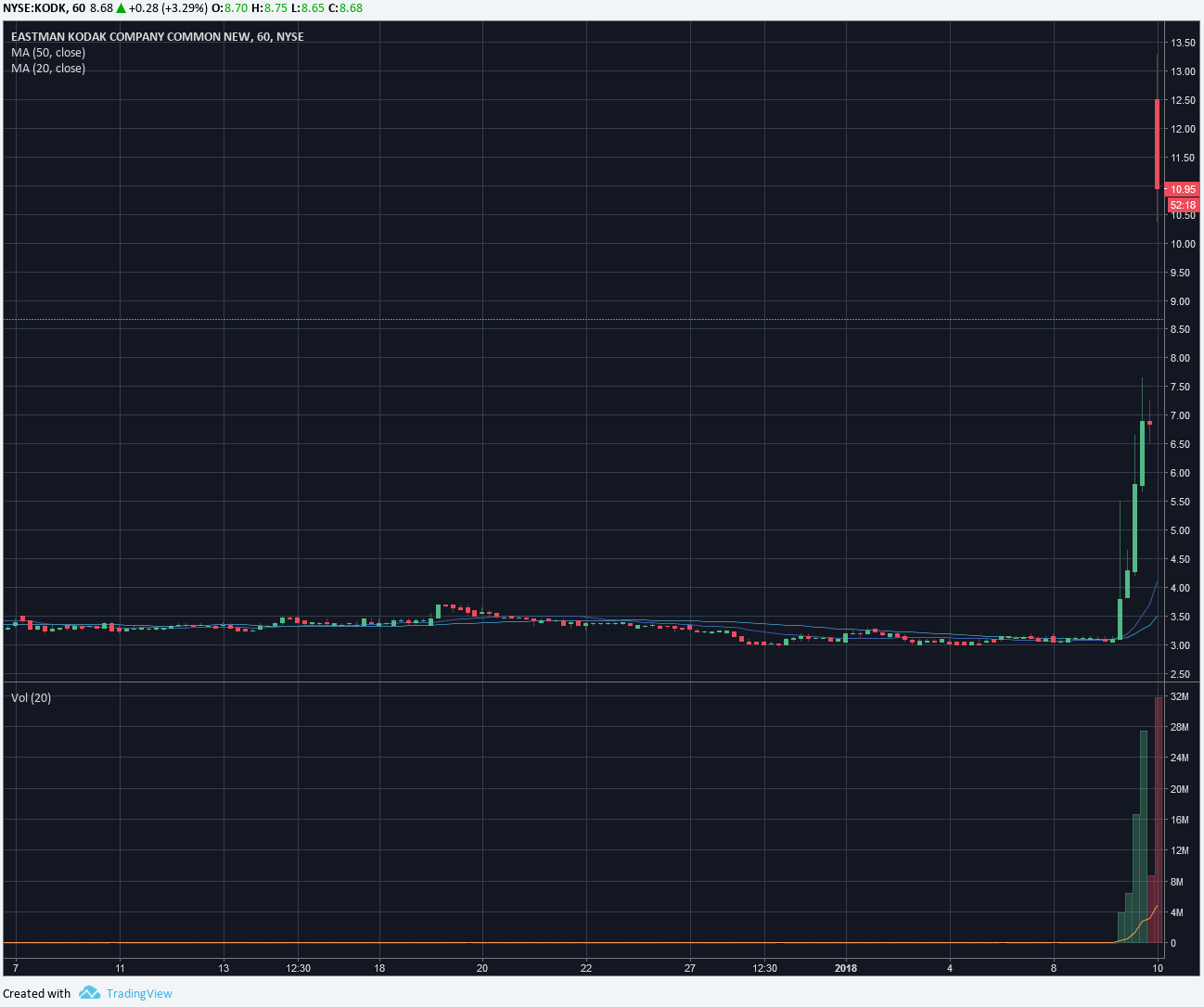 Although I missed the upside and a ton of money, I took the other side of the trade. I would've liked it more if I got in on the playoff that headline, but sadly, I missed it. That's why it pays to trade with a community and have multiple eyes watching the market.
I shorted KODK at $10.52 due to the CEO's comments coupled with the recent negative crypto news. I think this catalyst was primarily due to shorts covering, causing a short squeeze. There were approximately 34.91M shares floating and a short interest of over 10%. This lets me know it was a short squeeze, and I needed to be patient and wait for shorts to cover. I placed my bet and knew my outs.
Here's the hourly chart of KODK with Fib retracements: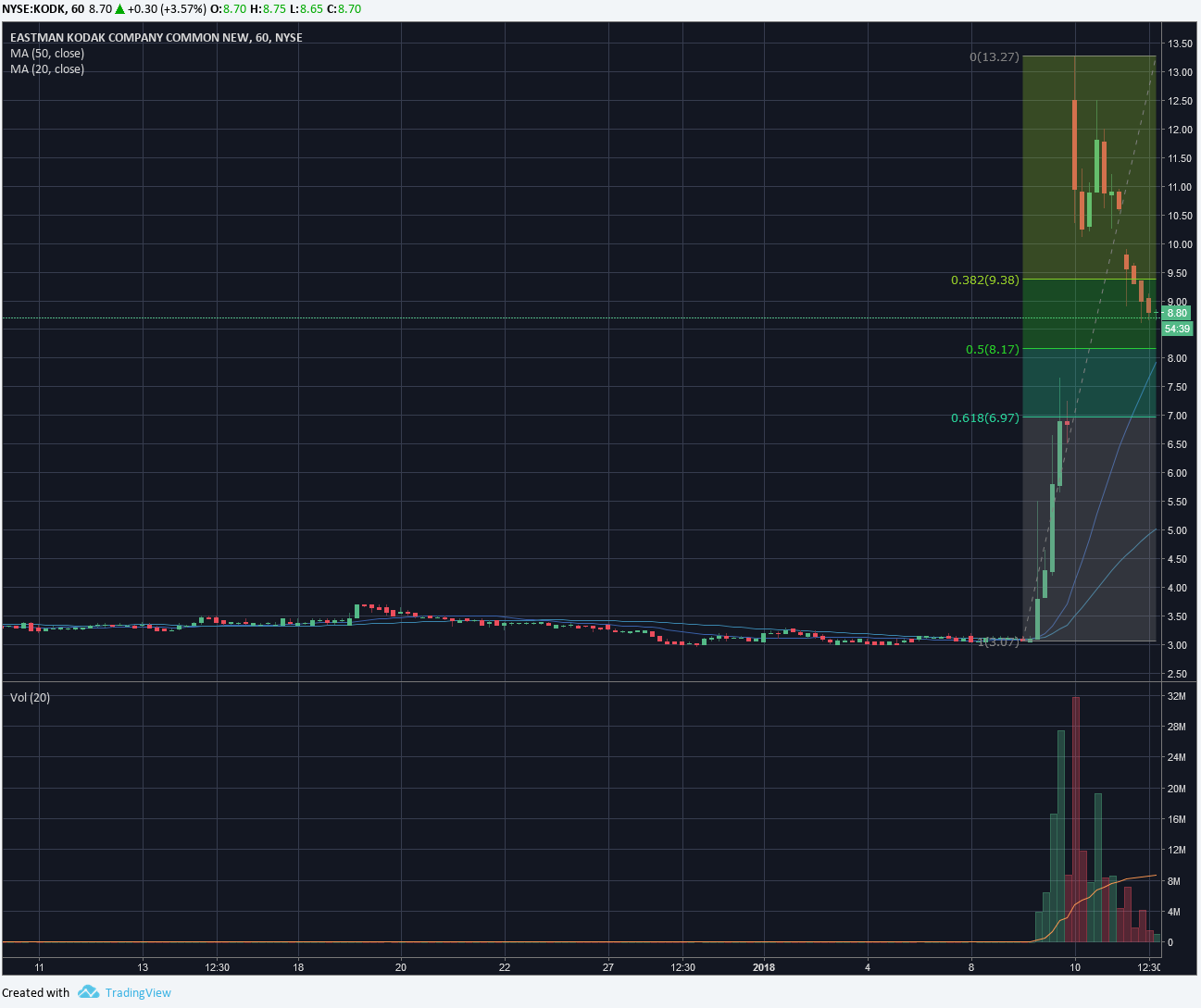 I was looking at the Fibonacci retracements and used it as a guide to let me know where to take profits. I closed my short at $8.80, good for over a 15% return!
Final Thoughts
KODK is getting into the cryptocurrency space, but this might be the height of the mania. Although the strategic move makes sense for the company, the stock's rise was attributed to a massive short squeeze. I closed out of the short for over a 15% gain overnight. Even though I missed out on the upside move, I took the other side of the trade. I'm out of the trade now, but I'll still keep an eye on this.
#-#-#
 Jason Bond runs JasonBondTraining.com and is a swing trader of small-cap stocks.