[et_pb_section bb_built="1″ _builder_version="3.0.47″ custom_padding="26px|0px|60px|0px"][et_pb_row custom_padding="0px|0px|30px|0px" _builder_version="3.0.47″ background_size="initial" background_position="top_left" background_repeat="repeat"][et_pb_column type="4_4″][et_pb_text _builder_version="3.0.64″ background_layout="light" text_orientation="left" border_style="solid"]
It's a story most of us are familiar with. Go to college, start a career, buy a house, work hard…and struggle to pay the bills.
That doesn't need to be the end of the story, in fact, it was just the start for Jason Bond and the 5,000+ traders who follow and trade with him.
You see, Jason taught himself just 3 simple trade patterns to help him break his chains. Now, he's offering to teach you how to do the same in this free webinar.
Jason loved teaching the kids in his classroom and excelled at it. But when it came to money, his job didn't make the grade.
After 10 years in the public school system, Jason took home just $50,000 a year—not nearly enough to pay the $250,000 he owed creditors. Teaching was Jason's calling and he didn't want to stop. But he hated being financially stuck.
So Jason pivoted. He got a mentor, read a ton of books, and taught himself how to trade stocks.
The first year, Jason got out of debt. The second year, he doubled his money, and he has consistently posted profits for years while trading part-time.
In 2016, Jason was up 330% on the year. Not by staring at a computer all day, but by trading part-time…in his pajamas! Almost every trade is based on the same 3 patterns he teaches in his free lesson.
Best of all, what he created is an easy to follow system—one that 5,000 others are using to replicate his success. These are everyday people, just like Kevin:
Jason doesn't work 15 hours a day, or even eight. He trades two, maybe three hours… In his 'spare' time! He still teaches and runs his business full-time. Now he teaches people like you his system, so that you too can have the lifestyle you want.
Not only is Jason a successful trader, he's still got his teacher's gift. He keeps his lessons incredibly simple. As a result? He has built a community of over 5,000 active subscribers—students paying to learn his system, to share their ideas and prosper together.
Some people are new to trading. Others are seasoned—and both are using Jason's system to take control of their finances and live life on their own terms.
Jason and countless others have turned their lives around using the very system he is offering for FREE for a limited time. This is a no obligation, completely free course that takes very little time and has been proven to generate consistent profits for traders on all levels.
Watch Jason's free webinar—and join the ranks of the wealthy. If you sign up for the FREE webinar, he will also send you his best selling DVD "The Secrets of Swing Trading", a $999 value, absolutely FREE. But hurry, as spots will  fill up fast—and this offer won't last forever.
See What Others Are Saying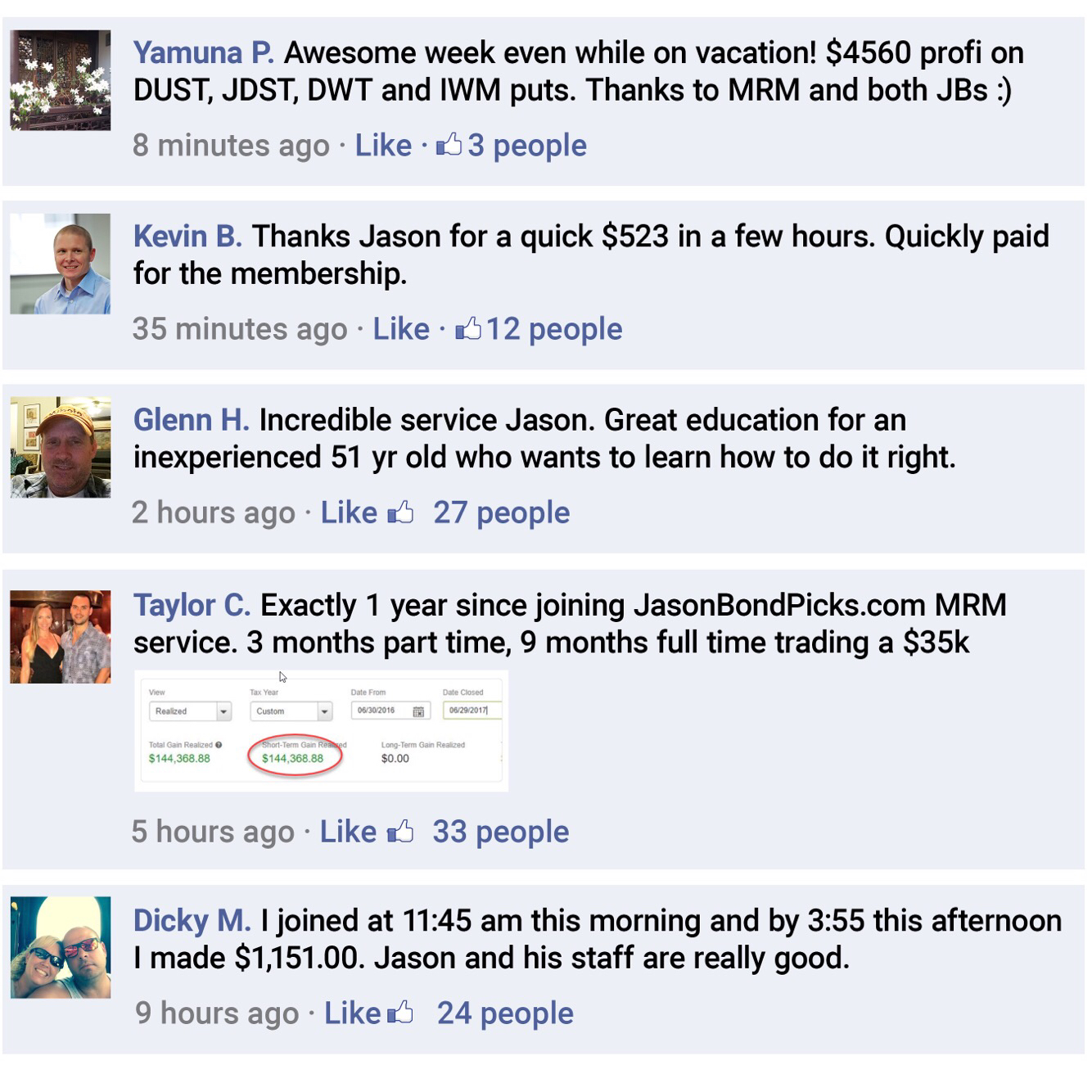 [/et_pb_text][/et_pb_column][/et_pb_row][et_pb_row _builder_version="3.0.64″ background_size="initial" background_position="top_left" background_repeat="repeat" background_position_1="top_left" background_repeat_1="no-repeat" global_module="4427″][et_pb_column type="4_4″][et_pb_text global_parent="4427″ _builder_version="3.0.64″ text_font_size="12px"]
Neither Raging Bull nor RagingBull.com, LLC (publisher of Raging Bull) is registered as an investment adviser nor a broker/dealer with either the U. S. Securities & Exchange Commission or any state securities regulatory authority. Users of this website are advised that all information presented on this website is solely for informational purposes, is not intended to be used as a personalized investment recommendation, and is not attuned to any specific portfolio or to any user's particular investment needs or objectives. Past performance is NOT indicative of future results. Furthermore, such information is not to be construed as an offer to sell or the solicitation of an offer to buy, nor is it to be construed as a recommendation to buy, hold or sell (short or otherwise) any security. All users of this website must determine for themselves what specific investments to make or not make and are urged to consult with their own independent financial advisors with respect to any investment decision. The reader bears responsibility for his/her own investment research and decisions, should seek the advice of a qualified securities professional before making any investment, and investigate and fully understand any and all risks before investing. All opinions, analyses and information included on this website are based on sources believed to be reliable and written in good faith, but should be independently verified, and no representation or warranty of any kind, express or implied, is made, including but not limited to any representation or warranty concerning accuracy, completeness, correctness, timeliness or appropriateness. In addition, we undertake no responsibility to notify such opinions, analyses or information or to keep such opinions, analyses or information current. Also be aware that owners, employees and writers of and for RagingBull.com, LLC may have long or short positions in securities that may be discussed on this website or newsletter. Past results are not indicative of future profits. This table is accurate, though not every trade is represented. Profits and losses reported are actual figures from the portfolios Raging Bull manages on behalf of RagingBull.com, LLC.
[/et_pb_text][/et_pb_column][/et_pb_row][/et_pb_section]