If you live in the United States than you've heard of Amazon.com Inc (NASDAQ: AMZN). The company accounts for 49% of the U.S. e-commerce market.
However, you're sadly mistaken if you think Amazon is just an online retailer. For example,  Amazon's cloud business (Amazon Web Services) is the company's number one money maker.
While its e-commerce business generates more sales than its Amazon Web Services (AWS), it doesn't generate more revenue.  That's because it's e-commerce biz collects lower margins.
Amazon's logo shows an arrow going from letter A to Z. It's the company's way of letting consumers know that it's the place where you can buy just about anything-  from baby cribs to live ladybugs.
The arrow also forms a smile, reminding customers that their satisfaction comes first.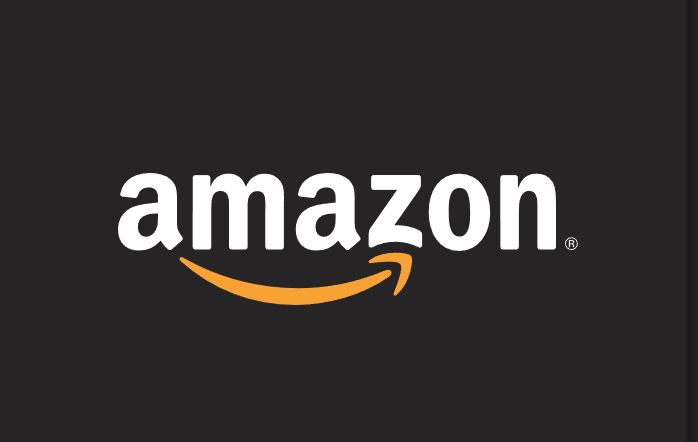 That said, early investors of Amazon stock are smiling to the bank. If you invested $10K in the stock ten years ago, it would be worth more than $250K today. The company's CEO, Jeff Bezos, is among the wealthiest men in the world.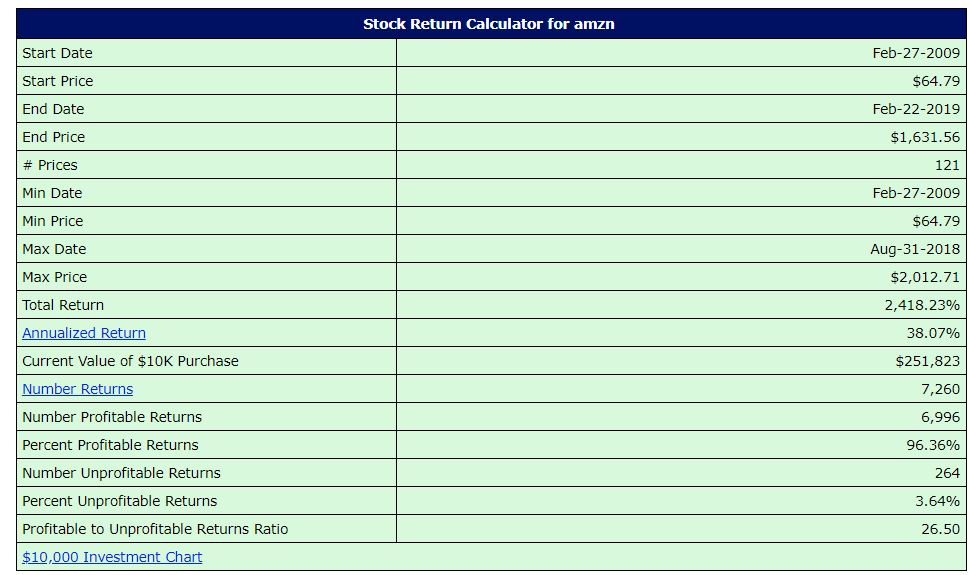 Source: buyupside.com
Amazon Stock – Humble Beginnings to Wall Street Darling
Amazon was incorporated in 1994, as an "online bookstore"  and was launched out of Jeff Bezos' Seattle garage.  However, fast forward to the present, and the company is among the most valuable publicly traded in the world (in 2018 it momentarily held the top spot).
Now, despite its size, some analysts believe that Amazon is still a growth stock.
For example, Brian Wieser, a market analyst for  Pivotal Research Group notes that "despite its current massive size, we see Amazon's opportunities as mostly unconstrained based on a successful track record of capitalizing on consumer and IT department spending."
What is remarkable about Amazon is that it took the firm 14 years to turn its first net profit after it went public in 1997.
Amazon Stock- A Story of Aggressive Growth
From the beginning, Jeff Bezos has been on a mission to accelerate Amazon's growth. In its first month of operation, it successfully shipped books to all the 50 U.S. states and 45 other countries.
Jeff Bezos' rally cry in those days was "get big fast," he wrote it on t-shirts, and he made it a corporate agenda.
In 1998, Amazon purchased Bookpages.co.uk, which later transitioned into Amazon.co.uk after a few months.
That same year, Amazon acquired telebunch.de, which it later transformed into Amazon Germany. Amazon also revealed that it was developing an interest in the entertainment industry with the acquisition of IMDb.
The "get big fast" agenda saw Amazon record revenues of $15.7M by the end of 1996.  By December 1999, the company had shipped 20 million units of goods to 150 countries globally.
The legend of Jeff Bezos grew, as he was shortly after named Time magazine Person of the Year.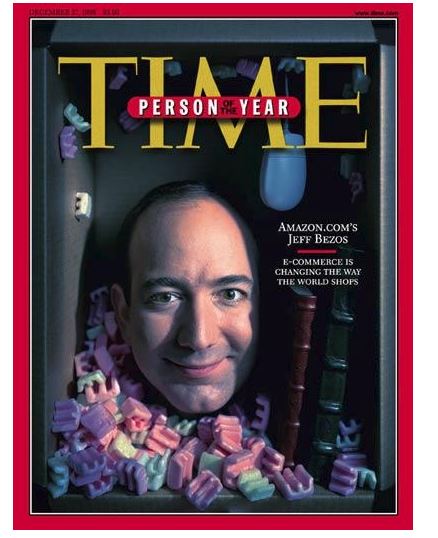 Source: Time
Buying Itself A Seat At the Table
Amazon has also made several industry-oriented acquisitions. A few of them, have helped set itself apart further from the competition.
Furthermore, some of its acquisitions were strategic in eliminating the competition from cannibalizing its market share.
Alexa Internet, Accept.com. drugstore.com, geoworks, pets.com, and e-niche were some of the strategic acquisitions that Amazon made early in its history.
The company bought CDNow and Egghead Software to consolidate its lead when it added CDs to its product library.
In 2005, Amazon purchased BookSurge and Mobipocket to protect its market share in the ebook market. The acquisition of Brilliance Audio in 2007 and Audible.com and Fabric.com in 2007 set Amazon on the path to dominating the audiobooks market.

Source: Amazon.com
In 2017, Amazon upended the grocery store market with its acquisition of Whole Foods Market in a deal valued at $13.7B.
Whole Foods Market is an upscale grocery store. That said, the acquisition of Whole Foods helps Amazon get a strong foothold in the grocery retail market.
It also provides them with a brick and mortar setup for Amazon's internet-centric retail business.
Furthermore, Amazon is transforming Whole Foods from a store for niche and regional products into a cost-efficient national retailer. Some angst accompanied the acquisition, with fears that farmers that used to supply Whole Foods might lose out.
Of course, some shoppers were worried that Amazon would reduce the volume of local brands in the store.
However, it is still somewhat too early to judge how Amazon's reorientation of Whole Foods will play out in the long term.
Nonetheless, the bold acquisition has shown that Amazon is not scared to take a big bite out of a market in which it is interested.
Amazon's Vision
Most of the acquisitions Amazon has made are straight-forward. However, Amazon's M&A history is rich with additions that don't necessarily fit into its existing businesses.
However, its these acquisitions that will lead the company into new markets and shape the future of the firm going forward. .
In 2017, Amazon bought an array of startups such as Thinkbox Software, Harvest.ai. Wing.ae, Graphiq, and GameSparks among others.
Many people have suggested that the startups that Amazon bought will support the growth of Amazon Web Services (AWS). However, the disparity in the focus of these startups indicates that they'll do more than just support AWS.
Amazon seems to be making a significant push for the "smart home" sector.  Amazon is setting up "Alexa" to be the brains behind some of the coolest home gadgets starting with the famous Echo and the new Echo Dot.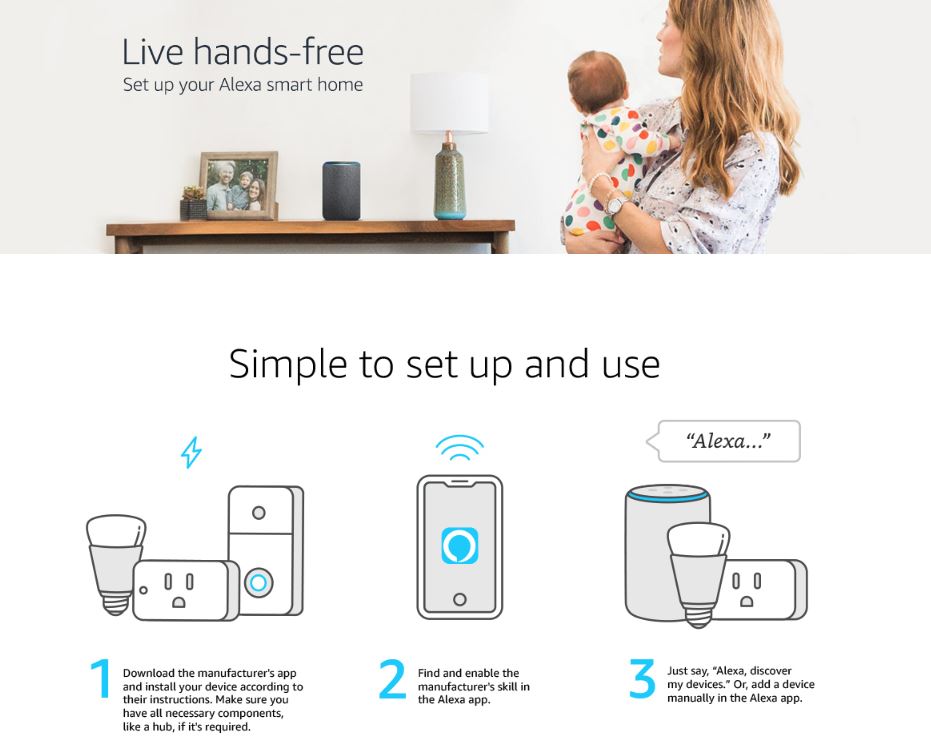 How Does Amazon Make Money?
Amazon reports its revenue in three main segments namely- North America retail, International Retail, and AWS. The retail arm of its business (North America and International) includes all of its store operations, Amazon Prime, Media, Electronics, Smart Home, and others.
Its AWS segment is its cloud computing segment which controls a more significant market share than Microsoft's Azure and Google Cloud.
The fourth quarter is typically the biggest and most significant quarter for Amazon because of holiday sales. Therefore, its Q4 results provide a more comprehensive insight into the performance of its underlying business.
In the Q4 of 2018, the company reported a 20% increase in net sales from $60.5B in 2017 to $72.4B. Its operating income increased from $2.1B in the same quarter of 2017 to $3.8B.  Its quarterly net income almost doubled from $3.75 per share in 2017 to $6.04 per share.
By market segment, AWS  is a consistent growth driver and delivered a 44% increase-  with sales of $7.4B.
That said, the average person knows Amazon as a retail giant. After all, some have dubbed Amazon as a "killer." For example, Amazon's dominance has wiped out companies like Sears, Sports Authority, Toys R US, Circuit City, and has weakened so many others.
Furthermore, Amazon's big promotion called "Prime Day" sold more than $4B worth of goods in 2018.
AWS the Key Driver for Amazon Stock
Believe it or not, Amazon's retail business tends to operate at par or a loss. However, AWS is the unseen cash cow that delivers about 10% of Amazon's total revenue. The subscription services that include the Prime Membership also saw a 25% increase in revenue to $3.96 billion (Q4 2018 results).
Amazon's Stock Price Is High, Here's How To Avoid It
Amazon is part of the FANG stocks group. An acronym used to describe some of the biggest tech stocks in the market (Facebook, Amazon, Netflix, and Google).
That said, it's been almost 20 years since the last time Amazon's stock split. That said, at its Amazon's stock price is just too high for most small investors to get involved.
However, if you'd like to gain exposure to Amazon here are some ways to get around its high stock price:
Some ETFs that have exposure to Amazon include:
AdvisorShares New Tech & Media ETF (FNG)
Invesco NASDAQ Internet ETF (PNQI)
Invesco QQQ (QQQ)
First Trust Dow Jones Internet Index (FDN)
Of course, there are always options too — for example, Jeff Bishop, a confident, multi-million dollar trader,  who loves trading AMZN options, teaches his clients how to trade the tech giant.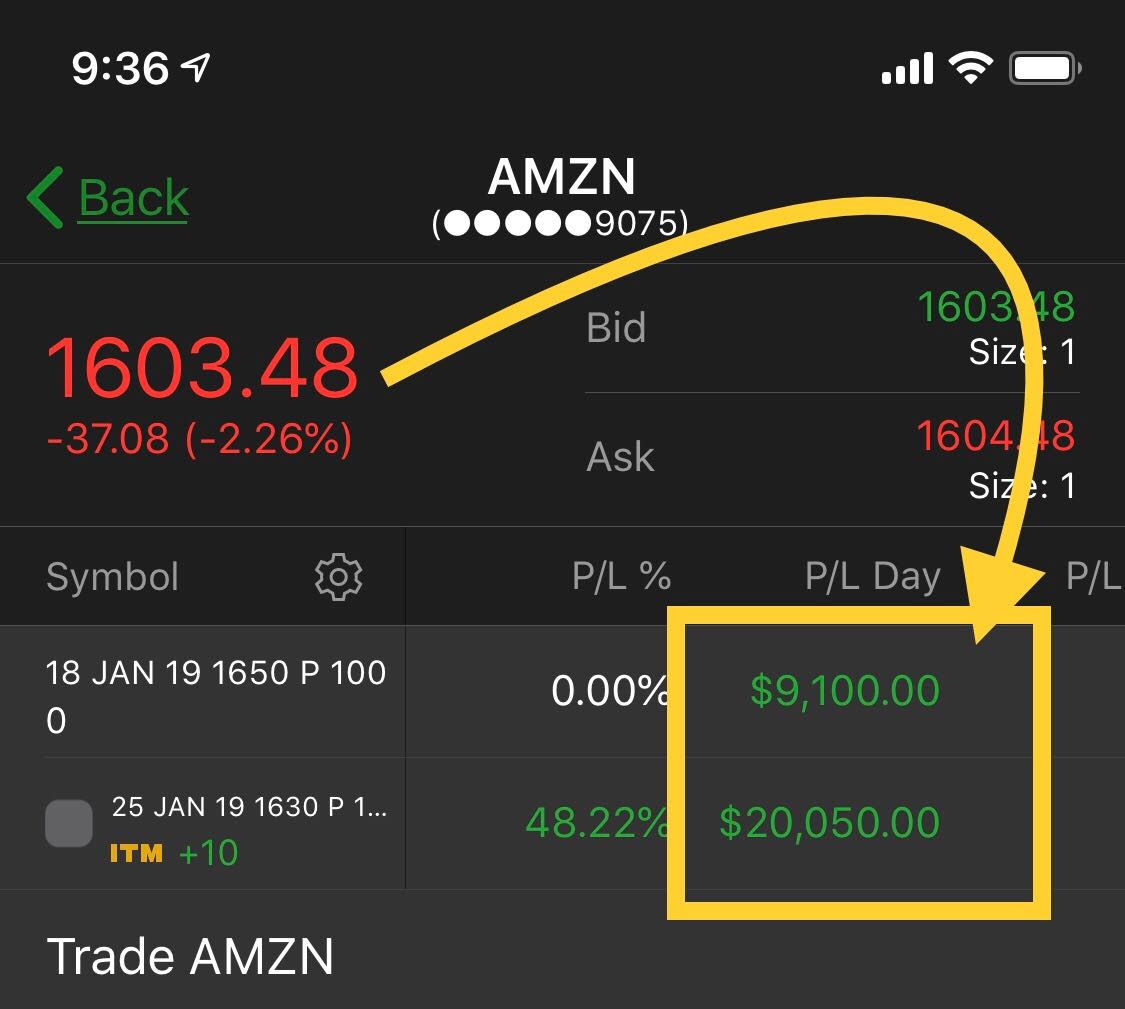 That said, if you'd like to learn more about his strategy, click here to learn more about his system.