You have probably seen a Tesla car driving around. Or maybe some little funky looking car caught your attention. Maybe it even turned your head to see what you just drove by. If you've done some research then you probably already know the importance of cobalt in electric vehicles (EVs), but are unsure which cobalt stocks will dominate the market.
With all the talk about the environment and sustainability, you might wonder if this is the future. It very likely could be.
Governments around the world are looking to make the switch from gas and diesel. Electric vehicles being the most current technology to replace them.
The EU is tightening carbon dioxide limits. The UK has plans to phase out sales of new gas and diesel cars by 2040. Meanwhile, India would like to have only EVs on the roads by 2030. China is working to offer subsidies to consumers and manufacturers.
In the US, California has set a target for 5 million electric vehicles by 2030. While others states could follow suit.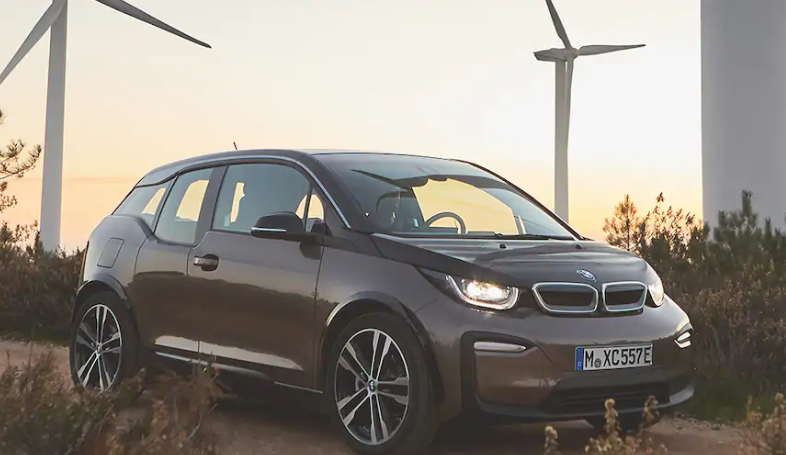 Cobalt is a key component of the cathode in the lithium-ion batteries that power these vehicles creating demand that will continue to grow.
Other areas of use for cobalt are "super-alloys"/hard metals used in manufacturing, ceramics, and pigments.
Two-thirds of the world's cobalt currently comes from the Dominican Republic of the Congo (DRC), which isn't exactly known for a stable government or regulatory environment.
For this reason, companies are looking to find ways to stabilize the supply by mining in other countries and recycling old components.
Stabilizing supply is not exactly easy with the supply being so fragmented after the DRC, with no other country providing above 10% of the supply.
These companies will give you exposure to cobalt, and offer massive profit potential
This makes for an interesting environment for the supply and demand of cobalt. Companies with exposure will be trying to create stability in their supply to handle any uncertainty from the DRC.
Glencore (GLCNF)
Glencore is one of the world's largest miners of cobalt. They produced 42.2 kilotons (kt) in 2018.
Their main cobalt production comes as a by-product of copper mining in the Democratic Republic of Congo (DRC) operating in the cobalt-rich, high-risk region of Katanga. They own nearly 90% of Katanga Mining Limited.
Another source of cobalt production is a by-product of nickel mining in the more stable regions of Australia and Canada.
Glencore provides the largest amount of recycled cobalt. Coming from cobalt bearing materials, such as batteries. This gives them multiple ways to stabilize their supply.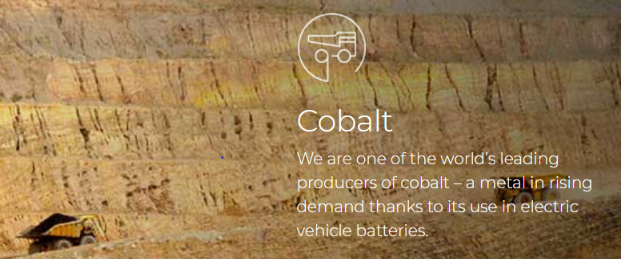 They aren't a pure play in cobalt as they have operations in other metals and minerals. Of note are copper, being one of the world's largest copper producers and marketers, as well as operations in zinc, nickel, and ferroalloys production.
Glencore also has business segments in energy. Their coal production and exporting segment operates with 26 mines in 21 complexes across Australia, Colombia, and South Africa.
As well, they have operations in oil marketing, supplying over 5 million barrels a day to customers around the world.
Glencore can give you exposure to the cobalt market as well as offering some potential safety from diversification in other markets.
Wheaton Precious Metals (WPM)
Wheaton Precious Metals is one of the largest precious metals streaming companies in the world. They currently have streaming agreements for 19 operating mines and 9 development stage projects.
The streaming business model refers to entering into agreements with mining companies to purchase a set volume of the miner's production at a specific price.
These agreements provide certainty for mining companies. At the same time the streamer takes less risk related to regulations, social unrest, or delays inherent to mine development.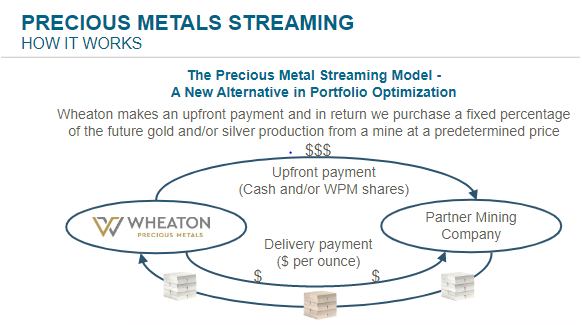 Wheaton has agreements with stable miners including Vale, Glencore, and Goldcorp. Their business model has been able to achieve a cash operating margin of 68% for its gold streaming efforts and 71% for silver purchases.
They have a proven business strategy in streaming mainly gold and silver. In 2018 they acquired a mine in Canada for cobalt streaming.
Wheaton will use their streaming knowledge and experience to add cobalt as a new product. The cobalt mine has 4.8 metric tons (Mt) proven and another 6.6Mt probable for a total potential of 11.4Mt.
For the dividend investor, the payout was 30% of the average cash generated from operating activities over past 4 quarters. Investors have a choice of a cash dividend, or having the money reinvested to receive more shares of the company.
Wheaton has taken advantage of their experience from gold and silver streaming. Seeing the potential supply shortage looming in cobalt, they have branched out to that market as well, creating more value for the investor.
21C Metals  (CSE: BULL)
21C Metals is an exploration company. They are focused on the acquisition and development of production grade metals which are critical components to current and future vehicle technology.
Palladium being necessary for internal combustion engines including hybrid vehicles while cobalt is necessary for electric vehicle (EV) batteries.
They mine cobalt at their Tisova Cobalt Property in the Czech Republic and Germany. There is a long history of mining in the area, making the logistics for exploration straightforward.
This area also has an established regulatory environment with a long established regime, allowing for certainty related to that.
21C Metal's geologists, working with recognized world experts in Volcanic Massive Sulphide (VMS) deposits, has developed a preliminary exploration signature for copper/cobalt on the property. It is currently thought that there may be as much as a prospective 30 km belt.
Creating a 3D compilation of geophysics and geology of the Tisova mine, they have defined many high-quality drill targets with drilling to commence in the summer of 2019.
When it comes to sales and logistics, the company's operations being located in center of EU car and battery market is a strategic plus.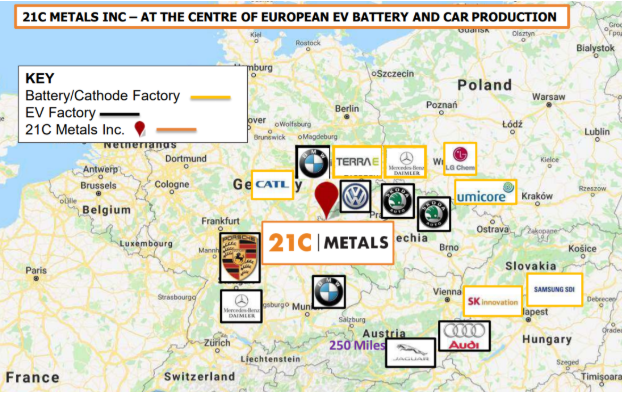 Go Cobalt (CSE:GOCO)
Go Cobalt is a junior mining company with a mission to close the supply gap of future clean and sustainable resources.
In a quest to help build a battery-powered future, they focus on mining metals critical to electric vehicles, smartphones, laptops and devices using rechargeable batteries.
Go Cobalt owns and operates the Monster cobalt and copper project in the Yukon. They added to that project in 2018 by acquiring the Barachois V project and the HSP Ni-PGE project, both in Quebec.
The Yukon and Quebec are included in the top ten list of best mining jurisdictions in the world and they are located within states with very stable regulations.
Go Cobalt has been in the Yukon since 2011. The Company discovered gold on the Wells Property. They optioned it off in 2016 to focus on cobalt and their mission to provide resources for sustainable technology.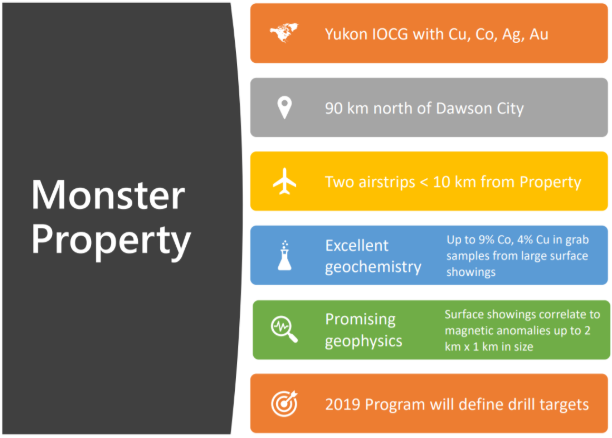 Final Thoughts
Cobalt is one of the most expensive metals on the market. Being an important component of the growing lithium-ion battery demand and at the same time having limited production sources creates a supply/demand imbalance that could keep prices high for the foreseeable future.
The cost of the lithium-ion battery can be up to half the cost of a purely electric vehicle (EV) making the cost of cobalt important to the future of the EV.
Where a smartphone might use 10–20g of cobalt, an electric vehicle could use 10–20kg. If the cost of cobalt is too high, the supply of materials could slow progress in electrification.
The supply insecurity has forced some lithium-ion battery manufacturers to search for alternative materials and chemistries. Panasonic and LG Chem are both working on alternatives.
However, these solutions will not completely get rid of the use of cobalt. They will simply require less. These alternatives could also be a up to a decade away.
Cobalt is likely to remain an important material for the 21st century in niche applications regardless. When investing in cobalt, it is something to keep in mind though.
Cobalt is accompanied by supply uncertainty with two-thirds of the supply in DRC, demand growth from projected global transition to EVs, and a current lack of alternatives.
This creates potential for investing in the space. Not without its own unique set of risks, however.
The Fix
We're starting to see some increasing demand for electric cars like Tesla. Not only that… with more consumers using smartphones, tablets and laptops… cobalt prices could start to rise, as more companies like Apple, Tesla, and BMW will utilize this metal. The growth in cobalt is probably going to be long term… and because of that, timing might be too hard if you're just trying to trade it.
That said, this is a sector that I'll be closely watching, and who knows, maybe these will be some of the stocks that I add to my Sniper Portfolio.
It's the only service that I offer that is as close to set it and forget it, that you'll get from. And whoever said, that buy and hold is dead, has never read my Sniper Report.