[et_pb_section admin_label="section"]
[et_pb_row admin_label="row"]
[et_pb_column type="4_4″][et_pb_text admin_label="Text"]

Americans have always had a love affair with food. Over the years, this love affair has generally been with fat and sugar, and led to high diabetes and obesity rates.
However, current trends are creating growth and investment in a healthier lifestyle. In particular, bold and exotic flavors, snacking, and health and wellness are in the forefront of consumer food preferences.
Key trends for new product development are in health, convenience, naturality and sustainability. Thus, new fruit and vegetable food combinations fulfill many of the demands of the premium consumer.
Generation-Z consumers are being termed "clean eaters." Above all they have a strong interest in what the product is, how it is made, and by whom. So transparency will be key.
The rise of clean labels and sustainability efforts will continue. Along with the rise of positive branding by companies being good and doing good.
With the global food and agricultural industry being estimated at over $8 trillion, it pays for companies to stay on top of consumer preferences.
Food Stocks on Our Radar
Given the fact that food is a staple to life, food stocks will always be a place to find investments. With consumers ever-changing preferences, the companies that stay current will be the place to park your money.
Conagra Brands, Inc. (CAG)
Conagra Brands, Inc. is the 4th largest US food company. They are the 2nd largest in the frozen retail business, 3rd largest in condiments and sauces, and a top 10 snacking company.
You know them through iconic brands, such as Healthy Choice, Marie Callender's, Reddi-wip, and Slim Jim. As well as emerging brands, including Angie's BOOMCHICKAPOP, Duke's, and Frontera.
Over the past few years Conagra has moved away from old research methods that rely on what people say, which is rarely reflective of actual behavior.
Instead focusing on behavioral data using data analytics for insight into real behaviors, values, and beliefs. This is helping them stay on top of changing consumer preferences.
Armed with the knowledge that the Healthy Choice brand was viewed as outdated, they were able to modernize and reinvent the brand. Higher quality, contemporary design, proactive flavor, and a sustainable bowl are key changes they made.
Once reinvented, they expanded into what they term new "dayparts" and "lifestyles". For instance, adding morning meals as a "daypart" and adding vegetarian and low carb options as "lifestyles" to the already revamped product line.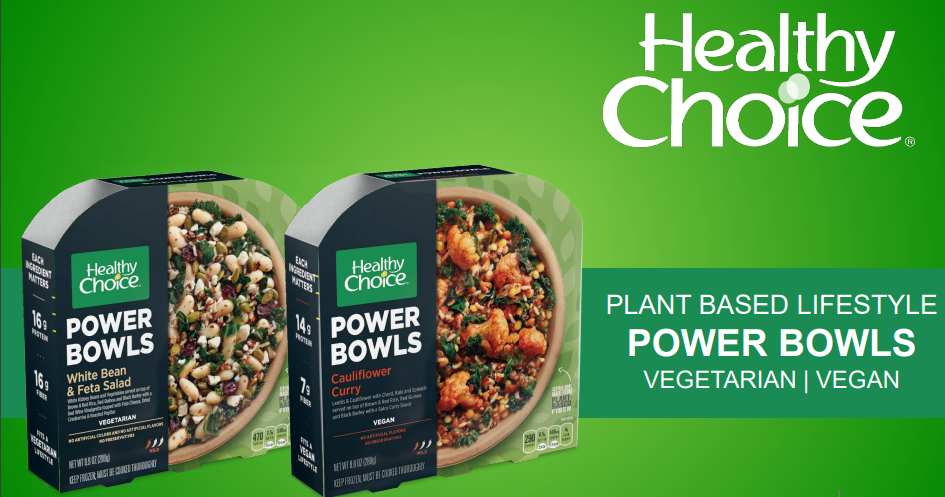 Another way they are staying relevant is through acquisitions of relevant and quality brands including Duke's and Angie's.
Furthermore, they acquired Pinnacle Foods in 2018. They will use their brand modernization systems to bring Pinnacle's big brands Birds Eye, Duncan Hines, and Wish-Bone back to growth.
Nomad Foods Ltd (NOMD)
Nomad Foods Limited, together with its subsidiaries, produces, markets, and distributes frozen foods primarily across 13 countries in western Europe. The company offers fish products, vegetables, and poultry and meat products.
In addition they provide ready-made meals and other products, such as soups, pizzas, and bakery goods.
The company sells its products to supermarkets and food retail chains primarily under the Birds Eye, Iglo, Findus, Goodfella's, and Aunt Bessie's brands. And 90% of the core portfolio ranks #1 or #2 in market share.
Aligning with the macro trends of health & wellness, convenience, and sustainability, Nomad has taken their iconic brands and modernized them for today. Major examples being products focused on plant protein and modern veggies.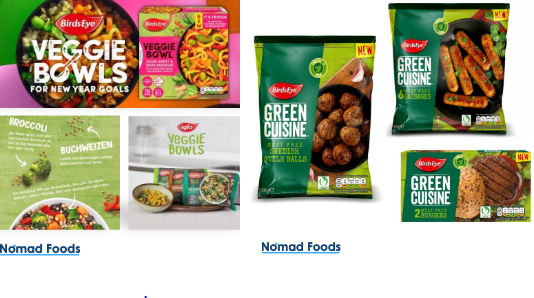 General Mills, Inc. (GIS)
General Mills, Inc. manufactures and markets branded consumer foods worldwide. More than 100 brands. In more than 100 countries. On six continents.
The company markets its products under many well known trademarks, such as Pillsbury, Betty Crocker, Cheerios, Haagen-Dazs, and Yoplait.
General Mills sells its products to grocery stores, membership stores, e-commerce retailers, food service distributors and operators, convenience stores, pet specialty stores, discount chains, and pretty much anywhere else you can imagine.
They are currently working to grow their core business. After a tough time for cereal, the category has been improving. At the same time, General Mills has been growing their dollar share of the improving category.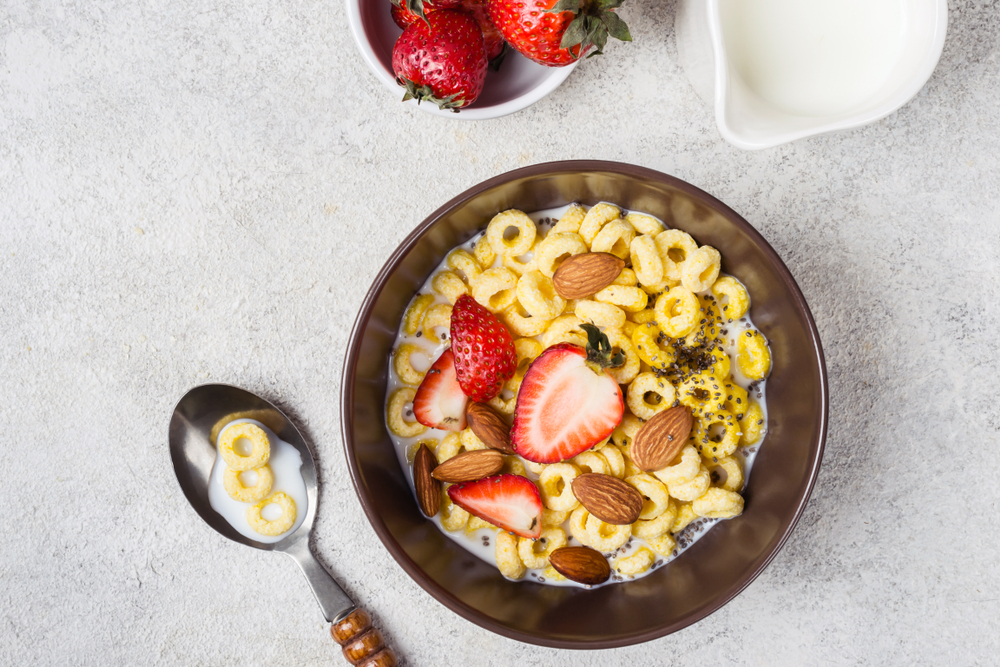 While noticing their yogurt sales transitioning back to their core Yoplait products and their Simply Better products.They are also showing growth in breakfast, snack, and nutrition bars outside North America.
Blue Buffalo, a pet food line acquired in 2018, is on track to deliver double digit top and bottom growth in 2019. This excludes accounting charges related to the purchase.
Expanding Blue's availability and product line are key parts of the growth plan for the brand.
And on a note to the long standing stability of General Mills, the company and its predecessor company have paid dividends without interruption for 120 years.
Tyson Food, Inc. (TSN)
Tyson Foods Inc. is one of the world's largest food companies and a recognized leader in protein. The company has a broad portfolio of products and brands like Tyson, Jimmy Dean, Hillshire Farm, Ball Park, Wright, Aidells, IBP and State Fair.
Tyson Foods is a modern, multi-national, protein-focused food company producing approximately 20% of the beef, pork, and chicken in the United States.
They continually innovate to make protein more sustainable, tailor food for every where it's available, and raise the world's expectations for how much good food can do.
The company established partnerships as part of its efforts to develop best-in-class sustainability programs.
As shown in the graphic below, Tyson has sustainability goals to reduce water use intensity and greenhouse gases, as well as increase land stewardship practices and worker retention.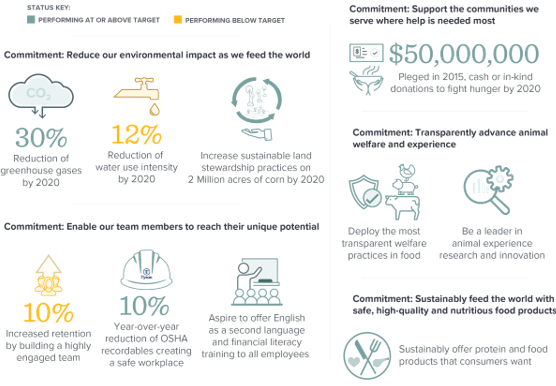 Beyond Meat, Inc. (BYND)
Beyond Meat is one of the fastest growing food companies in the United States, offering a portfolio of revolutionary plant-based meats. They build meat directly from plants, an innovation that enables consumers to experience the taste, texture and other sensory attributes of popular animal-based meat products while enjoying the nutritional benefits of eating our plant-based meat products.
Their brand is committed to help address concerns related to human health, climate change, resource conservation, and animal welfare.
The success of their innovative products has allowed Beyond Meat to appeal to a broad range of consumers, including those who typically eat animal-based meats. As a result, this gives them a unique position to compete directly in the $1.4 trillion global meat industry without any actual meat products.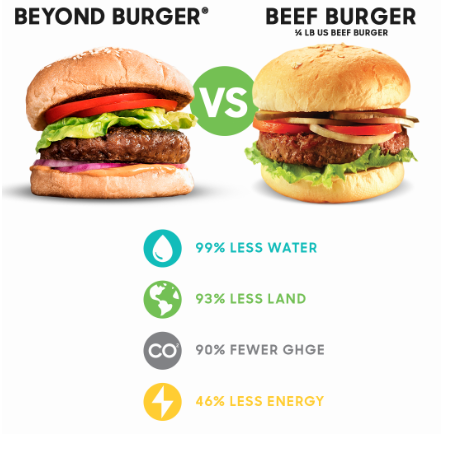 In a peer-reviewed Life Cycle Analysis (LCA) conducted by the University of Michigan it was concluded that the Beyond Meat burger uses less water, less land, generates fewer Greenhouse Gas Emissions (GHGE), and requires less energy than a beef burger.
The Hershey Company (HSY)
The Hershey Company, together with its subsidiaries, manufactures and sells confectionery products through many outlets throughout the world. Some of the company's major brands are Hershey's, Reese's, Kisses, Jolly Rancher, Kit Kat, Twizzlers, Ice Breakers, and SkinnyPop.
Hershey is performing in digital by using technology to interact with consumers along their journey. There are options beyond filling a basket in person and Hershey is capitalizing on them.
They have partnered with companies throughout the digital realm. With this, they offer products for ship to home through Amazon and Staples. As well, you can get them delivered to you using Peapod, or use pick-up apps for Walmart and Kroger. In addition, sudden cravings can even be satisfied by using the goPuff app, marketed as a digital convenience store.
Hershey looks at search as the new shelf. People are now searching online more often than the number of physical trips they take to the store. Trips to the store are often even preceded by digital searches.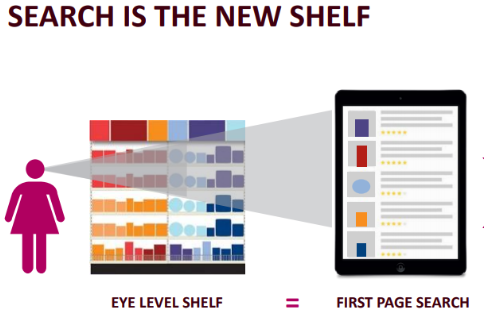 With the level of digital browsing today, first-page search is the equivalent of eye level shelf. And Hershey is winning at first-page search.
Accordingly, they have created post-order add on options, auto add for recipes, auto reorder clicks. As well as the use of previous history impulse consumption targets
With this, Hershey has effectively transitioned to take advantage of the way that consumers search and buy products.
Food Stocks Final Thoughts
Food is a basic need for human life and existence. The market will always be here but the preferences for consumption will change. Due to ever-changing consumer preferences, companies will have to stay current to survive and continue to grow.
Use of technology will be crucial in all aspects of the industry including market research, marketing and sales techniques, product development, and supply chain management.
Companies modernizing to current preferences like health, convenience, naturality and sustainability will be best positioned in the current marketplace. Showing the ability to be nimble and on top of the trends bodes well for the future.
Now, there are a few ways you can trade food stocks. For example, you can trade options on food stocks, like some of my clients and I did with BYND recently.
Jun 12, 7:20 AM R.D. : 20% on BYND in 5 minutes!
Jun 12, 7:21 AM L.L : Sold BYND Puts plus 70%
Jun 12, 7:54 AM C.L. : BYND out with +50%
On the other hand, you can also buy and hold food stocks. If you're going to do that… make sure you conduct your due diligence and understand what moves these stocks.
Now, if buy and hold is more your style… check out some of the tips I've learned along the way and see how I analyze stocks to hold in my Sniper Portfolio, it could help you decide which of these food stocks is best to invest in.