The last time you went on a vacation might have been with the family, or maybe a friend's trip. It could have been on a honeymoon or even a solo excursion. Whatever the occasion, there is a good chance you stayed in a hotel.
Hotel stocks offer an investment opportunity for those who see the demand in the economy.
You might be a business traveler, vacation enthusiast, or everyday traveler. But chances are, you have stayed at one or more hotel chain in your life. Paying attention on your visits will help you when looking at hotel stocks to buy.
There is something about a hotel. Maybe it's the service at the desk or walking into a clean room with made up bed. Possibly it's just the crisp cold air in the room and knowing you are away from home.
It's different for everyone, but whatever it is, you feel relaxed. Vacation takes you away from the stress of everyday life. The right hotel stock can give you that same piece of mind.
Hotels are always trying to find the best way to offer that peace of mind to travelers and vacationers. With increasing competition in the industry, they are working to capture the consumer's attention.
Trends in the industry include virtual tours, one click booking, points, membership deals and perks. Hotels will have to adapt to stay competitive.
According to the, World Tourism Organization, tourism accounts for 10% of the world's GDP.  Global tourism on the rise, generation X entering peak travel years, and both generation X and millennials are embracing experiences over consumer goods.
Here are the 5 Hotel Stocks We're Watching Now!
For this reason, there is potential for continued growth in the sector. And as a result, hotel stocks should not be ignored.
Marriott International, Inc. (MAR)
Everyone knows the name Marriott. It's a brand leader. Marriott International, Inc. offers one of the most powerful portfolios in the hotel industry with 30 brands and more than 7,000 properties across 131 countries and territories
Think JW Marriott, The Ritz-Carlton, W Hotels, Gaylord Hotels, Courtyard, and Residence Inn to name a few.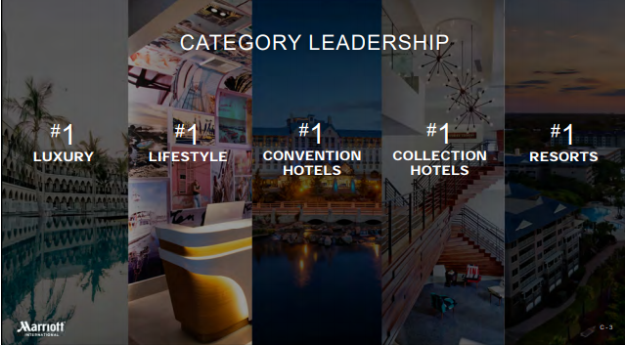 Marriott is working to drive sales through direct channels including marriott.com, mobile, and customer chat and sales centers. These direct sales have proven to be 6-9% more profitable than online travel agencies (OTAs), producing cost savings of $18- $26 per booking.
To increase direct bookings, Marriott is building closer relationships with its customers with branding, technology and service. They provide benefits to members who book direct and customize the experience to keep them coming back.
Marriott also sees growth in food and beverage with transformations of its restaurants and bars. In order to create elevated experiences for customers, they are transitioning to independent-minded restaurants and bars. By doing so, their restaurants and bars can compete better with outside establishments and keep guests spending at the hotel.
Marriott brand evolution equals services, technology, innovations, and product design.
Expedia Group, Inc. (EXPE)
Expedia Group, Inc., together with its subsidiaries, operates as an online travel company in the United States and internationally. It operates through its core Online Travel Agencies (OTAs), HomeAway, Egencia, and Trivago segments.
The company's core OTAs facilitate the booking of hotel rooms, alternative accommodations, airline seats, car rentals, and destination services from its travel suppliers.
Covering every aspect of researching, planning, and booking travel, from choosing the best airplane seat, to reading personal travel reviews of hotels, to planning what to do in a destination once you arrive.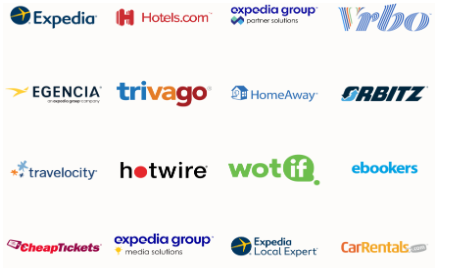 The HomeAway segment has more than two million places to stay in 190 countries. Travelers can book vacation homes, beach homes, cabins, and condos.
They provide the technology, tools, data, and insights for travelers, owners, and property managers to have a smooth experience.
The Egencia segment provides for the travel needs of global, multinational, and small and medium-sized businesses.
Services such as data analytics and on demand reporting, central trip booking, and app risk management save businesses time and money.
Trivago is a separately traded company in which Expedia Group has a majority stake.
Trivago has a hotel search that operates on 55 live international platforms in 33 languages comparing prices from over 400 booking sites for over 1.8 million hotels in over 190 countries.
Also useful are the over 175 million aggregated hotel ratings and 19 million images helping travelers to learn as much as possible before booking.
Expedia Group is a go to for travel search, booking, and management.
Wyndham Destinations, Inc. (WYND)
Wyndham Destinations, Inc. operates as a vacation ownership and exchange company in the United States and internationally.
The Vacation Ownership segment develops, markets, and sells vacation ownership interests (VOIs) to individual consumers, provides consumer financing in connection with the sale of VOIs, and provides property management services at resorts and hotels.
The Exchange & Rentals segment offers vacation exchange services and products to owners of VOIs, and manages and markets vacation rental properties primarily on behalf of independent owners.
Wyndham provides the operational expertise, technology, and scale to the owners of the properties, which for the owner's would be hard to achieve if operating separately.
Wyndham Rewards is a generous loyalty program that is simple to understand and easy to use. Now with over 70 million members, it offers both travelers and hotel operators reasons to associate with Wyndham.
Covering 20 brands with over 9,000 hotels in over 80 countries, they provide a broad range of hotel and resort offerings.
Properties like Wyndham Grand, Dolce, Esplendor, and Dazzler give travelers luxury, boutique, and resort accommodations. On the other end of the spectrum are brands including Super 8, Days Inn, Ramada, Travelodge, and La Quinta offer plenty of options for budget and everyday travelers.
Wyndham delivers on its promise to making travel possible for all.
Extended Stay America, Inc. (STAY)
Extended Stay America, Inc., together with its subsidiaries, owns, operates, and manages hotels in the United States. With a network of 627 hotels, it is a leading brand in the mid-priced extended stay segment with nearly twice as many rooms as its nearest competitor.
Extended Stay America, Inc. ("ESA") is the largest integrated hotel owner/operator in North America. Managing all of the properties of its subsidiary which was created to hold the ownership of the Extended Stay properties.
Its subsidiary, ESH Hospitality, Inc. ("ESH"), is the largest lodging REIT in North America by unit & room count with 554 owned hotels and approximately 61,500 owned rooms. The company structure provides for tax efficiencies not otherwise available without the use of a REIT.
Extended stay hotels offer fully equipped kitchens, free grab-and-go breakfast, free in room WiFi, on site laundry, and pet friendly rooms available. With 41% of revenue coming from 30 plus night stays, operating margins are improved through the long length of stay due to less service and turnover costs.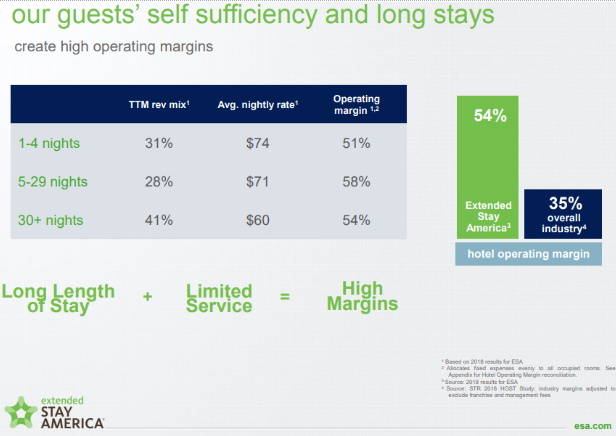 Extended Stay feels the market potential exists to double their footprint in the US. They have plans to grow units to over 700 hotels by 2021 with a 70% owned properties and 30% franchised properties with 59 properties currently in the pipeline.
Hotel Stocks Summary
There are a lot of options when you search for a hotel to book. The tools and resources of a company like Expedia Group make it easier for people to find and book online without needed the help of an expert.
They offer a wide range of information to help the consumer make an informed decision. It's all just a few mouse clicks away.
Big brand hotels are all competing to make an impression on the guests. Hoping to build a relationship that will keep them coming back. Hotels are also working to get their guests to see the value of booking direct as a member. By doing so, the hotel can cut costs and increase operating margins.
With younger generations choosing to spend more on travel. It pays to connect with the consumer and add value to their experience.
Rising tourism is another growth factor in the industry. This will keep the hotel operators on their toes for years to come. They will continually strive for the edge in branding. As well they will work to provide the best guest experience to build relationships with the guests.
All of which will be good for travelers as well. When looking to add a hotel stock into your portfolio, it can't hurt to book a room and experience the brand first hand.
Not only can you buy and hold hotel stocks… you can also trade them as well. For example, I like to trade options on hotel stocks sometimes, like Wynn Resorts (WYNN).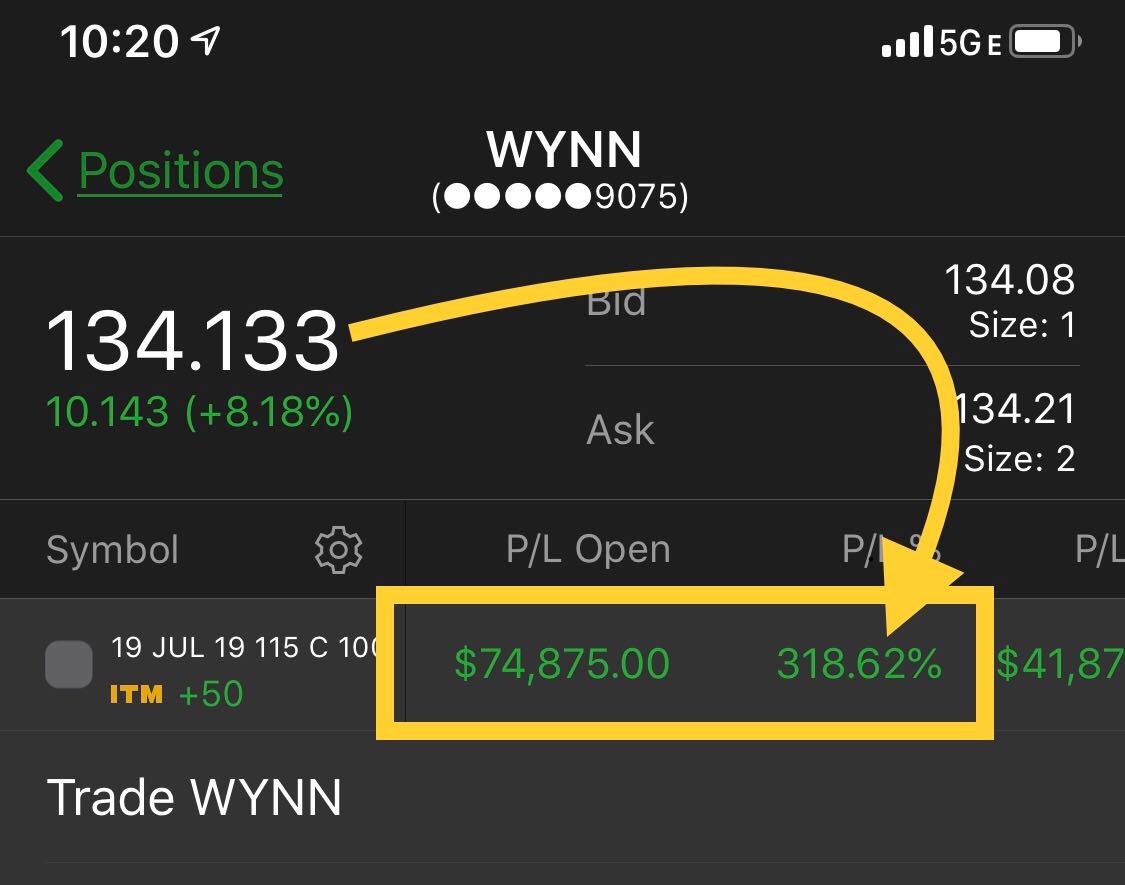 Now, if you want to learn more about how to trade options and achieve profits like these, then click here or below.