Good morning everyone,
Today we're talking Jay Powell's "big" announcement, apparently, people actually watch Hulu, and two textbook giants join forces to further their evil empires.
Enjoy the next 4 minutes and 16 seconds.
Keep raging,
Jeff & Jason
---
THE MARKETS

---
THE HEADLINES
So you're telling me there's a chance?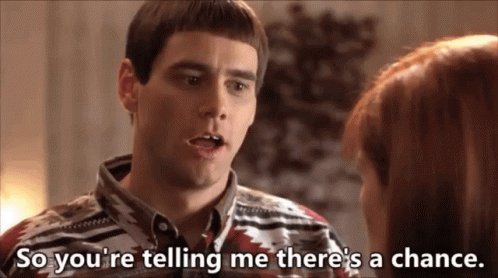 POTUS: What are the chances of a guy like you lowering interest rates for a guy like me?
Jerome Powell: Not good.
POTUS: Not good like one in a hundred?
JP: I'd say more like one in a million.
POUTS: So you're telling me there's a chance?
Jerry Interest Rates made good on his pledge to not cave to peer pressure, keeping the Federal Funds Rate flat, despite the President's demand to lower it 1%. For those of you keeping score at home, the benchmark rate will remain between 2.25% and 2.5%.
The White House cited the lack of inflation and the potential for a "totally bitchin economy if the Fed were to ease up, man." The Federal Open Market Committee warned the Trump administration to not get their panties in a bunch … despite admitting that inflation (1.6%) remained well below its target (2%).
Jay and his band of crusty old white dudes don't think "weakness" in inflation is persistent, but rather that it's "transitory." Translation? Jay doesn't think there is anything to worry about. An unprecedented bull market and strong jobs data certainly helps support the Fed's case to hold rates flat.
Did literally anything exciting happen?
Well, the FOMC made a technical tweak (an adjustment would be an overstatement) to the interest paid on excess reserves that banks hold at the Fed. That figure was tweaked 0.05 percentage points lower. Read: NBD.
So why did shares drop on the news?
The most likely scenario is that the market had priced in a rate cut, and when Powell burst its bubble this afternoon, all hell broke loose and the selloff began. The Dow fell more than 150 points.
Bottom line: "'Tran-si-tory.' Can you use it in a sentence, please? *blank stare* Can you please repeat the word?" – Jason
---
Binge and purge
Obnoxiously self-aware ad spots promoting live sports streaming aren't the only way Hulu is making a splash.
Hulu turned some heads at its presentation to advertisers yesterday, announcing that the company boasts more than 28M paid subscribers on its platform (though at least 1M are promotional accounts). While that doesn't quite stack up to Netflix's 148M global subscribers, Hulu had 25M in January, showing promising growth.
The streaming service also announced the release of a revolutionary idea: "binge advertising." Ok, revolutionary may be an overstatement but the program will identify when users are binge-watching episodes and alter the ad placements accordingly. Users will now see a "brought to you ad-free," ad (oh, the irony) in between episodes and during "Chill" seshs when content is paused.
One other "creative" ad placement will be in the form of Easter eggs. Creators will intentionally insert jokes, spoilers, or hidden messages onto the screen. Think: the d*ck pic scene in 'Fight Club.'
Sounds super
Speaking of watching, Hulu is also embarking on a journey into the Marvel universe (thanks to Disney) as it develops new programs based on the comics. So far at least two shows are in the works and more could be on the way.
Appetizing
New content calls for new cuisine. As the cherry on top of its announcement, Hulu and Chrissy Teigen are teaming up to create a cooking show for the streaming viewers. It will be co-hosted by David Chang … whoever that is.
Bottom line: "Say what will you want about her, but I have no doubt Chrissy will bring some fire recipes to a streaming platform that I have never and will never use." – Jeff
---
Automatic like a free throw
UiPath just closed a $568M Series D funding round. The company is dedicated to automating those repetitive, software-based tasks that everyone hates doing. So much for interns. After the most recent funding round, led by Coatue Management, the firm hit the $1B funding mark, with a $7B valuation.
Coatue isn't the only venture firm that's showed interest either. Previous rounds for UiPath have included big dogs like Accel, Sequoia, T. Rowe Price, and Dragoneer.
Fast Track
Last year, UiPath, the pride of Romania, had two funding rounds hit just six months apart. Its Series B and C rounds raised $153M and $225M, respectively. After that C round, just 7 months ago, the company's valuation climbed to $3B.
UiPath started in Bucharest back in 2005, as an outsourcing software firm under the name Deskover. Some of Deskover's clients included internet giants like Microsoft and Google. In 2015, the company changed its name and moved to NYC, just like every actor/musician/comedian trying to make it. Now, the company has more than 2.5k employees and last year brought in over $200M in revenue, unlike every actor/musician/comedian that moves to NYC.
Bottom line: "I don't love the idea of robots taking our jobs, but if they can automate emails that reply to your manager saying 'sorry for the delay, just seeing this' I'm sold." – Jason
---
IN OTHER NEWS
---
MAKING MOVES
↘ Karma is a b*tch. There, I said it. Eventbrite, known for charging event planners exorbitant admin fees, services charges and the like, appears to be having some financial struggles of its own. Shares of the company fell more than 30% after hours Wednesday following a piss-poor Q1, missing top on the top ($81.3M vs. $83M) and bottom (13 cent loss per share vs. 9 cent loss per share). The ticketer also lowered its guidance going forward.
↗ Apparently business is booming in the "selling half-priced dinners at mediocre strip mall steakhouses" industry. Groupon, the spammy discount site that was a novelty during the Bush administration had itself a Wednesday. Shares rose 4% on news that revenue of $578M blew out consensus expectations of $553M.