Good morning everyone,
Today we've got more earnings news for you ('tis the season after all), Deutsche Bank being Deutsche Bank, and Uber making sure it doesn't "pull a Lyft."
Enjoy the next 4 minutes and 21 seconds.
Keep raging,
Jeff & Jason
---
THE MARKETS

---
THE HEADLINES
T-Minus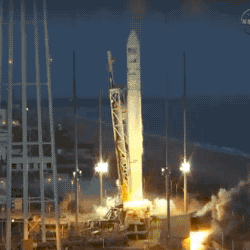 What companies are universally misunderstood by the >45 demographic, are disrupting their respective industries, and have a combined valuation of roughly $107B?
If you guess Slack and Uber, then you'd be right.
Slacking Off
Slack plans to take its talents public soon, but not via a traditional IPO. The cloud-based messaging software company will follow Spotify's lead from a year ago and go public through a direct listing, which is a method that allows the general public to purchase its shares without the company having to pay underwriters fees. Millennials, amirite?
Slack's last round of private funding pegged shares at $11.91 and brought its valuation to $7.1B. In the run-up to its "IPO" shares have been selling privately at $28, which brings the company's valuation to roughly $17B.
While Slack saves money on the underwriter's fees, it also foregoes the safety nets that come with the IPO, such as the greenshoe option, which provides price stability. Slack's share prices will be based on market conditions and demand for its pricing, although prices are expected to be around the $28 figure.
Can I get a ride?
Uber, on the other hand, will be following the conventional listing method when it IPOs. The company is looking to kick off its roadshow within the next few weeks and is projected to set terms for its IPO as soon as *checks calendar* today.
Uber, which has engaged Morgan Stanley, Goldman Sachs, and Bank of America to underwrite its offering, is seeking a valuation between $80B and $90B. With a share price range between $44 and $50 per share, the ride-hailing company hopes to raise between $8B and $10B through its listing.
Bottom line: "Slack probably spent all of the money it saved on its stupid new logo." – Jeff
---
My own worst enemy
Merger talks between Germany's two largest banks, Deutsche Bank and Commerzbank have apparently fallen apart. And that's really bad news for a lot of people.
Where did we go wrong?
DB went all "it's not you, it's me" pulling out of talks on Thursday citing "execution risks, restructuring costs, and capital requirements." More specifically, the former bulge bracket institution blamed the complexity of the merger. "You know guys, it seems like an awful lot of work just to save Deutsche Bank." – CEO, Christian Sewing probably.
This comes despite the German government's support and the backing of at least some major shareholders.
So what now?
Unsurprisingly, Deutsche, the banking equivalent of the kid who rides the short bus to school, hasn't thought about the future or at least hasn't hinted at an intelligible solution in the aftermath of talks falling apart.
So what's an ailing bank to do? Well, there are a few options …
Following through with its "restructuring" plan to right the ship. LOL, yeah right.

Raising more capital

Selling off businesses and laying off employees, especially in the IB

Merging with a bank not named Commerz (… or crawling back to Commerz and asking for a second chance)

Saying f*ck it and letting the whole bank implode on itself, file bankruptcy, and pretend the whole thing never happened
One thing is for sure: the German government will have to sit idly by and watch its "crown jewel" toil in mediocrity as strict EU banking regulations do not allow for direct government intervention.
For what it's worth, DB showed better than expected profits in a Q1 earnings preview. The bank will release its full earnings report today.
Bottom line: "Christian Sewing seems like a perfect candidate for Wells Fargo's vacant CEO job." – Jason
---
Kneel before me
Jeff Bezos' brainchild reported a quarterly profit that far exceeded analyst estimates … per usual.
Q1 earnings came in at $7.09 per share vs. a projected $4.67. On top of that, revenue soared 17% vs. last year to $59.7B. And a profit of $3.6B is a new record for Amazon, beating even the most recent holiday season.
As a treat to its loyal minions, the company announced that it is rolling out free one-day shipping for its Prime members.
King of the cloud(s)
The boon for Jeffrey Commerce was due in large part to focusing on high profit-margin business lines like advertising and its Amazon Web cloud services. AWS revenue alone pulled in $7.7B during the first 3 months of 2019.
Despite increased profits, Amazon's sales haven't grown less than 20% per quarter since 2015, so 17% is nothing to write home about. While reduced spending and a slowdown in hiring seem to have buoyed the profit number, the company may be spending more on its future growth than initially expected.
The slower than usual growth is probably why the stock didn't move much yesterday, but it is up 27% on the year.
Bottom line: "Can we all agree that MacKenzie Bezos is the real victim here?" – Jeff
---
IN OTHER NEWS
Class is in session. Coursera, the online learning startup, closed a $103M Series E round. The funding round, led by SEEK Group, brings the company's valuation to more than $1B. More than 40M people have taken courses through the service, up from just 26M back in 2017, the last time it raised money. Yeah, but is there homework? 
Authentic Brands, the licensing company behind fashion brands like Nautica, Juicy Couture, and Nine West is interested in buying Sports Illustrated. The publication, known for in-depth sports reporting and definitely not its annual edition featuring scantily clad women, is being sold by Meredith Corp for a rumored $110M. I only read the Swimsuit Edition for the articles.
Walmart opened the doors to its first AI-powered location in Levittown, NY yesterday. The Intelligent Research Lab, known as IRL, features tech like AI-powered cameras and interactive displays. Before the remake, it was one of Walmart's busiest Neighborhood Market locations, carrying more than 30k items. Unlike Amazon's "grab and go" stores, there will be more than 100 employees on location. But the self-checkout still probably sucks. 
---
MAKING MOVES
↘ Here's a headline investor's don't like to see: [The company you invested in] suffered its largest one-day percentage decline since Black Monday in 1987. Welp, that's exactly what 3M managed to do yesterday after sales fell 5% in Q1, driven mostly by lower sales to car manufacturers in Japan and electronics makers in China. As part of a cost-cutting initiative, the company will trim some 2k jobs worldwide, or roughly 2% of its workforce. Shares were down nearly 13% on the news.
↗ Apparently investors DGAF about some measly $5B fine … nor should they, quite frankly. Shares of Facebook rose almost 6% on Thursday after announcing top and bottom line (excluding the one-time FTC charge) beats on Wednesday after the close. So what about that $3B one time charge? For a company that continues unprecedented growth and brought in more than $15B in revenue last quarter, the fine represents a drop in the bucket.