Marijuana exchange-traded funds (ETFs) are a great way to gain exposure to the fast growing marijuana market. They offer you a lower-risk way to invest bypassing the risk associated with buying an individual stock.
Even though cannabis is illegal under federal law, due to the growing positive sentiment from consumers and lawmakers alike, many states have legalized it. And many more are moving in that direction.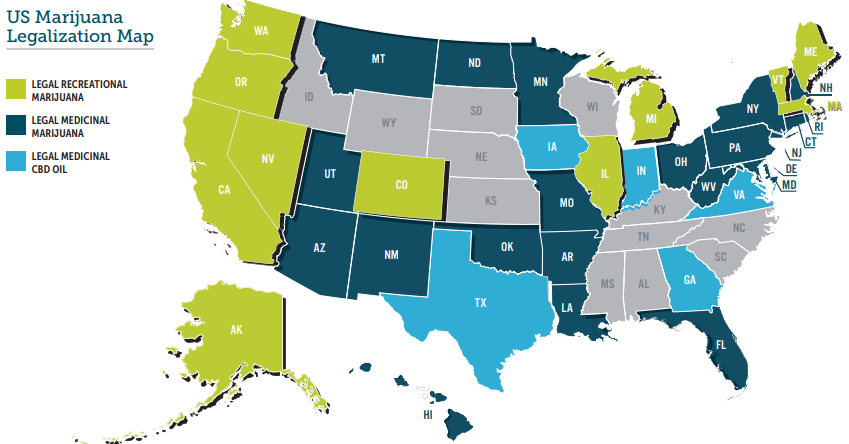 Thus making cannabis the fastest-growing industry in North America. Reasons for the growth are the booming medical marijuana market and the adult use recreational market beginning to see legalization as well.
But being a new industry with uncertainty on the political and legal side, these stocks are particularly volatile. They carry legal risks if the federal government decides to prosecute companies that are currently legal on the state level.
Therefore, most marijuana ETFs focus on companies outside of the US in countries such as Canada. They will also look at companies in the U.S. that are federally legal. Generally in the medical and pharmaceuticals industry.
Why Marijuana ETFs
Due to the risky nature of owning individual stocks, the marijuana ETF market has been expanding.
An exchange-traded fund (ETF) trades like a stock and can be purchased through your broker. The difference is that an ETF provides diversification by holding a basket of stocks.
Ultimately the purpose of the ETF is to track the performance of a basket of stocks. This can be an index, sector, industry, or any other of the number of ways to group stocks.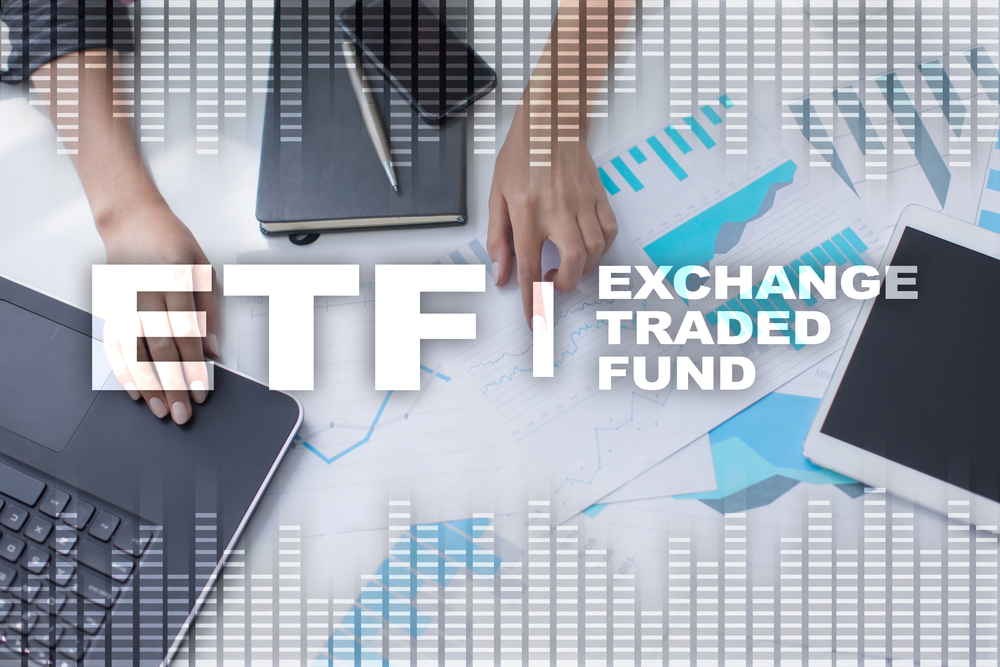 Many people prefer to invest in ETFs because they provide a level of diversification that they might not be able to gain on their own.
By using an ETF to invest in marijuana, you will get exposure to a wide range of individual stocks in the cannabis industry.
Holding a single stock will expose you to the risk of something happening to that company. This can be a good thing or a bad thing. The ETF will level out the volatility of stock specific swings because of the exposure to the other stocks in the basket.
ETFs let you invest in the industry as a whole without putting you at the mercy of a swing in just one stock.
A marijuana ETF can be especially beneficial if you are unfamiliar with the industry but want to gain exposure to the growing industry.
If you have more of an opinion about the different sectors within the industry, you may like that ETFs have specific investment objectives. Thus giving you the ability to match the fund to your specific ideas of how to invest in the industry.
ETFs as a long-term investment
Marijuana ETFs hold companies that:
Grow, distribute, and sell marijuana
Research medical uses
Create pharmaceuticals
And some invest in companies tobacco and alcohol industries that have recently added exposure to marijuana
With the many areas of use for cannabis, a great way to invest for the long term is through a marijuana ETF. You will own a group of stocks with less volatility. Thus making it a good vehicle for a buy and hold strategy.
Top Marijuana ETFs for 2019
You can read about some of the top marijuana ETFs below. These can help you gain exposure to a major growth industry without the single stock risk of owning just one stock.
ETFMG Alternative Harvest ETF (MJ)
The ETFMG Alternative Harvest ETF (MJ) created in 2015 was the first ETF to target the global cannabis industry. It is also the largest marijuana ETF.
It seeks to provide investment results that correspond to the performance of the Prime Alternative Harvest Index.
This being the performance of global companies that are engaged in legal activities involving cannabis use for medical and non-medical purposes.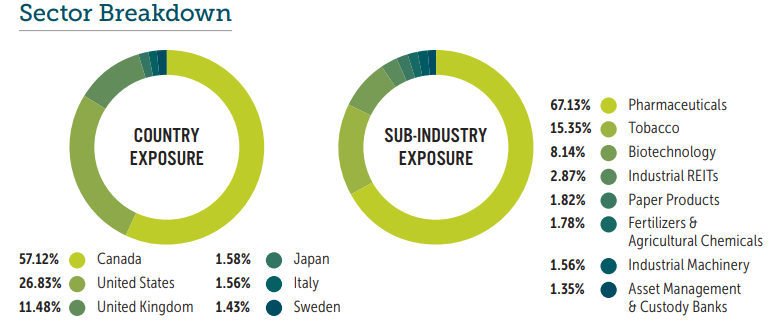 The fund is not a marijuana pure play as it has some exposure to the tobacco industry. Which now has some crossover with the marijuana industry as many tobacco companies are investing in marijuana for the future. It also hold companies in other ancillary industries.
The fund currently has 41 holdings. By investing in this ETF you can gain exposure to all of them and smooth out the volatility of owning just one.
GW Pharmaceuticals
Tilray
Canopy Growth
The fund is rebalanced on a quarterly basis so that's a good time for you to watch for changes in the holdings.
AdvisorShares Pure Cannabis ETF (YOLO)
The AdvisorShares Pure Cannabis ETF (YOLO) became the first actively managed ETF with a dedicated cannabis investment mandate in the United States. Being actively managed allows the portfolio to adjust quicker than a passive index based portfolio.
The fund primarily invests in U.S. and Canadian companies engaging in legal business. The managers use a fundamental process to find the companies that are showing a dominant position in their markets. They also scan and search for emerging cannabis companies that provide upside growth potential as the market matures.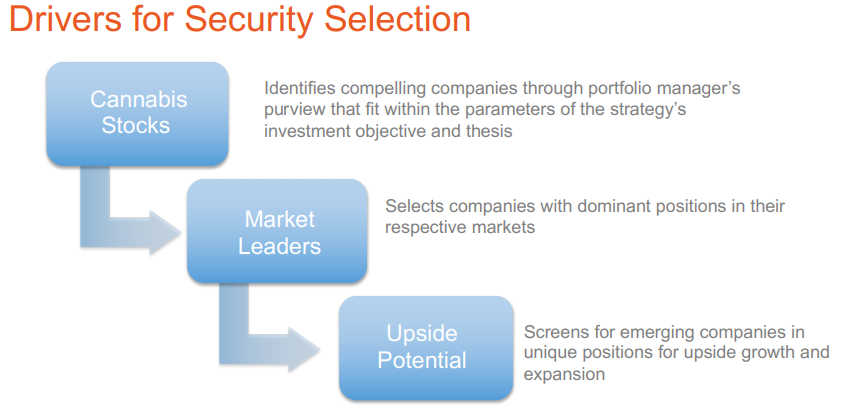 Top 10 holdings in YOLO:
OrganiGram Holdings Inc
Innovative Industrial Properties Inc
CannTrust Holdings Inc
The Green Organic Dutchman Holdings Ltd Ordinary Shares
Village Farms International Inc
HEXO Corp
Cara Therapeutics Inc
Canopy Growth Corp
Horizons Marijuana Life Sciences Index ETF (HMMJ)
Horizons Marijuana Life Sciences Index ETF (HMMJ) seeks to provide performance that replicates the performance of the North American Marijuana Index.
Designed to provide exposure to the performance of a basket of North American publicly listed life science companies with significant business activities in the marijuana industry.
Investments are in companies with business activities that include bio-pharmaceuticals, medical manufacturing, distribution, bio-products and other ancillary businesses to the Marijuana industry.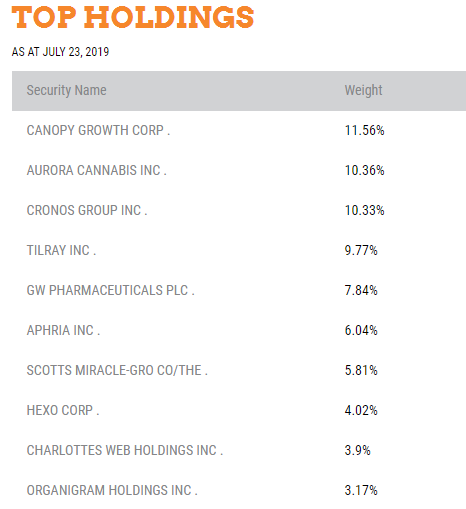 HMMJ portfolio attributes:
Rebalanced quarterly to adapt to a dynamically changing market
Securities will generally have a market capitalization of greater than CAD $75 million
Average daily trading value generally greater than CAD $250,000
No issuer will represent more than 10% of the North American Marijuana Index on each rebalance
Evolve Marijuana Fund (SEED)
The investment objective of SEED is to seek long-term capital appreciation by actively investing in a diversified mix of equity securities involved in the marijuana industry.
Advantages of SEED:
Actively managed – Benefit from superior stock selection

Global – benefit from globalization of marijuana industry

Private sector – SEED may invest up to 10% of the portfolio in private companies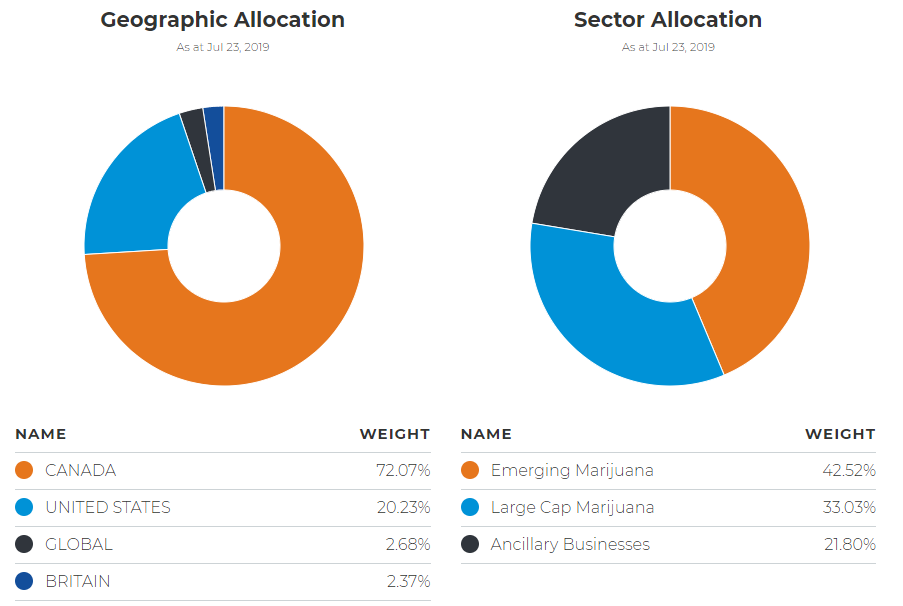 Current holdings market breakdown and examples:
42.52% Emerging market

Neptune (NEPT)

Charlottes Web (CWEB)

Organigram (OGI)

33.03% Large cap

21.80% Ancillary

Scotts Miracle Grow (SMG)

CVS Health (CVS)
Check out my free training session to see how you can make higher returns with your investing.
Final Thoughts
The cannabis industry is still new and full of political and legal uncertainty. Therefore investing in individual marijuana stocks is risky due to the price swings and impacts on a single company. Marijuana ETFs provide a way to more fully diversify in the industry.
Take a look at the marijuana ETFs above. Pick the ETF or ETFs that match your investment philosophy with the holdings that fit your views.
All 4 will give you good exposure to a major growth industry. If you want to gain exposure and capitalize on the long term growth with less single stock risk, these ETFs will get you there.