Why doesn't the market care?
After all, Trump is the reason for the stock market highs and strength in the economy, at least according to… the man himself.

The thing is… this was pretty much expected so it was already priced in… and at the same time,  there is very little belief that this will make it through the Senate anyway… in the end it's all just noise.
So what does move the market?
The economy of course… so the market isn't concerned about the impeachment… it's worried about the economy.
And there is even talk that Trump may work harder to make a deal with China to put his best foot forward during the Impeachment process… in which case this would be great for the market.
That's an interesting idea. But something that big could also lead to a blow off top and that would be bad for next year.
After all what would Trump lead with into the election if the market tops out and ends up in the middle of crisis while campaigning?
It's all just a game… and that's why I stick to a system that makes money no matter what the market is doing…
Penny Stocks don't care about inflation, the president, employment numbers, manufacturing, or consumer confidence…
They truly don't… they move based on their own factors…
That makes my life so much easier because I don't have to try and make sense of it all in order to make money trading.
And I'll show you exactly what I mean by this… and how you can quit worrying about macro events and start making money now…

Listen… we are in the longest bull run in history… it's unprecedented.
Is Trump responsible for it all? Some of the recent run, sure… but the whole enchilada?
Of course not… We've been going at it for almost 11 years.
And next we have an election year…  the market is generally up in an election year when an incumbent is running for reelection, but it's also very extended already…  making for an interesting backdrop to 2020.
Maybe Trump is just holding onto that China card as long as possible… he can't play it too soon or he will lose that rabbit in the hat… Who knows, it may just be his "Trump" card to win the election.
But that's all just conjecture based on how manipulated politics and markets can be, trust no one.
The good news is that penny stocks don't care… and here's what I mean.
Take a look at my small account return from June 14th through October 16th:
I took $3K and turned it into $27,335.06… that's an 811% return


So what's this got to do with the market?
Just take a look at this chart of the SPY over that same period: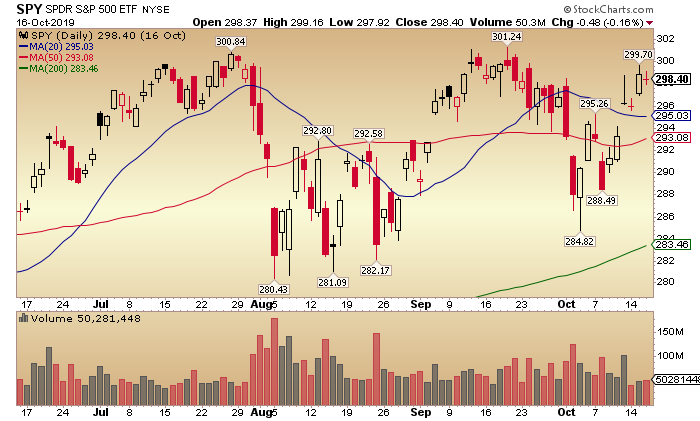 It was only a 4% increase over those 4 months… but even then, the whipsaws in between made it unbearable and crushed a lot of traders…

Compare that to the 811% I made during the whipsaw market… that's what I mean by penny stocks don't care about the market… they do their own thing.
And I know how to capitalize on it.
More proof?
Well since then the market has been trending up hitting new highs. So how did I fare during such different conditions?
First let's take a look at what the SPY did in the two months since Oct 16: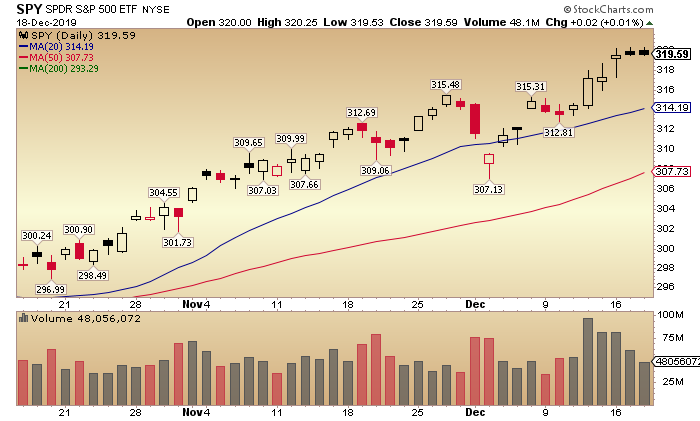 That's a nice uptrend for the SPY… a 7% increase in just 2 months. That's not bad.
But like I said… penny stocks don't care what the market is doing… up, down, sideways… I will be making fat returns…
And here's what I have done since then…
First I took the 27k account on Oct. 16, continued to add on… closing out my account at over 31k… for a return of over 900% since June 14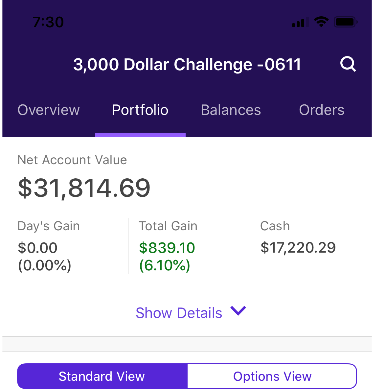 Why close it out?  Simply to start my next small account challenge… I call it Rinse and Repeat…
I take a small account, flip it many times over for massive returns, pay myself, and do it again.

After returning over 900%, it was time to start anew (plus my members were begging me for it).
So on Nov 11, I began my newest small account challenge with just $3k.
And here's a look at my account on Dec. 16, just 5 weeks in: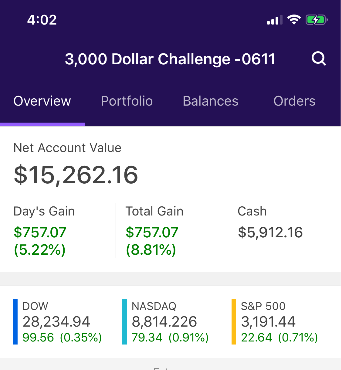 That's over 400% in 5 weeks in new market conditions… and that's after pulling in over 900% during the sideways market. So yeah… I rake it in during all market conditions.
I'll make this a little easier on you… here's a graph comparison of my account return over the past 6 months to the S&P 500 over the same time period.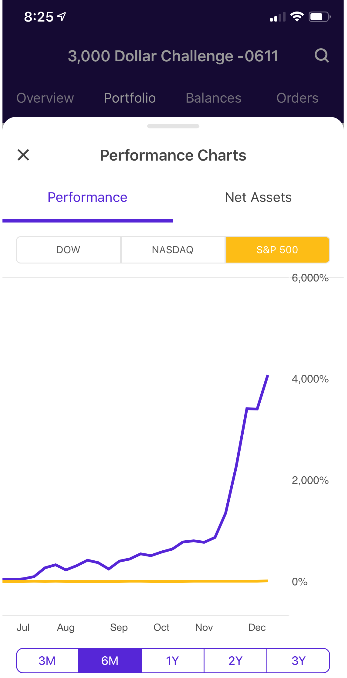 Yeah the S&P 500 is that orange line that barely registers on the graph. That's what I call crushing the market.
So one more time… penny stocks don't care about the market… up, down, sideways… impeachment, China talks, consumer confidence… who's your President, overseas war, market collapse… they just don't care…
They do their own thing and I pull in massive returns no matter what.
Let's go gang… If you don't know what's next for the market. Don't risk it. Take your trades where the market and economy are irrelevant…
Join the Supernova Chat Room and get in on the next wave of returns in my small account challenge.