The setup: I alerted my subscribers to Gevo Inc. (GEVO) –- a renewable chemicals and biofuels company -– because of the bullish price action in energy and base metals.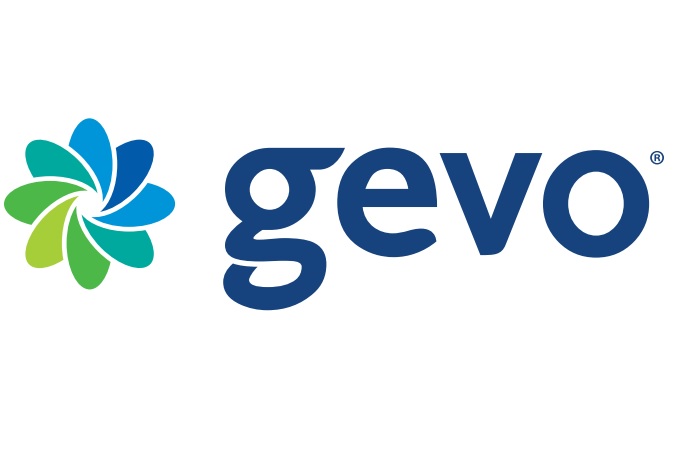 Clearly, commodities – which bottomed in 2016 – are back in bull-market mode and traders of alternative-energy stocks are moving back into their favorite names, which could include moving back into GEVO, after the stock decoupled from the energy and copper markets in November 2016. Since June, GEVO has been in a range of $0.55 and $0.75; volume over the last month has been elevated and, at times, huge.
Why I think Gevo is ready to fly higher: I expect energy prices to surprise to the upside as we move into 2018; GEVO will be carried higher by traders seeking a piece of the action of the company's efforts to supply the airline industry with renewable alcohol-to-jet fuel, which were recently rewarded by a big deal with Virgin Airlines.
Gevo spiked by about 15 percent when that contract was announced, then consolidated before popping another 34 percent, for a total move higher of 41.2 percent.
That move – which gave me a nice score on the stock – based on a contract and some industry rumors got me thinking about what could happen if the Department of Energy makes big news and announces a program directly involving Gevo. DoE Secretary Rick Perry is from Texas (he was governor there for 15 years) and Is partial to Texas; Gevo's deal with Virgin benefits the company's facility in Silsbee, Texas, and some recent DoE funding that could eventually benefit Gevo went to a Texas A&M University research arm.
Couple that potential with the chance that the company announces deals with other airlines similar to the Virgin contract and you have a lot of potential catalyst.
The chart: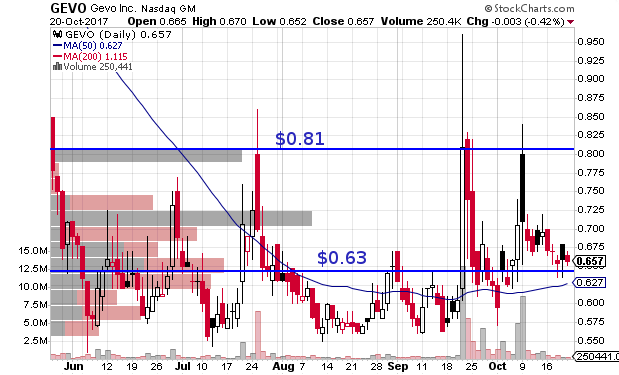 GEVO's chart gives us a clue as to where the stock is headed.  Using the "Volume-as-Price" tool on StockCharts.com, we can see that the likely price range of the stock is $0.63 and $0.81, with a bullish underlying trend beginning with the June low of approximately the $0.55 support.
This setup implies a strong bias of GEVO to reach for $0.81 as a third test of overhead resistance.  That's a 20-plus percent move higher from current levels, and that's without any contract or announcement to push things higher.
With a downside risk of 10 cents and an upside reward potential of 35 cents – if there's a deal that creates the next really big up-move – for a 3.5:1 play, I like those odds.
#-#-#
   Jason Bond runs JasonBondTraining.com and is a swing trader of small-cap stocks. At the time this was published on RagingBull.com, he had no shares, options or open orders on GEVO, but was scouting the stock for entry above 63 cents. He recently closed a swing trade in GEVO for a $3,500 profit.